We saw something new on this MacMania voyage Thursday—sun! While the weather this trip has never really been bad (except for some strong winds), we've been accompanied by a constant gray background. Not only does this make the scenery less interesting, it makes it really hard to get nice outdoor photos—a flat gray backdrop may be good for portraits, but it's not the most visually stunning thing to see behind a mountain range.
According to a Ketchikan local, the town averages more than 300 cloudy days a year, so we were quite lucky to have only partly-cloudy blue skies. Our stay here, unfortunately, was brief—we arrived at 7:00 a.m. and pushed away from the dock right around 1:00 p.m. for the long trek down to Victoria, British Columbia. With only six hours in Ketchikan, there wasn't a lot of time to do much exploring. We took our daughter to the Lumberjack Show, which she found entertaining, though she had trouble understanding why these two men were attempting to run on a log floating in a pond: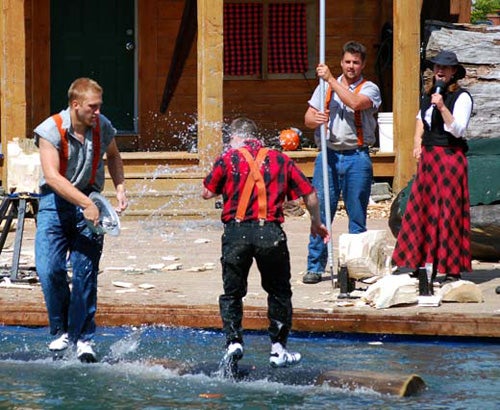 I also spent some time out on the ship's deck earlier in the morning, as it seemed we were docked right alongside Ketchikan's float plane departure path. I snapped this picture as one flew by: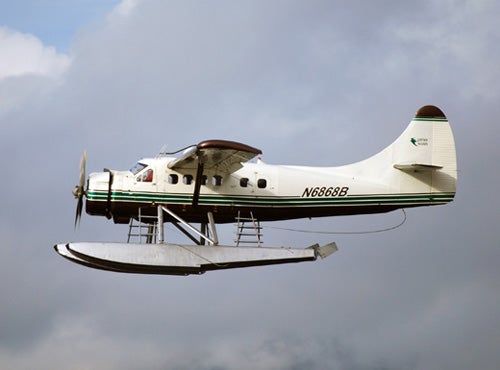 While the plane appears closer than it actually was due to the telephoto, they really were quite close. In Alaska, float planes are basically the yellow cabs of the north. If you need to get somewhere quickly, and it's not a place near the limited road system, you'll probably get there in a float plane. All day long, a good half-dozen planes worked the waterway, coming and going at regular intervals.
For larger, heavier stuff, such as fuel, supplies, and construction gear, tug boats tow barges laden with standardized shipping containers up the inside passage, providing all the essentials for these isolated Alaskan towns. And yes, if you want to get your car up here, you can also have it shipped via barge: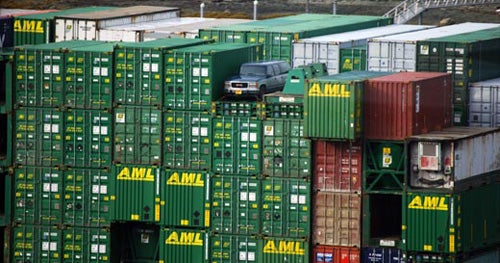 I wouldn't want to be in charge of cleaning that vehicle after a multi-day trip up the coast!
Friday will be the last day of the MacMania classes for this cruise, and I'm planning on sitting through a couple of them—in particular, Ben Long's session on the various ways of using Aperture to create Web content.