As I write this, it's early Saturday morning, and we're just slipping back into our berth at the Seattle docks. After cruising more than 2,000 nautical miles during seven days, including stops at three Alaskan cities, one Canadian city, and one very large glacier, Mac Mania VI has come to an end. And before I go any further, I need to clarify something about this voyage—this is actually a "dual track" Geek Cruise; it's not just MacMania cruise, but an Aperture cruise as well. Attendees could choose from either the Aperture or MacMania tracks, or mix and match as they see fit. This is the first time Geek Cruises has tried an Aperture track, and all indications are that it was successful. Every Aperture class I sat in on, including Sal Soghoian's advanced talk Friday on using Automator with Aperture, were well attended. Things have gone so well, in fact, that Geek Cruises has announced that Aperture Aura 2 will be setting sail in Spring 2008—from Venice, Italy no less! With three Aperture team members as confirmed participants, this should be an amazing experience for those looking to get the most out of Aperture.
I spent most of Friday in conference sessions. First I learned about some of the ways you can publish your Aperture images to the Web, and then I spent a few hours listening to Sal (as well as Ben Long and Joe Schorr) talk about using Automator with Aperture. Shortly thereafter, we arrived in Victoria, British Columbia, for an evening excursion (6 p.m. arrival, midnight departure).
Victoria is located at the southern tip of Vancouver Island, and has a very strong British heritage. If you've never visited, Victoria is an amazing city, with a mix of old British tradition and modern urban living. My wife and I chose to skip the shore excursion, and just spent a couple hours wandering around the waterfront, downtown area, and surrounding neighborhoods (our daughter went to Butchart Gardens with my mother and her husband). During our walk, we saw some wonderful older homes in the various neighborhoods, along with many amazing waterfront properties, including this mechanized-looking condo building: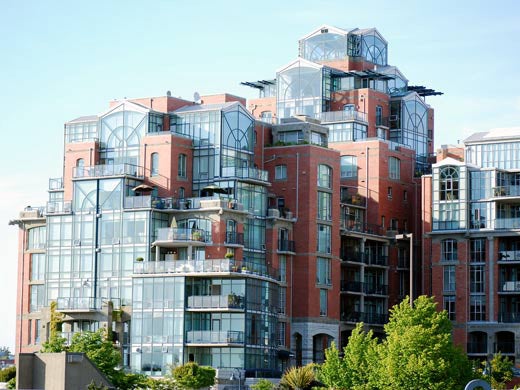 In case you're interested, a sign out front let us know that they have but one unit left—a 4,500-square foot, two-story penthouse unit for only $4.5 million Canadian dollars. Unfortunately, the exchange rate isn't what it once was, so you'll be out pretty much the whole $4.5 million even in US dollars!
Just around the corner from the ultra-modern condo complex, we found this assortment of cute floating homes in a small marina: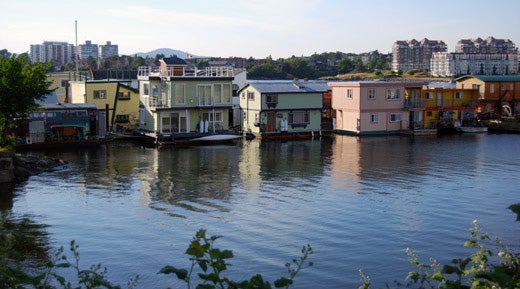 I'm not sure what those sell for, but I'm guessing it's substantially less than $4.5 million. If $4.5 million really seems like pocket change and you're looking for a place that will really make a statement, perhaps you could put in an offer on the Attessa , which was docked in the downtown marina: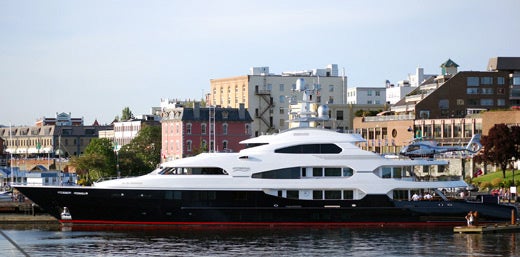 According to my good friend Goog Le, the Attessa is 225 feet long and owned by "Montana industrialist" Dennis Washington. Now, when I see the word "Montana" in print, many related words come to mind. Words like "scenic" and "wide open" and "mountains." The word "industrialist," however, wasn't ever on my list—but I guess it was certainly on Dennis' list! Notice that the Attessa includes your very own helicopter, all the better for making an impressive entrance at Monte Carlo or Cannes. You'll be responsible for the staff salaries, of course—we counted at least five employees scurrying about the boat.
While we didn't choose to visit Butchart Gardens, that doesn't mean we didn't see any greenery. Victoria has gardens everywhere; this one was located in front of a condo complex located along our waterfront walking path: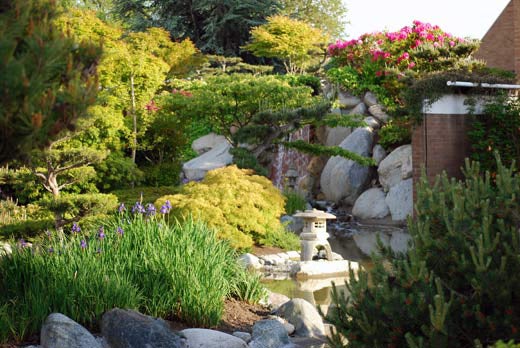 As we got closer to downtown, we started passing various street merchants, selling everything from jewelry to caricature drawings to artwork created with spray paint to fly fishing lures! There was also the occasional street performer, including a woman in an elegant long dress playing the french horn. While the combination of a long dress and a french horn is unique for a street performer, it was unfortunately only good enough for second place in the Most Unique Outfit and Musical Instrument Combo category—our winner, hands down, was the gentleman below and to the right.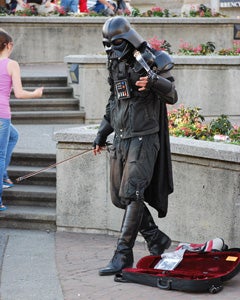 We quickly left his immediate area, fearing the effects of the dark side of the Force if we didn' drop a sizable contribution into his violin case. We slowly made our way back to the boat, and then started the always-fun task of making sure everything we brought with us, plus all the stuff we'd purchased during the trip, fit back into the suitcases we had brought with us. As midnight approached, we managed to stuff everything back into place, and dropped our luggage outside the door. (It's picked up during the night, so the staff can organize it to get everyone off the boat in an orderly manner, based on their departure travel plans.)
All in all, this was a great cruise—I learned a ton about Aperture, got to meet and talk to a number of fellow Mac fans, and even spent a few days shooting picture with a free-for-the-trip digital SLR—I'll be writing about that experience more deeply in an upcoming piece, but suffice it to say that a digital SLR of some sort is now at the top of my photography wish list. If you have any lingering questions about the journey, please feel free to ask them in the forums—as I'll be back home shortly, I'll be able to respond without worrying about my remaining connection minutes!