When OS X 10.5: Leopard debuts in October, it will feature a redesigned Desktop and new Finder. Those new features were among the changes Steve Jobs introduced during a preview of the forthcoming OS X update code-named Leopard during his Worldwide Developers Conference keynote speech Monday.
Originally slated for a spring 2007 release, OS X 10.5 is now slated for release in October. It will cost $129, Jobs told WWDC attendees. The finished version of Leopard includes 300 new and enhanced features; Jobs previewed 10 during his Monday keynote.
The redesigned Desktop does away with the blue background familiar to OS X 10.4 users. The background shown during Monday's keynote featured blades of dew-covered grass, but Apple fully expects users to upload their own iPhoto images to the background of the Desktop. To that end, Jobs said, the Desktop has been redesigned to better accommodate those images; the Menu Bar is now semi-transparent while the Dock will be reflective. Drag a window toward the Dock and you'll see its reflection on the platform where application icons now sit.
More significantly, the redesigned Desktop in Leopard introduces Stacks—a collection of folders that reside in the desktop. Apple sees Stacks as a way to clean up Desktop clutter. Files are collected in the Stacks for rapid access; click on the Stacks icon and the Dock and the files and folders fan out or appear in a grid. Clicking on one of those icons instantly launches the relevant app. You create Stacks by dragging any item or group of items to the Dock.
As part of Stacks, the redesigned Desktop will also feature a dedicated Downloads folder. Files downloaded via Web browsers and e-mail clients will automatically get routed to that destination—the Downloads icon in the Dock bounces when a new item arrives—with the most recent download appearing on top.
"This is a really simple way to keep your desktop clean," said Brian Croll, Apple's senior director of OS X product marketing. "[What] we were trying to do [was] make sure you really kept a very elegant, clean desktop. Because I think when you look at most pep's desktops, there are files littered all over. So we're giving a way to make it easy to keep your desktop clean."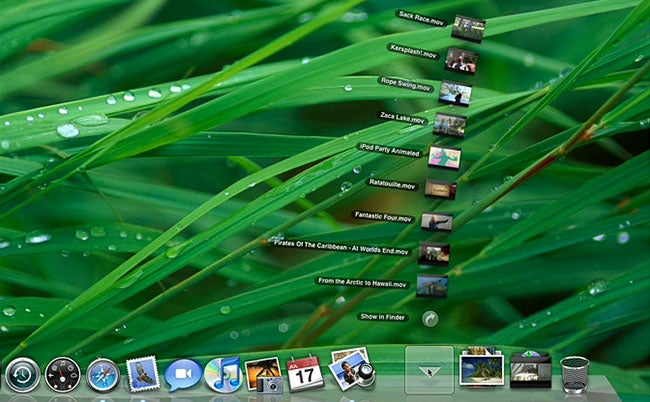 Stacks
Other enhancements in Leopard's Desktop include a consistent look for windows across all applications and a more prominent active window.
OS X 10.5's new Finder features a new sidebar reminiscent of the Source list in iTunes. The sidebar is organized by Devices, Shared, Places and Search headers; a clickable triangle next to each header lets you close the section if you're not using it.
In Leopard, a file's icon now uses Leopard's new Quick Look feature to display a full-quality preview of the file's contents—the icon for a JPEG image, for example, will be the actual image. And small hints on an icon indicate if a multi-page preview is available.
"There are some subtleties you learn really quickly," Croll said. "Multi-page documents get a little binder on the side and a bent over page that actually is the second page, so it's a really nice preview."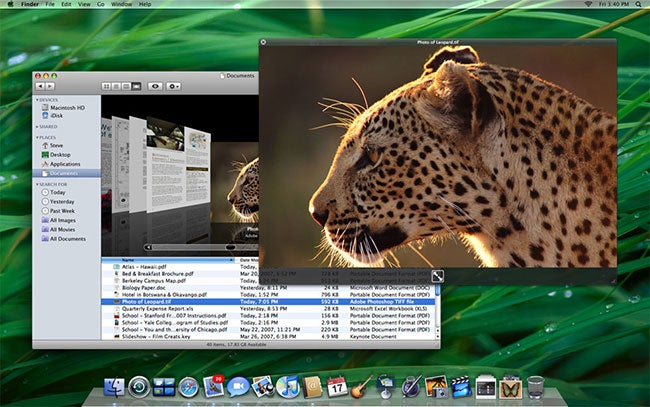 Quick Look
In addition to the Icon, List, and Column views in Finder, Leopard will add an iTunes-like Cover Flow view—as with album covers in iTunes, Finder's Cover Flow uses Quick Look to display previews of any file whose format is supported by Quick Look, including Word documents, QuickTime movies, and PDFs. (Developers can add Quick View support for other file formats by writing a plug-in for a given format.) In Cover Flow view, you'll also be able to use Quick Look to page through multi-page documents or play QuickTime movies by clicking on the relevant file.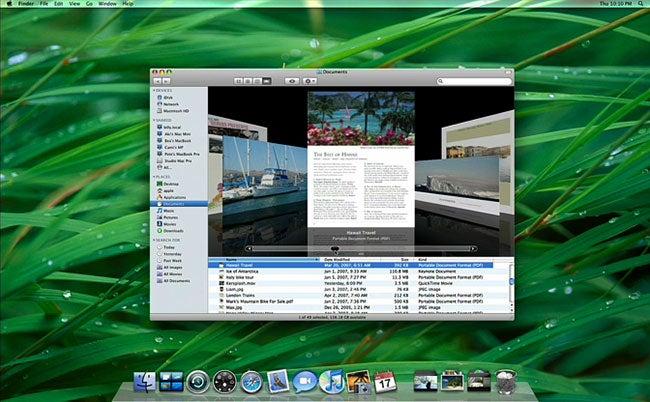 Finder's Cover Flow view
Finder searches will be streamlined, thanks to prebuilt searches grouped under the Search For header in the sidebar. Click on "yesterday," and Finder will display files that meet that criteria. In addition to using prebuilt searches, you'll also be able to assemble your own.
The Finder will allow searches of other Macs, Windows machines, and servers on a network to make it easier to browse shared files. A component of that is a new Back to My Mac feature for .Mac subscribers. Using Back to My Mac, .Mac subscribers will be able to search and retrieve files stored on other computers, even if they're on the road.
Spotlight searches in Finder will incorporate the enhancements to the built-in search functionality that Jobs outlined last August. Those enhancements include the ability to use Boolean logic to narrow search results with "and," "or," and "not" commands. Spotlight also will let you search for exact phrases by using quotation marks, dates, ranges, absolute dates, and simple calculations.
Leopard will also include a new version of Safari. Safari 3, which will run on Windows as well, was released as a public beta Monday. The enhancements to the Web browser include an integrated Find banner, a new approach to highlighting the results of Find searches, the ability to drag and drop tabs, and resizable text fields. (For more on Safari 3's features, see our first look.)
Other Leopard features highlighted by Jobs during his hour-long Leopard demo were recaps of capabilities first previewed by Apple at last August's Worldwide Developers Conference. Those features included: 64-bit computing; Core Animation; the virtual desktop feature Spaces; an updated Dashboard that includes widget-building technologies such as WebClip and Dashcode; an enhanced version of iChat that adds Photo Booth effects and iChat Theater; and Time Machine, a built-in back-up tool. Jobs also highlighted Boot Camp, Apple's application for installing and running Windows on an Intel-based Mac; as announced last August, Boot Camp will be included with OS X starting with Leopard. (And with the Leopard implementation of Boot Camp—which will work with both Windows XP and Vista—users will no longer have to burn a CD of Windows drivers or install those drivers separately since they'll be included on the Leopard installation discs.)
While those features may have revealed nearly a year ago, there were still some new details contained within Jobs' keynote and Apple's online Leopard overview. Take iChat, OS X's built-in messaging client. While features such as tabbed chats, the ability to record audio and video sessions, Photo Booth effects, and screen sharing were all disclosed last year, some new details about iChat emerged Monday. For instance, the iChat Theater capability that allows you to show off things like iPhoto slideshows and Keynote presentations will allow you to present any document and file that works with Quick Look to your fellow chart participants. According to Apple, the chat client uses the AAC-LD (for Low Delay) audio codec for better-sounding chats. And during his keynote, Jobs was joined by Apple senior vice president of worldwide product marketing Phil Schiller to demonstrate new backgrounds and special effects for video chats, including a hologram-like effect and another that superimposes your lips over someone else's portrait.
Developers attending the Worldwide Developers Conference in San Francisco received a Leopard Developers Preview.
This article was updated at 6:20 p.m. ET and again at 7:30 p.m. ET on June 11, 2007, to include more details on Desktop, Finder, and Quick Look and quotes from Apple executives. An update at 1:50 a.m. on June 12 added more details about Safari 3, Boot Camp, and iChat.