More details have emerged about Mac OS X 10.5, the next major update to the Mac operating system that Apple has dubbed "Leopard." While Leopard won't be let out of its cage until October, two Steve Jobs keynote addresses and Apple's Leopard web site have given us some idea of how this latest cat will behave.
In the following pages, we'll describe what's publicly known about Leopard's new features—and the lingering questions that we're still trying to answer. We'll also take a look at the OS X 10.5 features Apple first unveiled in August 2006, paying special attention to what's changed since then. We'll continue to update this collection of Leopard features as more information becomes publicly available.
Desktop
Finder
Time Machine
Quick Look
Spaces
Safari 3
iChat
Automator, Mail, iCal, and Dashboard
Boot Camp, Front Row, and Photo Booth
Accessibility, DVD Player, and Parental Controls
Desktop
What it is: What Steve Jobs called a new "Desktop" during his Worldwide Developers Conference keynote in June is really a group of changes to OS X's general interface, as well as improvements to the Dock.
What's new: Interface changes in OS X 10.5 include a now-translucent menu bar, a consistent dark-gray window appearance throughout the Mac interface, and a refined Dock appearance. Dock icons now sit on a glossy surface (which reflects any windows that happen to be near the Dock). Active applications get a new signal—a bright, glowing dot replaces the black triangle that signals active apps in Tiger.
Perhaps the most significant addition to the Desktop in Leopard is Stacks—a new feature that lets you place folders in the Dock for quick access to their contents. A default stack in the Dock will be a new unified Downloads folder—downloads from the Web or from e-mail attachments automatically wind up here. The idea behind a Downloads stack is that it will help you keep your Desktop clean while still allowing easy access for downloads with just a single click.
Stacks in OS X 10.5
The enhancements to the Desktop are covered in much greater detail in our Desktop and Finder changes preview.—JASON SNELL
Finder
What it is: As with the Desktop, calling the Finder "new" is another way to say "a new look and a few new features." Nevertheless, Leopard's Finder undergoes some significant changes from OS X 10.4.
What's new: First and foremost, Leopard includes a remodeled Finder sidebar that looks a lot more like what you already see in the iTunes 7 Source list. The sidebar now groups items together by Devices (hard drives, CDs, DVDs), Shared (network volumes and computers), Places (folders and files on your hard drive), and Search For. As suggested by the Shared header, Leopard places an emphasis on improved connectivity features for Macs on your network as well as other Macs you own. The Shared header in the sidebar shows any computer on your network—including Windows-based PCs—that are sharing files as well as any Mac with screen-sharing enabled. Another feature, Back to My Mac, lets .Mac subscribers connect more easily with remote Macs to share files or even control screens.
Probably the most eye-catching change to the Finder is another iTunes 7-inspired addition: a new Cover Flow view to go alongside the existing List, Icon, and Column views. The Cover Flow view shows a live preview of each file's contents; click on the preview for a PDF, for example, and you'll be able to flip through its pages right there in the Finder.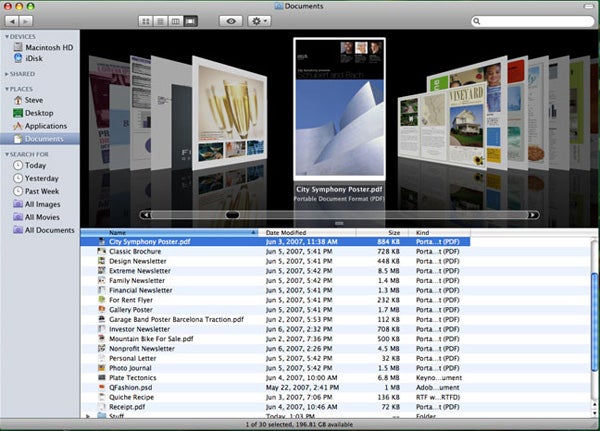 Cover Flow view in Finder
Leopard will also see changes to the built-in Spotlight search technology. While those enhancements appear to be little changed from what Apple first previewed in August 2006, it's worth reviewing those changes here. Namely, Spotlight now supports boolean logic, letting you refine searches with terms like "and," "or," and "not"—you can also search for exact phrases, date ranges, absolute dates, and simple calculations. Applications are the first matches returned in a Spotlight search, giving the feature more launcher-like capabilities.
The Search For header in the Finder sidebar comes pre-populated with several default searches as well as recently saved Spotlight searches. Also, Leopard's Spotlight will be able to search other local Macs and remote servers, although we're not sure whether these other computers will need to run Spotlight as well.
As with the Desktop enhancements, we list the changes to the Finder in greater detail in our Desktop and Finder preview.—JASON SNELL AND PHILIP MICHAELS
Time Machine
What it is: With more types of files—photos, music, and such—going digital, backing up data becomes ever more important. And yet, most users don't do regular backups. Apple attempts to address this paradox with by building into OS X 10.5 an easy backup tool that will save regular users from mistakenly deleting files or suffering from a catastrophic hard-drive crash.
What's changed: From what Apple's demonstrated publicly since first previewing Time Machine in August 2006, not much. But there are some details about the built-in backup technology that are new.
When you first attach a new external hard drive to your Mac, Time Machine will offer to use that as your back-up drive. If you click on Enable Time Machine, that's it—Time Machine will back up to that drive on a regular basis, without you having to configure a thing.
Apple's new AirPort Extreme base station includes a feature that lets you attach a USB hard drive to it and share that drive's contents with anyone on your local network. As it turns out, Apple says that Time Machine is perfectly suited to back up all the Macs in your house to that one centralized, networked hard drive. (And for the time it'll take to back up your hard drive via a Wi-Fi connection, you'll want the high speeds of 802.11n offered by the latest version of AirPort Extreme.)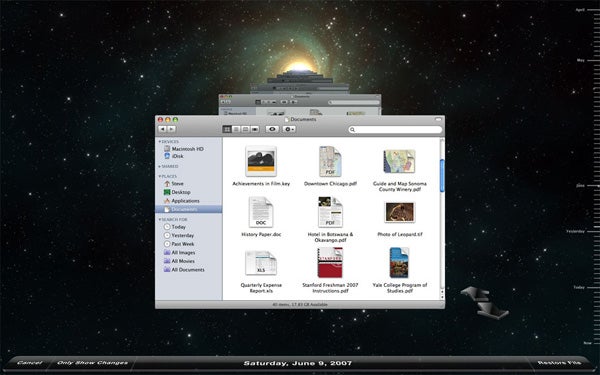 Time Machine
Apple's Time Machine page also indicates that you can encrypt your backups if you want, and manually set specific files not to be backed up (presumably large ones).—JASON SNELL
Quick Look
What it is: Last year, we were all impressed by a feature embedded within Time Machine that let you quickly preview the contents of most documents, without launching the programs that created them. That feature—dubbed Quick Look—is now pervasive in Leopard, especially in the Finder.
What's new: Basically an enhanced preview, Quick Look lets you instantly access a live preview of a file without having to open an application. For example, you can view a large, readable preview of a PDF file, and flip through that file's pages, right in the Finder. In the case of a movie or audio file, you can watch the video or listen to the audio with one click. And if the default preview is still too small, another click lets you preview the file at full-screen size.
Quick Look supports many common file types—including text, images, movies, PDFs, and Word and Excel documents—out of the box; developers can supply plugins that add Quick Look support for their own documents.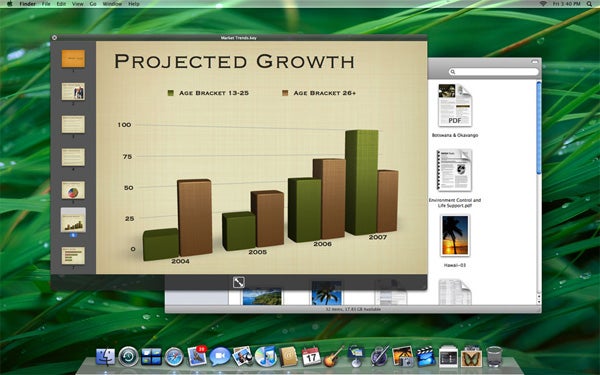 Previewing a Keynote presentation in Quick Look
This feature should be especially useful for previewing photos and movie files, but it will also come in handy whenever you want to take—well—a quick look at a file without launching another app.—DAN FRAKES
Spaces
What it is: With today's Macs, which can run so many applications at once, multi-taskers often find their windows cascading endlessly into one another. Apple tackled this problem last August by introducing Spaces, its take on the decades-old technology of virtual desktops.
In Leopard, you'll be able to create multiple, distinct desktops—at least nine—each with the applications and windows needed for a particular set of tasks. Instead of having scads of windows competing for screen space, or having to quit and launch groups of apps in order to have some semblance of onscreen order, Spaces offers the best of both worlds: all the applications you need at your fingertips without the clutter. For example, you could allocate one space to Web site work, populating it with iPhoto and iWeb; a "work" space hosting your Excel spreadsheets, a report in Word, and your e-mail client; another hosting your browser and iChat; and a fourth for fun stuff like games and DVD Player. (If you use a virtualization solution such as Parallels or VMWare to run Windows on your Intel-based Mac, you could even set up a space just for—gasp—Windows.)
As we outlined in our initial preview of Spaces, you'll be able to get a bird's eye view of your different workspaces by hitting a hotkey a la Exposé. You can toggle back and forth between workspaces via mouse clicks, keyboard commands, or just clicking the Dock icon of any application in a particular workspace.
What's Changed: Apple hasn't (publicly) changed Spaces much since that August 2006 preview. Spaces' onscreen display is still an Exposé-like grid that allows you to easily switch between spaces; you also use this display to drag windows between spaces and rearrange the relative positions of the spaces themselves.
Space's bird's-eye view
Many of the questions we had about Spaces last August remain unanswered. We still want to know whether particular windows can appear in multiple spaces, how Spaces will deal with minor issues such as applications minimized to the Dock, and how Spaces will work on older Macs. Hopefully, those answers will come by October.—BRIAN CHEN & DAN FRAKES
Safari
What it is: When Tiger was unleashed in 2005, Apple updated its in-house browser to Version 2. Leopard will get the same treatment with a brand new version of Safari. The difference? This time, the update is available in beta form from Apple's Web site.
What's changed: A dramatically improved Find command finds text on a page via a method that'll be familiar to anyone who's watched game highlights on SportsCenter : the Spot Shadow. When you search for text in Safari, the entire Web page darkens, except for the text that you're searching for. The current selection pops up when you find it, all in orange—you can't miss it.
The last major version of Safari added support for multiple tabs in a window; with this version you can drag those tabs around to rearrange them. (It's also easier to save those tabs to a bookmark and re-open your tabbed window if you accidentally close it.) Text boxes on forms are now resizable, which will make people who post in online forums very happy. A semi-transparent inline PDF control in the browser lets you zoom in and out, save a PDF file, or open a file in Preview from within Safari.
And if you're a Windows user, well, the whole thing will be new to you—Safari 3 joins the ranks of Apple's cross-platform applications by running on Windows.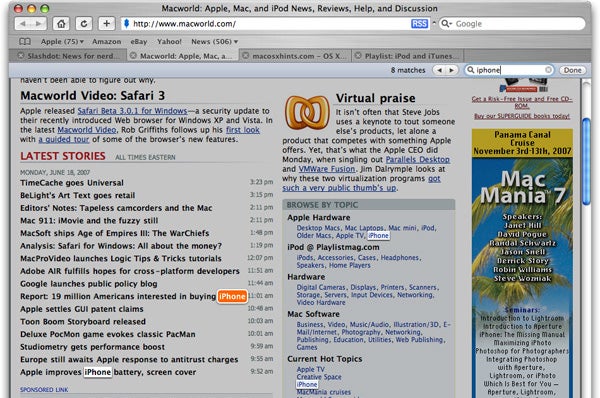 The new Find command in Safari 3
We've got much more on Safari 3's new features in a first look at the beta, as well as this video tour of the updated browser.—JASON SNELL
iChat
What it is: Apple's instant messaging client gets its usual overhaul to accompany a major OS X update. In the past, that's meant features like video and audio conferencing, compatibility with other chat protocols and Bonjour support. This time around, Apple's added a number of features, which we outlined when Steve Jobs first previewed the Leopard version of iChat last August.
Under Leopard, iChat adds tabbed browsing, a new "invisible" status to hide your online presence from your many admirers, the ability to record audio and video conferences, Photo Booth -like video effects, and the ability to show slideshows, movies or presentations during iChat conferences—Apple dubs this last feature iChat Theater.
What's changed: That August 2006 preview of iChat included a Screen Sharing feature, in which you can control the Mac of another conference participant. That feature appears to be incorporated in the Finder in the latest iteration of OS X 10.5.
Judging by Steve Jobs' WWDC keynote, Apple has added a number of new effects to iChat—or at least shown effects that it didn't show off last August. These include a Princess Leia-style hologram and the ability to overlay your lips over someone else's portrait. iChat Theater continues to allow you to show off presentations and files during a chat session—the new detail is that any file type compatible with Leopard's Quick Look feature will work in iChat Theater.
iChat Theater in Leopard
Another, more practical addition to iChat is the use of the AAC-LD ("LD" for "Low Delay") audio codec. Apple says this widebrand codec samples a full range of vocal frequencies for better-sounding audio chats.—DAN MOREN AND PHILIP MICHAELS
Automator
What it is: First introduced in Tiger, Automator is a tool to help automate common tasks. It includes a number of actions for various applications that make creating simple workflows as easy as drag-and-drop.
What's changed: Apple hasn't talked up the changes to the Leopard version of Automator, but don't expect a program that mirrors its OS X 10.4 predecessor.
A new record function in Leopard will let you automate nearly any application, and you can edit the recorded action to further customize it. Automator will offer starting points, which guide you through the first steps of your workflow—for example, "working with photos" and "working with files and folders." The addition of variables means you can store values that might be used in several steps of a workflow, helping you build more complex workflows.
Finally, the interface for Automator appears to have received a facelift, including the presence of a Media button on the toolbar, which should give you direct access to your music and photos.—ROB GRIFFITHS
Mail
What it is: As initially demonstrated last year, Version 3 of Apple Mail features improved integration with information from throughout your Mac. There's a new feature that lets you leave notes for yourself, as well as improved integration with iCal's To-Do items. The new version will also offer Stationery, templates for creating graphics-rich e-mail messages. And ther's new support for RSS, letting you read Web site feeds right within mail.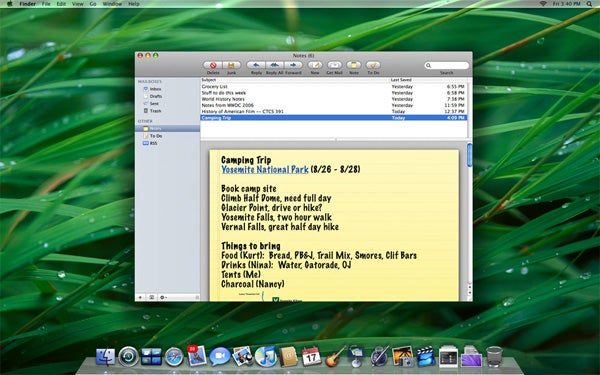 To-do list integration in Mail 3
What's changed: Mail 3 seems substantially the same to what we saw a year ago. The program appears to have added more support for intelligently detecting certain types of data, such as addresses, and offering to do useful things with them, such as adding those addresses to appropriate contacts in Address Book. Apple says that Mail 3 will also offer improved support for Spotlight, letting your mail float right to the top when you do a Spotlight search.—JASON SNELL
iCal
What it is: The new version of Apple's built-in calendaring program provides support for shared calendars that can be edited by multiple users. One of the keys to iCal's newfound social skills: iCal Server, built into the Leopard version of Mac OS X server.
What's Changed: The iCal interface has gotten a Leopard-style makeover, which means it looks more like iTunes 7 now, complete with sidebar. You can now double-click on an event in iCal and edit all its details, not just the name of the event, via what Apple calls "the new Inline Inspector window." And you can attach documents to any event's "drop box," attachments that are automatically sent when you send out invitations to that event. It's unclear just how many of iCal's new features will really only work if it's attached to a CalDAV server like the one found in the Leopard version of Mac OS X Server.—JASON SNELL
Dashboard
What it is: Steve Jobs calls Dashboard "a huge hit" for Apple since its introduction with OS X 10.4, and he's got the numbers to prove it—there are more than 3,000 widgets floating around out there that you can install on OS X 's hidden layer, accessible with just the push of the F12 key.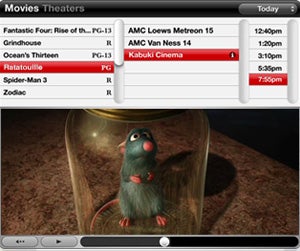 Apple's Movie widget
The major changes to Leopard's version of Dashboard were previewed last August. They include Web Clip, actually a button in Safari that lets you turn Web pages into widgets, and Dashcode, a development tool aimed at would-be widget makers. Dashboard will also include .Mac syncing, making it easier to transfer widgets from one Mac to another.
What's changed: Very little since las August. Jobs spent most of his WWDC 2007 keynote recapping the Web Clip and Dashcode features. However, one new detail did come out of that presentation: Apple is adding a movie widget that generates a listing of movies playing in local theaters and their show times; it also allows you to play trailers for current releases and coming attractions.—BRIAN CHEN AND PHILIP MICHAELS
The "Complete Package"
What it is: Last August, Apple slapped this all inclusive name on a trio of applications—Photo Booth, Front Row, and Boot Camp—that it planned on including with the finished version of OS X 10.5. Those applications aren't available to all current Mac users—Front Row and Photo Booth only came bundled with newer hardware while Boot Camp is a beta that Intel-based Mac users had to download the software themselves. Starting with Leopard, however, they will be.
What's changed: See below for details on the three parts of the package.—PHILIP MICHAELS
Boot Camp
What it is: Introduced in April 2006, Boot Camp lets Macs reboot and run Windows XP or Vista natively, complete with drivers. The Version 1.3 beta was recently released, updating drivers.
What's Changed: Jobs covered the Boot Camp highlights in his keynote—namely, that Windows drivers will be included with Leopard's installation discs, saving users the hassle of having to burn a CD of those drivers or install them separately.
But Apple may have inadvertently released another new Boot Camp feature on its Web site, before hastily taking it down. For a while, Apple's Boot Camp Web site touted a new item in the Apple menu, "Restart in Windows," which puts your Mac into a "safe sleep" mode rather than shutting it down entirely before rebooting into Windows, along with a corresponding "Restart in Mac OS X" menu item in Windows. The end result of such a capability: You still won't be able to run Windows and Mac OS X simultaneously without Parallels Desktop or VMWare Fusion, but you'll be able to switch back and forth between the two Windows more easily—and without having to sit through a full shutdown and restart. We'll see if that now-removed promise of a new feature appears in the final version of Leopard, but it certainly sounds compelling.—JASON SNELL
Front Row
What it is: Introduced in October 2005, Front Row provides a remote-control-driven interface to media on your Mac, including music, videos, and photos.
What's changed: Since Front Row's release, it's been superseded by the software on the Apple TV.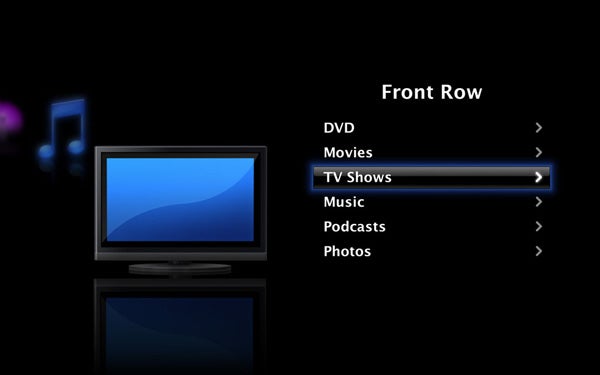 Front Row's Apple TV-like interface
And it looks as if that same Apple TV software has been rolled back into Front Row. The images on Apple's marketing page for Front Row make it appear that the Leopard version of Front Row will essentially be a Mac-based version of the same functionality found on the Apple TV.—JASON SNELL
Photo Booth
What it is: Introduced in October 2005 at the same time as Front Row, Photo Booth is a small application that uses an iSight camera to take quick photos, including ones tricked out with lots of fun special effects.
What's changed: Leopard brings more effects to the built-in snapshot editor. Users can take photos and videos from their iPhoto and iMovie libraries as well as the stock photography that comes with Leopard and use those images as backdrops for Photo Booth pictures; the Leopard version of iChat includes a similar feature. Photo Booth files will automatically appear in iPhoto on Mac OS X 10.5; currently, those images are housed in the Photo Booth folder within your Pictures folder A new burst effect lets users take four successive shots, presented in a four-up, interactive layout that can be animated with a click. And once Leopard arrives, Photo Booth will also be able to capture video in addition to still shots.—PHILIP MICHAELS
Accessibility
What it is: Apple's tools for users with physical impairments get a major upgrade in Leopard. A new text-to-speech engine features a voice, Alex, that sounds far more natural than what Apple has offered previously. The VoiceOver screen-reading tool is also upgraded, and also supports Grade 2 contracted Braille devices.
What's changed: The new NumPad Commander lets you transform your keypad into quick access to commonly used VoiceOver commands. VoiceOver also lets you set hot spots over accessible windows and notifies you of any changes in those areas. QuickTime features improved closed-captioning support. And all your accessibility preferences can sync to your other Macs via .Mac.—JASON SNELL
DVD Player
What it is: DVD Player is the OS X application that handles DVD movie playback. It didn't really get much press last year when Leopard's features were initially previewed, but Apple has sure made up for that this time.
What's new: DVD Player has received a major feature upgrade from its Tiger predecessor. A new full-screen interface gives you easy access to playback controls, subtitles, and alternative audio tracks, as well as image, color, and audio settings.
DVD Player's full-screen view
An Auto Zoom button scales the movie to remove the black bars (letterbox) from the image (it does so, of course, by trimming width from the picture). A playback position bar—similar to what you see in QuickTime Player—lets you quickly drag-scroll forward or backward to any point in the movie. Use the new image bar to save bookmark locations, images you'd like to see again, and even full video clips. Once saved, you'll be able to see the bookmarks, images, and video clips any time you play that DVD again.—ROB GRIFFITHS
Parental Controls
What it is: Mac OS X's feature that allows parents to limit the capabilities of specific accounts. For example, Parental Controls can be used to restrict Mail and iChat to particular contacts; limit Safari browsing to parent-provided bookmarks; and limit the user's ability to change settings, burn discs, and hide "mature" words in the system-wide Dictionary.
What's Changed: Apple hasn't released many details about Leopard's version of Parental Controls, but from what we can glean from publicly-available information, Parental Controls in Leopard gets its own pane in System Preferences (rather than just a set of options in Accounts). Whereas Tiger's version lets you limit an account' Web browsing to those sites manually entered by an administrator in Safari, Leopard adds a new content filter that actually intercepts Web pages and determines, on the fly, if each is "suitable for kids," blocking those that aren't. (You can also use the Tiger approach to manually add sites that you want blocked or allowed, bypassing the content filter for those URLs.)
Leopard also adds time limits to Parental Controls: you can set up specific times during which a child is allowed to log in and use the Mac—with different times on weekdays than on weekends—as well as how long a Controlled account can be used at any one time. Leopard can also log a Controlled account's activities to keep track of people with whom your child has e-mailed or chatted; which applications have been used; and which Web sites have been visited. You can even monitor a Controlled account from another Mac on your home network.—DAN FRAKES