For a product that hasn't even been released yet, there's sure a lot of information out there about the iPhone. If you've scoured Apple's 40-plus minutes of marketing videos, analyzed every word of the early reviews posted by the Wall Street Journal , New York Times , USA Today , and Newsweek , and committed Steve Jobs' Macworld Expo keynote to memory, you know all there is to know about the iPhone.
But who has the time to do all that? Well, your friends at Macworld , that's who. We've watched the videos with Zapruder-like analysis, attended all the keynotes, talked to the insiders, and even held the phone in our own little hands for a few precious minutes. And so we've compiled everything that's currently known about the iPhone into this comprehensive list of frequently-asked iPhone questions.
On June 29, we'll all learn much more about the ins and outs of iPhone. But in the meantime, here's what you need to know.
Overview
How is the iPhone different from other "smartphones" on the market?
Take a look at other smartphones. You'll usually find a small keyboard on the bottom of these devices as well as a bevy of buttons on the front to navigate and control features. That's not the case with the iPhone; there's a single button—the Home button—on the front of the phone, and just a few other buttons on the sides.
So how do you use it? Nearly every task and command is controlled via changeable, onscreen keyboards, buttons, and icons. Instead of a stylus, the iPhone uses your finger. Instead of a small, squarish screen, the iPhone has a 3.5-inch widescreen display (at least when it's turned horizontally). And instead of a scaled-down operating system to power it, the iPhone runs a version of OS X.
OS X? Which version?
Apple isn't saying, although Apple executives have been consistent in insisting that the iPhone doesn't run a weird, not-really-OS-X version of OS X. To be sure, it's a slimmed-down version that takes up only about 700MB of the iPhone's internal storage. As Steve Jobs put it back in May, a lot of Mac OS X's size is taken up with desktop pictures and other large files that aren't a part of the core operating system and don't need to be included on the iPhone, so the iPhone may indeed be running something close to a "real" full version of OS X.
Does this mean I can load my Mac programs onto the iPhone?
No, the programs that run on the iPhone use a very different interface, one that involves using your fingertips rather than a mouse and a keyboard. There's no Finder, no Dock, and no menu bar. And at present there's no way for companies outside Apple to load any software, let alone existing Mac programs, onto the iPhone.
What version of OS X will I need to sync my Mac with the iPhone?
The latest version of Tiger—Mac OS X 10.4.10.
The hardware
How big is the iPhone? How much does it cost? How much does it store?
The iPhone is 4.5 inches tall by 2.4 inches wide and 0.46-inch deep (or 115-by-61-by-11.6-millimeters)—about the size of a slim portable hard drive. It has no external antenna and weighs 4.8 ounces (or 135 grams). It comes in two versions: a 4GB, $499 model and an 8GB, $599 model. Keep in mind those capacities are the iPhone's total storage for its operating system, applications, photos, music, and videos.
Is the front of the iPhone just one big touchscreen?
Almost, but not quite. Above the glass screen is the speaker where you place your ear to listen to a call, and beneath the screen is the iPhone's Home button, the only physical button on its front face.
Tell me more about the iPhone's screen. Won't it scratch easily? Will it break if I drop it?
Apple recently announced that the iPhone uses an optical-quality glass display instead of a plastic one. That should improve the scratch resistance over an iPod. The screen itself is a 3.5-inch, touch-sensitive display, which has a resolution of 320-by-480 pixels at 160 pixels-per-inch (a much higher resolution than most computer displays). The glass is supposed to be very strong, but yes, we suppose if you drop it it's possible that it might break.
So there's just the one Home button on the iPhone's front. What other switches and features does the phone's case have?
On the left side is a volume-control button and a switch that lets you toggle between an audible ring and silent operation. The top has a slot for the phone's SIM card (which identifies you to the cellular network), a sleep/wake button, and a headset and audio jack. (This audio jack is a standard 3.5-mm version, like the on used on iPods, rather than the smaller 2.5-mm size used by many cell phones; however, the jack is recessed a bit into the phone's body, so you may need an adapter, not included, to use third-party headphones with large plugs.)

From left to right, the iPhone's recessed headset jack, SIM card slot, and sleep/wake button
On the bottom, there's a loudspeaker (for audio playback and speakerphone), a microphone, and a 30-pin iPod dock connector (just like the one on dockable iPods). The back of the iPhone sports the lens of the phone's built-in two-megapixel camera.
From left to right, the iPhone's microphone, iPod dock connector, and speaker
How does the sleep/wake button work?
If your iPhone is active, press the sleep button to lock the screen. The phone will still receive calls, and if you're playing music, the music will continue to play. You can even use the volume buttons to adjust music volume, but the screen itself will be off. Press the sleep button again to wake up and unlock the iPhone; you'll need to confirm the action by sliding your finger across the virtual slider on the screen. If you want to shut down the iPhone entirely, hold the sleep/wake button down for a few seconds, and then confirm using the same onscreen slider. When shut down, the iPhone won't ring, play music, or anything else.
Unlocking the iPhone after wake-up
Accessories
Does the iPhone come with a set of headphones, like the iPod?
It comes with a set of earbud headphones that appear to be just like the ones included with iPods; but they're actually quite different. These wired stereo earbuds include an integrated microphone and remote control, hidden in a small "pod" where the left and right cables meet. When you're listening to music, squeezing this pod once pauses playback; squeezing it again resumes playback. Quickly squeezing the pod twice advances to the next track.
You also answer incoming calls and hang up by squeezing the pod; music will automatically pause and resume, respectively.
What about accessories? Will they be as numerous as what's available for the iPod?
Eventually. There are already a flood of them on the way. Apple will sell a Bluetooth headset that pairs automatically with the iPhone, and Aliph says it will offer a Jawbone headset alongside iPhone at Apple retail stores. That's just the beginning.
Will iPod accessories work with the iPhone?
The connector on the bottom of the iPhone is the standard iPod dock connector. But it's unclear if all accessories will be compatible. The iPhone is a different shape than the iPod models, so it may not fit right in some accessories. And the threat of interference from the iPhone's cellular antenna may mean that external speakers may not work as well, or at all, unless the iPhone is placed in Airplane Mode (when you place the iPod in a dock-connector speaker system, the iPhone automatically asks if you want to switch modes). But until we get a chance to test iPod accessories with a real iPhone, we won't know the ins and outs of compatibility.
What about the camera on the iPhone? What can I do with that? How do I manage photos on the iPhone?
The iPhone camera's 2-megapixel sensor is small by digital-camera standards. The camera uses the screen for (very large) image framing, and the phone's Photos program lets you browse your photo library or view individual photos in full-screen mode. Photos takes advantage of the touchscreen by letting you "swipe" images left or right to cycle through them, or pinch images to zoom in or out.
It doesn't appear that the iPhone's camera will be able to capture video, but you can use the photos you take with the iPhone as wallpaper or to come up when a particular person calls.
You mentioned charging the battery. What kind of battery performance can I expect from the iPhone?
One of the problems with converged devices such as smart phones is battery life—with so many functions, it'll be easy to run down the battery without even noticing. That may be acceptable for a media player or handheld, but not for a phone. The iPhone will contain a single battery (which, like the iPod, you can't remove or swap yourself) to power all aspects of its operation.
The company says the battery will last up to eight hours for talk, seven hours for video playback, six hours for Internet browsing, or 24 hours for audio playback. (The iPod nano, for comparison, is rated for up to 24 hours of audio playback, and the 80GB iPod can play up to six-and-a-half hours of video.) Standby time is rated at up to 250 hours.
But these are Apple's tests doing just one of these things at a time, in generally favorable circumstances; in real-world use, you'll likely be doing a combination of these things over the course of a day, and in varying environments (sometimes using Wi-Fi, sometimes using EDGE, sometimes listening to music and surfing the Web). In any event, you'll need to exercise some good judgment if you want to ensure that you have enough juice left for your phone once you're done listening to music, browsing the Web, or watching video. We expect to have a better idea of battery performance after a few days using the iPhone.
The interface
The Home screen
How do I launch programs?
When you press the iPhone's Home button, you're immediately taken to the iPhone's Home screen. This screen features three rows of four icons, for a total of 12 applications: Text (for SMS text messaging, not iChat/AIM), Calendar, Photos, Camera, YouTube, Stocks, Maps, Weather, Clock, Calculator, Notes, and Settings. At the bottom of the screen is a bar—visible more often than the Home screen—containing the big four: Phone, Mail, Safari and iPod. Tap on any of the 16 icons to launch the corresponding program.
Some of the pictures of icons on the iPhone have little numbers next to them. Why?
Just as some icons in Mac OS X's Dock have informational "badges" attached to them—how many new messages are waiting for you in Mail, for example—so too do icons on the iPhone's Home screen. So, for example, you can see how many new Mail messages, or SMS messages, or voicemail messages you have.
What's contained in the bar at the top of the iPhone screen?
The bar at the top of the screen is visible at all times, with the exception of a few full-screen modes such as playing back videos. The bar contains the current time, an icon indicating how much battery life you've got, an indicator of which cellular network you're on (in most cases AT&T, though if you roam to areas without AT&T coverage you may find yourself on a partner network), a series of bars to indicate the strength of your cellular network signal, and an AirPort icon that displays your Wi-Fi network connection status; you can tap on that last one to enable or disable Airplane mode.
How do I type on a buttonless phone?
Use the onscreen keyboard. When it's time to enter text (in programs such as Mail, SMS, and Safari), a keyboard slides up from the bottom of the screen. Although the touchscreen doesn't offer tactile feedback, the iPhone features automatic error detection and text prediction—so even if you do make a mistake, the software will often fix it before you notice. In our brief hands-on time with an early iPhone, we found that single-finger typing actually worked quite well. And Apple claims that you can use two thumbs to type as well.
Typing on the onscreen keyboard, in this case in the Mail application
Although the iPhone doesn't offer tactile feedback for typing, it does offer visual feedback—when you press a key, it enlarges, as if it's rising up to meet your finger. Because the iPhone's keyboard doesn't "register" your keypress until you lift your finger—much different than the behavior of most keyboards—you can use this visual feedback to correct in-progress keypresses; if you see that you're pressing the wrong key, you can slide your finger over to the desired key.
Settings
I want to use my iPhone to watch movies and listen to music when I'm on an airplane, but the flight attendants always say that cell phones much remain off during the entire flight. What gives?
Like many smartphones, the iPhone has an "Airplane mode" that lets you deactivate all the wireless features of the phone for the flight while keeping all other features functional. To activate Airplane mode, go to the Home screen and touch Settings. Slide the Airplane mode switch to On, and you'll automatically disconnect the iPhone from the mobile-phone network, as well as turn off its Bluetooth and Wi-Fi radios. (The top bar on the iPhone will display an airplane icon to tell you that you're in Airplane mode.)
When you're at your destination and the flight attendants have told you it's OK to reactivate cell phones, just slide the Airplane mode switch back to Off. This feature is also useful in other places, such as hospitals, where mobile phones are not allowed.
What other iPhone settings can I adjust from the Settings program?
Just about everything, including setting new ringtones and wallpaper; adjusting the brightness of the phone's backlighting; and modifying the settings for individual applications such as Mail, Phone, Safari, iPod, and Photos.
Can I set the iPhone to alert me when I get new mail? A new voicemail? Can I set it to vibrate or make a noise?
Yes to all of the above. From the Sounds menu of the Settings program, you can set whether you want the iPhone to vibrate when it's in silent mode and, separately, when it's in audible mode. You can set the ring volume and ringtone, and decide whether the phone will make noise if you get a new voicemail, text message, e-mail, and more.
So I need to go to the Settings screen to adjust the screen's brightness when I go from sunlight to darkness?
No. The iPhone has an ambient light sensor that adjusts its brightness depending on your surroundings.
Service and activation
Is there anything special about the iPhone's wireless connections?
The iPhone is a quad-band GSM phone, which means it'll work in the U.S. as well as many other parts of the world. (GSM—Global System for Mobile Communications—is the dominant standard in most of the world, but in the U.S. only AT&T and T-Mobile use it.) For wireless data, it can send and receive e-mail and connect to the Internet using AT&T's EDGE network or the phone's built-in 802.11b/g Wi-Fi.
The iPhone also includes Bluetooth 2.0/EDR capabilities. Unfortunately, the iPhone's Bluetooth feature apparently doesn't support A2DP, a Bluetooth profile that lets you send and receive stereo data; this means that you won't be able to use stereo Bluetooth headsets, such as iSkin's Cerulean, to listen to music on the iPhone. You will, however, be able to use standard mono Bluetooth headsets to make calls.
Does that mean I have to use AT&T as my iPhone service provider?
Yes. Both iPhone models will require a two-year contract with AT&T (formerly known as Cingular), the exclusive U.S. carrier. Apple has no plans to release a version of the iPhone without a service contract or one that is unlocked.
Is there a quick way to tell if AT&T coverage is decent in my area?
Check the AT&T Coverage View. If you zoom on the map, you'll get an idea of what call quality you might expect in your area or in places where you travel regularly.
How do I set up my iPhone for service? Will I have to do all that when I buy my phone?
Apple has worked with AT&T to make the activation process relatively simple. All you need is a Mac or Windows PC running the latest version of iTunes. Once you have an iPhone in hand, connect the included dock cradle to a spare USB port on your computer and then place the iPhone in the cradle. That should launch iTunes and you should see an iPhone icon under the Devices heading in iTunes' source list (the same place you'd find an iPod when connected) and a "Welcome to Your New iPhone" page in the main area.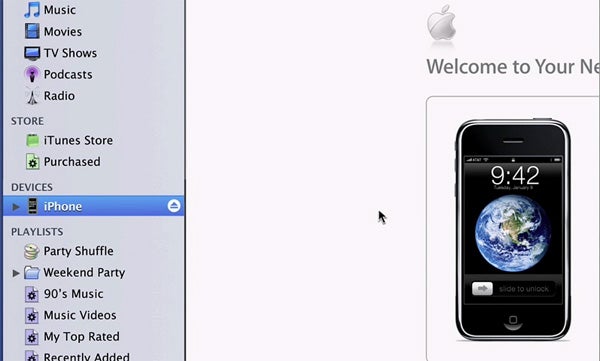 Activating the iPhone in iTunes
To begin the activation process, click on Continue. On the following pages you'll enter more information and ultimately activate your phone.
So what are the rate plans? What do they include?
All plans include unlimited data (e-mail, Web), 200 SMS text messages, Visual Voicemail, unlimited mobile-to-mobile minutes (with other AT&T wireless customers), and rollover minutes (so you don't lose your monthly allotment if you don't use them); the main difference between plans is the number of minutes included. For individuals, plans start at $59.99 per month for 450 minutes and go up to $219.99 per month for 6,000 minutes (the $59.99 plan includes 5,000 nights and weekends minutes; all the other plans include unlimited minutes).
Families can get shared minutes for multiple phones, starting at $80 per month for 700 minutes, although the somewhat confusing small type reads "Price reflects one line. A minimum of two lines are required. Additional iPhone lines are $29.99 each. Family plans for two iPhones start at $109.99"
I'm already an AT&T customer…what about me?
Existing customers can keep their current voice plan and upgrade to unlimited data, 200 SMS messages, and Visual Voicemail for $20 a month (although you will have to agree to a new two-year contract).
200 SMS messages? I'll use that in a week.
No problem—AT&T will give you 1,500 messages a month for an extra $10 per month, or unlimited messaging for an additional $20 per month.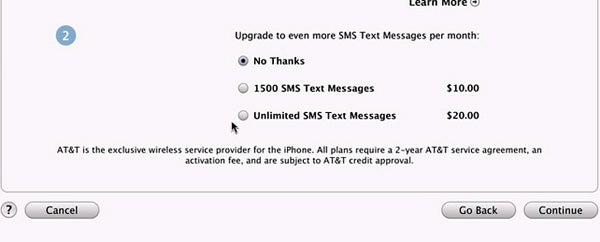 At the bottom of the iTunes screen where you choose your rate plan, Apple offers the option of upgrading your SMS message total.
I notice that the fine print says "Minimum new 2-year wireless service plan and activation fee required to activate iPhone features, including iPod"—what does that last part mean?
It would seem to indicate that you can't just buy an iPhone if you're looking for a cool (but expensive) widescreen iPod. You'll need to activate the phone service on it in order to enjoy the iPod functions as well.
And what's this about a "fee?"
AT&T charges a one-time $36 setup fee for activating your iPhone, just as it does for activating any new phone.
What if I leave the country and go somewhere where there's no AT&T service? Can I bring my iPhone?
Yes. AT&T has roaming agreements with various carriers overseas. Minutes can be quite pricey (so check with AT&T before you travel to get details and see if there's an international-dialing plan you can sign up for) but it works. What you can't do is swap out your AT&T SIM card for a pre-paid SIM card with, for example, a local European phone number. The iPhone is locked to its AT&T SIM card.
Making and Receiving Calls
How do I make a phone call?
There are several ways to make a phone call. To call anyone listed in your contacts, tap on the Phone button and your Address Book will automatically appear. Flick your finger to scroll to the name of the person you want to call, touch the name, and then touch the phone number.
From the Phone program, you can also touch on any number in the Recent Calls, Favorites, and Visual Voicemail screens to initiate a phone call. If you are calling a brand new number, you can use an old-fashioned (virtual) number pad, which is an option on the phone screen.
Can I use my voice to make a hands-free call?
No, the iPhone doesn't support voice dialing, at least not in this version. It might be a feature that Apple could add later via a software update.
What controls are available to me when I'm on the phone?
While you are on a call you have access to six buttons on the iPhone. The Mute button allows you to mute the current call; Keypad brings up the numeric pad for navigating through touch-tone interfaces such as voice mail systems; Speaker turns on the iPhone's integrated speakerphone; Add Call lets you dial someone else and add them to your existing phone call; Hold puts the current call on hold; and Contacts brings up your Address Book.
In-call commands: Mute, Keypad, Speaker, Add Call, Hold, and Contacts
You can also tap on the iPhone's Home button while on a call to bring up the Home screen, giving you access to all of the other applications on the iPhone. If you do that, the bar at the top of the screen will turn green, reminding you that you've got a call on the line. Touch the green area to return to the phone screen.
Can I make a conference call?
Yes. To initiate a conference call, make your first call as normal and then and tap the Add Call button—you can choose a person from your Address Book to call and tap Merge Calls to begin the conference.
What happens when someone calls me?
If you're playing music, the music will fade out and pause. If you're watching a video, the video will pause. Then you'll see a screen that indicates who's calling, and you'll have the option to answer.
What happens when someone calls me when I'm already talking on the phone?
If you're talking to someone already, a pop-up window will appear with the name of your new caller, as well as three buttons: Ignore, Hold Call + Answer, and End Call + Answer. If you answer the call while putting your other call on hold, you can then use the Swap button to toggle between the two callers, or use the Merge button to join the two calls into a single conference call.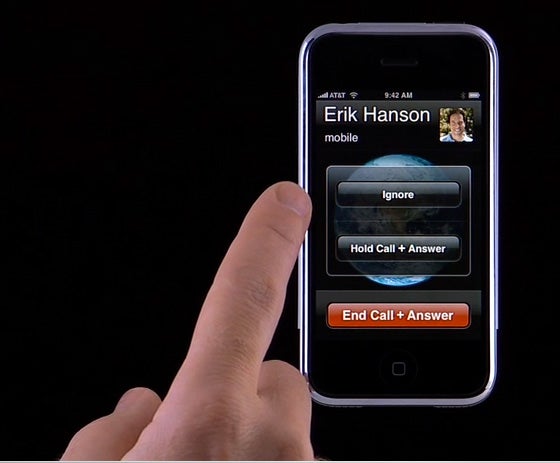 Your options for answering an incoming call when you're already on the line
At the top of the screen you'll see the names of both people you are talking to and their status: a phone icon and a clock counting up call time for the one you're talking to, and HOLD for the one who's on hold.
When I put my face up to the glass to take the call, won't my cheek press all the wrong buttons?
No. When you bring the phone to your ear, a proximity sensor turns off the iPhone's display and the touch sensor to prevent accidental button activations.
What if I get a call while listening to music on my headphones?
If you're using Apple's included headphones, you can click (by squeezing) the inline microphone pod to answer the call. When you're done talking, click again to hang up and your music will resume.
Visual Voicemail
What about ringtones?
The phone ships with 25 different ringtones: Alarm, Ascending, Bark, Bell Tower, Blues, Boing, Crickets, Digital, Doorbell, Duck, Harp, Marimba, Motorcycle, Old Car Horn, Piano Riff, Pinball, Robot, Sci-Fi, Sonar, Strum, Timba, Time Passing, Trill, and Xylophone. You're able to assign ringtones to different callers; however, at this point Apple doesn't allow you to add or delete ringtones from the phone. (There are hacks that allow you to do this from enterprising third-parties.)
How do I check my voicemail?
From the iPhone's Home screen, tap on the Phone icon and then tap on Voicemail. The iPhone takes a modern approach to voice mail: Instead of dialing in to a voice mail system and listening to your queued-up messages one by one, the iPhone's Visual Voicemail feature displays a list of current voice mails, including the name of who sent them and when they were sent. When you tap on any one of them, that message plays. You can also choose to save or delete them, one at a time. The entire effect is not unlike an e-mail client for voice mail.
iPod features
So will this phone work like my iPod?
As an iPod, the iPhone's functionality is similar to that of a fifth-generation (5G) model. In addition to playback of the standard array of music-file formats, the iPhone can display photos as well as play video. There are several key differences, however.
Like what?
Like navigation, for starters. Notably absent from the iPhone is the iPod's famous Click Wheel; to navigate through your media and control playback, you use the iPhone's touch-sensitive screen. To find a particular song, for example, you tap on the Music item, tap on the Songs item, then move your finger up or down the screen to scroll the song list up or down; a flick of your finger down the screen allows you to scroll more quickly.
If you don't want to scroll through all your music to get to a certain section, you can also tap your finder on any letter of the alphabet, from the list displayed on the side of the screen, to jump directly to items beginning with that letter. (Because of the small size of the letters, however, accurate jumps were somewhat difficult to achieve during our brief time with the iPhone—but we still bypassed a lot of scrolling.)
Once you've found the song you're looking for, tap the track's name to start it playing. Even with the different method of control, the menu system and media-browsing system are recognizably iPod.
Tell me about the screen.
The iPhone is the first iPod to offer wide-screen viewing. Videos play on the iPhone in landscape mode, meaning you must hold the iPhone so that it's wide, rather than tall, in order to watch videos. The iPhone's screen measures 3.5 inches diagonally, with physical dimensions of 2.9-by-1.9 inches. That's not quite a cinematic 16:9 aspect ratio (more like 3:2), but it's closer than the current iPod's screen. A double-tap on the iPhone's screen toggles between a zoomed-in view, in which the video fills the screen, and a letterboxed view, with black bars at the top and the bottom.
Apple has taken advantage of the iPhone's screen to add other media capabilities as well. For example, album art display is much larger than on current iPods. And when browsing music with the iPhone oriented horizontally, the iPhone switches into Cover Flow mode.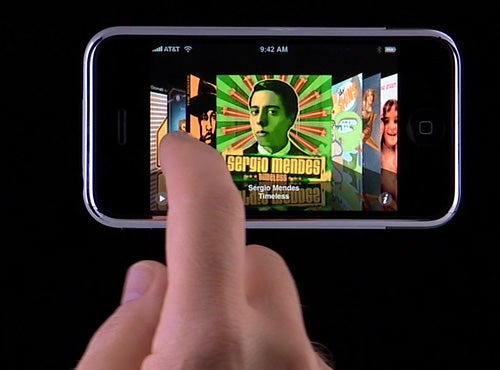 Scrolling for music in the Cover Flow view
Does the iPhone have a hard drive?
No, like the iPod nano, the iPhone includes 4GB or 8GB of flash-based memory, compact when compared to the considerably more spacious 1.8-inch hard drives found in 5G iPods. Although using flash memory helps prolong battery life, the iPhone's small storage capacity is an interesting limitation for a device with video-viewing capabilities. Full-length movies easily top 1GB, meaning you shouldn't expect to carry too many on an iPhone.
Displaying music by song title
There's also no slot for expanding the iPhone's internal memory with extra flash cards.
Will you be able to use extra space on the iPhone's drive as computer storage, as with an iPod?
We don't know. Possibly.
Can I control the iPhone's iPod functions via the included Apple headphones?
Yes, although the controls are basic. Click once on the control pod to pause and again to unpause. Click twice to advance to the next track.
What are the default buttons on the iPhone's iPod screen?
Playlist, Artist, Songs, Videos, and More. The first four are pretty self-explanatory; the fifth lets you choose other browsing options, including lists of Albums, Audiobooks, Compilations, Composers, Genres, or Podcasts.
I listen to a lot of Podcasts, or regularly browse by genre. Does this mean I have to tap on More every time I want to access these buttons?
No, the first four buttons on the screen are configurable. Tap on the Edit button and a new Configure window opens. You can drag any icon you want, such as Podcasts, down into the bottom section where the four default buttons reside. Pick the iPod views that suit you best—for example, Playlist, Genres, Podcasts, and Videos.
Music features
So how do I find my music on the iPhone?
Playback controls on the iPhone
Tap on the iPod icon on the iPhone's main screen; you'll see those five default buttons we just mentioned. If you tap the Artist or Song button, for example, you'll get a list of your music, organized alphabetically by artist or song title. In addition, you⁏ll see that list of every letter of the alphabet down the right hand side of the screen that we mentioned earlier for jumping ahead to the artists or songs associated with that particular letter. There's also a Shuffle command at the top of the Songs and Artists lists.
If you're displaying songs by artist, tapping the name of an artist gives you a list of albums. Tap on the album, and you'll see that album's list of songs. (This works much like iTunes' Browse mode.) Tapping any song begins playback. As a song plays, its album art appears on the majority of the iPhone screen; the artist, song title, and album are listed at the top, while playback controls (play/pause, forward and back buttons) and a volume bar take up the bottom.
There's one other control that might interest you—an icon in the top-right corner of the screen next to the artist/song/album info lets you access the track list of that album; you can tap any song on the list to make it play.
Are those the only views available on the iPhone?
No. As we said above, you can also display your music using the Cover Flow view Apple introduced in iTunes 7 (and that will be part of the overhauled Finder in Mac OS X 10.5 ). Just turn the iPhone horizontally while in iPod mode; the iPhone's accelerometer automatically switches to the Cover Flow view. Flicking your finger in one direction or the other lets you scroll through album covers. Tap on an album cover to get a track list, and tap on any one of those songs to begin playback.
Videos play in widescreen…
Playing video
Can I play videos while holding the iPhone in portrait (tall, rather than wide) orientation?
No. TV shows, movies, video podcasts, YouTube videos, and Web videos all play in landscape mode. You'll need to turn your iPhone on its side to watch those videos. But the entire interface rotates with you, so the iPhone is still perfectly usable in that orientation.
I don't like watching videos with letterboxing. Can I zoom videos in to fill the iPhone screen?
…and zoomed-in modes.
Yes, videos play zoomed in by default, but you can double-tap on the screen to toggle between zoomed-in mode and the video's original aspect ratio.
How do I control my videos when I'm watching them? What if I need to pause or back up a video?
Tap once on a video to display a set of on-screen controls. At the top of the screen, you'll see a slider bar that shows where you are in the video's running time and lets you jump around within the video. Below, a floating window contains buttons to move to you the next or previous video or to pause the current video. There's also a volume slider so you can make the video's accompanying audio louder or softer. Another single tap hides these controls.
Internet and networking
Can the iPhone join a password-protected Wi-Fi network?
Yes. And, according to Steve Jobs, it will remember networks you've connected to in the past and automatically re-connect to them.
Safari on iPhone
How is the iPhone's Web browser not like other phone browsers?
Unlike other smart phones, which generally run browsers that are anything but full-featured, the iPhone includes a version of Safari. It can load standard Web pages (not scaled-down WAP versions) complete with images and formatting. You can navigate around a page by dragging your finger to scroll. "Pinching"—drawing two fingers together or apart on the screen—or double-tapping will zoom in or out on a section. You can even open multiple Web sites at once, and switch between them at will.
Most Web pages are wider than they are narrow. Can I rotate the iPhone and view the pages in landscape mode?
Yes. Although not all iPhone applications work in both portrait and landscape mode, Safari does. All you have to do is turn the iPhone in your hand, and it will sense its new orientation and re-orient the Safari window accordingly.
Zooming in on Web pages in Safari
Can I have more than one Web page open in Safari at a time?
Yes. Safari can have multiple pages open at once. Press the Web Pages button (at the bottom-right) and Safari will zoom out of the page you're currently viewing. You can then use your finger to slide back and forth between all open pages. When you've found the one you want to see, tap on it to expand it to fill the screen.
The text on most Web pages is way too small to be readable on the iPhone. So how do I read those pages?
By default Safari shows you the entire Web page, but just double-tap on a section of the page and it will intelligently zoom in, making that portion of the page readable; double-tapping again will zoom in even further. You can also use the two-fingered "pinch" gesture to zoom in and out. When zoomed in, text on Web pages is quite readable thanks to the screens high resolution.
What if I want to visit a site that I haven't bookmarked? Or do a Web search?
Tap on the URL bar at the top of the Safari window and it will expand to display two boxes: a URL box and a search box. The iPhone keyboard will also slide out from the bottom of the screen. If you want to type in a Web address, just start typing. iPhone even adds a ".com" button to its keyboard when in Safari to help speed URL entry.
Entering a URL in Safari with the onscreen keyboard—note the ".com" key.
If you'd rather just do a search, tap on the search box and then use the keyboard to type your search term.
Do I have to enter all the bookmarks I use on my computer again on my iPhone?
No. Using iTunes, you can sync your iPhone's bookmarks with Safari on the Mac or with Safari or Internet Explorer on a Windows PC. To see your bookmarks on the iPhone, just tap the Bookmarks button on the bar at the bottom of the Safari window.
If a Web site I visit uses Flash to display video or other stuff, will the iPhone display it?
Nope. Safari on the iPhone doesn't do Flash, and doesn't do Java.
E-mail
How do I access Mail on the iPhone?
From the iPhone's home screen, tap on the Mail button on the very bottom. Mail will open and take you to your inbox.
What types of accounts does Mail support?
The iPhone works with many of the most popular Web-based e-mail systems including Yahoo, Mail, Gmail, AOL, and .Mac Mail. It also supports any industry-standard POP3 and IMAP email system.
Mail attachments are read-only on the iPhone.
Can I view attachments? How about editing them?
You can view several types of attachments, including JPEG images, PDF files, and Microsoft Word and Excel documents. But it's a view-only experience: you can't edit of them.
How do I know which e-mail messages have not been read?
Mail on the iPhone works very similar to the Mail application included with Mac OS X. E-mail messages that have not been read have a blue dot beside them; once a message has been read the blue dot goes away.
How do I delete e-mail messages?
To delete an e-mail message, you tap the Edit button on the top-right of the screen, tap the red circle to the left of the e-mail, and then tap delete. Or you can delete a message more quickly by swiping to the right across the message and then tapping the delete button that appears.
How do I compose, reply or forward an e-mail?
The compose, reply, and forward buttons are all at the bottom of the Mail screen. To compose a new message tap the compose button on the bottom right and either start typing an e-mail address or click on the plus sign to pick a contact from your Address Book.
While viewing an e-mail you can tap the arrow button on the bottom of the screen and choose whether to reply to the message or forward it to someone else.
Do the links in e-mail messages work on the iPhone?
Yes. If you receive a message that contains a link to a Web site, tapping the link will open Safari and take you to the site. If the e-mail message contains a phone number, tapping it will call the number. (This is, in fact, a feature that works across all iPhone applications—whenever you seen an e-mail address, phone number, or Web URL, you can tap it to compose a new e-mail message, call the number, or visit the URL in Safari, respectively.)
How do I view images that come with my e-mail?
The iPhone supports rich HTML e-mail, so images are displayed inline, within your e-mail message.
Can I send attachments?
You can send photos from your photo library, and you can forward attachments you receive from others.
How do I navigate through my mailboxes?
Press the Mailboxes button at the top left and navigate through your mailboxes.
How do I edit my e-mail settings?
Use the Settings program to add or edit e-mail accounts, choose how messages are displayed, and set how often your phone will check for new e-mail. You can also set a minimum font size and decide if you want Mail to show you the To: and CC: lines of incoming mail.
Will iPhone eventually support Exchange Server's ActiveSync for e-mail?
Apple hasn't said so. ZDNet reports that it will at some point, but we've yet to see any further confirmation of that report.
SMS
Does the iPhone do SMS text messaging?
Yes, the iPhone includes a full SMS text-messaging client that looks nearly identical to iChat. Unfortunately, it doesn't let you connect to the AIM instant-messaging network; you're restricted to SMS.) And all iPhone plans include 200 text messages per month, so there are no extra charges unless you go over that amount.
How does it work?
Tap the SMS icon to open the messaging application. From there, you'll see a list of ongoing conversations—the iPhone keeps a complete history of messaging sessions, so it looks more like chatting than e-mail. Conversations with a blue dot to their left contain unread messages, and tapping on an SMS session name brings up the complete chat.
You can reply by tapping on the text entry box at the bottom of the screen, which brings up the iPhone's virtual keyboard; tap send when you're done to fire off the message. From within a chat, you can tap on an inline phone number to call that number.
Text-messaging with the iPhone
At the top of the SMS window are two buttons: Call and Contact Info. Tapping on Call will dial the phone your recipient is using to send you messages, while Contact Info will bring up that person's entry in your address book.
To clear the contents of a conversation, you can tap on the Clear button at the top of a chat, which brings up a red Clear Conversation button at the bottom. Or, to get rid of a session altogether, you can swipe your finger across a conversation in the main SMS screen and then tap Delete button that appears, or tap the Edit button in the upper left, tap the red minus sign, and then the Delete button.
Maps
So does the iPhone just use the regular Google Maps Web site?
While the iPhone's Maps program uses data from Google's massive maps database, it's a custom program written by Apple.
Does the iPhone have a built-in GPS so that it can tell Google Maps where it is?
No. Just like on your computer, you have to tell Google Maps where you are and where you're going. But Apple has made it easy to follow along with driving directions by adding a simple pair of previous/next turn buttons that let you quickly step from intersection to intersection as you complete your journey. However, if you're expecting your iPhone to tell you to turn right in 100 feet, you'll be disappointed.
Driving directions with traffic data
Does the iPhone know about traffic?
In some areas, Google supplies the iPhone with traffic sensor data. For example, Apple's demonstration video of Google Maps on the iPhone shows San Francisco-area traffic sensors that display freeway speeds as a color-coded overlay. If you live in an area where this data is available, the iPhone should be able to take traffic into account as it estimates the length of your trip; you simply press the Traffic icon in the lower-right corner of a map.
Can you find me a sushi restaurant in San Francisco?
What do I look like, an iPhone?
YouTube
Is it true I can access YouTube via my iPhone?
Indeed. Apple announced this functionality at the same time it released an Apple TV software update adding YouTube support. As with YouTube content on Apple TV, you're able to view videos encoded in the H.264 format.
Apple says about 10,000 videos will be available when the iPhone ships; YouTube is in the process of converting its full library to H.264 and expects to finish the job some time this fall.
So how does it work?
YouTube content on the iPhone
Tap on the YouTube button on the iPhone's display—it's the button that looks like an old-fashioned TV set. As with other iPhone apps, buttons on the bottom allow you to quickly navigate through YouTube offerings—in this case, the buttons are Featured, Most Viewed, Bookmarks, Search, and More. Featured highlights selected YouTube content; Most Viewed displays videos that are—as you might imagine—the most frequently viewed on YouTube, grouped by that day, that week, or all time; and Bookmarks provide links to your favorite YouTube Clips.
Until we get an iPhone in our hands, we won't be sure just how the Search and More commands work—we&38217;d guess that the Search command brings up a virtual keyboard not unlike the one used in other iPhone apps like Mail and SMS, but that is just a guess.
Once you've found a video you want to watch—you scroll through the video list with a wave of your finger—tap on it and it plays, exactly like viewing any other video content on an iPhone. (This means in order to watch the video, you've got to rotate the iPhone from a vertical into a horizontal orientation.)
When viewing a video, a single tap brings up the playback controls. In addition to the play/pause button and buttons for jumping forward and back on the bottom of the screen, there's also a bookmark icon on the left side of the control and an e-mail icon on the right—tapping this latter icon creates an e-mail with an embedded link that you can send out to friends. The playback controls also include a status bar showing the time elapsed and time remaining of each video—presumably sliding your finger along that bar allows you to advance and rewind the video, though we have yet to see that feature in action.
Right next to the status bar, you'll find an icon that lets you view the video in widescreen; a quick double-tap of your finger also allows you to do this.
Is the ability to watch YouTube videos really earth-shattering?
In the grand scheme of things, probably not. Certainly, if there was a hue and cry for the ability to access and watch a video of the Pittsburgh Pirates mascot re-enacting the Sopranos finale on your phone, it certainly escaped our attention. But the iPhone's major features include the ability to watch videos and surf the Web. Why not add some functionality that combines both if the technology is available? (And with the Apple TV partnership between Apple and YouTube, it certainly was.)
Photo features
Options on the iPhone let you e-mail photos, use them as wallpaper, or assign them to Address Book contacts.
How good are the photos taken by the iPhone's integrated 2-megapixel camera?
We haven't tested it yet, but the New York Times's David Pogue posted a slideshow of his photos that suggests it's about what you'd expect from a cell phone camera: not bad in still, well-lit situations, but not so hot when things get dark or blurry.
Can I copy photos from my Mac or PC onto my iPhone?
Yes, you can sync photo albums with the iPhone just as you can with the iPod, and they appear in your Photos program right underneath the Camera Roll album. And presumably the photos you take on your iPhone sync back to your Mac or PC as well.
How can I send the photos I take with my camera to other people?
You can e-mail them. But you can't send them via a multimedia (MMS) message, since that's a format that the iPhone doesn't currently support.
Other applications
Can I use the iPhone to keep track of my calendar?
Yes, but this is a feature that we still haven't seen much about. Apple says it'll sync with Entourage and iCal calendars, but there's much more to know here.
Can I use the iPhone to take notes or leave notes for myself?
There's a Notes program, and presumably that's what it does, but again, we haven't really seen it up to now.
Will the iPhone be able to synchronize contacts and calendars with more than one computer?
The iPod can't, and everything we know about the iPhone suggests that its syncing capabilities will more or less match those of the iPod. Perhaps if the iPhone integrates with a shared-calendar server system (such as the one in the forthcoming Mac OS X Leopard Server), that might solve this problem.
Contributing to this report: Jason Snell, Philip Michaels, Dan Frakes, Jim Dalrymple, Jonathan Seff, and Dan Moren
Note: When you purchase something after clicking links in our articles, we may earn a small commission. Read our affiliate link policy for more details.