Adobe released Version 1.1 of Photoshop Lightroom this week, adding quite a few new features to the image-management and -editing tool. While there are no huge structural changes to Lightroom—most of the new stuff adds or clarifies functionality in the existing modules—Adobe has been quite smart about what it's chosen to update. While I'm still digging into it, here are a couple of key changes that I have found in the short time since the update was posted. (A Photoshop Lightroom 1.1 Read Me PDF outlines all the improvements and changes in the update, if you're interested.)
Catalogs
Reducing the confusion between the "Library" as your photo database file and the Library module, the database is now called a Catalog. As I noted in our recent comparison between
Aperture and Lightroom
, one of the areas where Lightroom falls apart for some people is in its organizational features, which just aren't as deep or as flexible as the project-based approach used by Apple in Aperture. Changing the name of the database isn't going to alter that perception; what will have some impact is some of the features that Adobe has implemented as part of the name change.
A new Export as Catalog command lets you create customized Lightroom databases, and you can switch between multiple catalogs fairly easily. As is the case with Version 1.0, Lightroom needs to be relaunched to use a new catalog file, but it will relaunch automatically as part of the process; thankfully, Lightroom launches very quickly on most G5 and Intel Macs. (You can also double-click on a catalog file in the Finder to use it in Lightroom without having to go through the relaunch process.)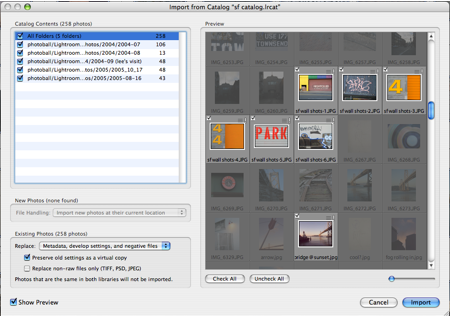 Lightroom 1.1's Import from Catalog command is very flexible, especially if you have been working on images on another computer and wish to merge them back into your primary database. For example, you can import only those images that have been edited or updated in some way—in this screen shot, the grayed-out images have not been edited since their original export—and it can even create virtual copies of those images, so you don't lose your original edits. (Click here to view the screen shot at full size.)
The big benefit of the new catalog structure is that you can use a catalog to work on subsets of images, for a client or project, for example, and move it around from machine to machine without having to carry the entire Lightroom database. To make it even easier, Lightroom 1.1 also includes a smartly designed Import from Catalog feature, which lets you import photos from another catalog. What's great about this feature is that you can have Lightroom import only those images that have been edited; any files that exist in both catalogs with the same metadata and editing information will not get imported.
Overall, Lightroom's organizational structure still isn't as elegant as Aperture's projects, although the Import Catalog feature is better than anything Aperture has right now for updating projects. I still maintain that the two programs represent different—but still valid and solid—ways of managing your images, and Lightroom's new approach to catalogs strengthens Adobe's approach. Being able to export a Lightroom collection from your desktop Mac and pop it on your MacBook to work with it on the road, and then bring it back with minimal effort is a really nice feature.
Clarity and sharpening
A few weeks ago, Adobe released Camera Raw 4.1 (Jeff Schewe at Photoshop News has a good in-depth summary of the
Camera Raw changes
), and Lightroom 1.1 incorporates the new raw-image converter and its feature set.
The two big additions are the Clarity feature and Camera Raw's sharpening enhancements. Adobe's John Nack describes Clarity by saying that it "adds depth to an image by increasing local contrast," and it's a rather powerful tool. The two screen shots below show Clarity in action: in each, the image on the left pane is a 1:1 view of the original, and the one on the right shows the image with Clarity at 100 percent, to exaggerate the results of the effect—normally, you wouldn't use the tool at that level. (Click on the images to view them at 1440 by 900 pixels in a new window.)
As you can see in these examples, "depth" is a pretty good word to describe Clarity.
Lightroom's sharpening tools also get an upgrade in Version 1.1. The Sharpening section of the Detail panel goes from a single control slider to four sliders: Amount, Radius, Detail and Masking. Greater minds than I have described the art of sharpening images, but I can testify to the fact that a single adjustment control for sharpening is generally a bad idea. Lightroom 1.1's improved sharpening tools are definitely welcome.
In addition to these features, Lightroom 1.1 piggybacks on Camera Raw 4.1's improved noise reduction and lens correction features, as well as added support for the latest group of digital cameras from Canon (EOS-1D Mark III), Nikon (D40x), Fuji, Olympus and others.
Other enhancements
Like I said, I'm still digging in, but I keep discovering good things. Updating and changing metadata is much more streamlined than it was before, and finding images is even easier than it was. I also agree with James Duncan Davidson that the capability to find images based upon
lens aperture
is way cool. Overall, though, Lightroom 1.1 feels even more comfortable to me than Version 1.0 did, and I thought
that version
was a very nicely implemented application on its own.