Behind the Mac itself on the list of most important pieces of equipment to buy, I generally find the input device as the uncontested Number Two. It's what you use to communicate with your Mac. When considering an input device in the design business (and probably audio/video editing), not only is comfort a consideration, but the feature set ranks pretty highly as well. Recently, I found myself wanting a new mouse and decided to dig out some of my old hardware and try out some new stuff.
Apple's mighty disappointment
When I purchased my Mac Pro, I also picked up the
Wireless Mighty Mouse
. I figured, "What's a few more bucks?" While it's certainly a great looking device, I found it to be not only incredibly uncomfortable due to its small size and height, but completely lacking in advanced features that virtually any user would want, let alone someone in the creative industry.
The little scroll nipple is cute and all, but seriously Apple, what were you thinking? The silly little thing is just too hard to control, gets gunked-up too easily and oftentimes stops working all together. Tossing out function in favor of form rarely wins over users (remember that hockey-puck mouse?) And for crying out loud, you finally make a mouse with more than one button, but then you don't allow us to configure those buttons in a manner in which we see fit. What's up with those wasted pressure-sensitive buttons on the side? They're useless to me. I would have preferred to set them to act as Forward and Back buttons in Safari or Firefox than to activate Expose.
The battery life isn't what I would call acceptable. Perhaps Bluetooth is to blame, I don't know; what I do know is that I was changing batteries way more often than I wanted. If you've got one of the Wireless Mighty Mice, and you're working on your computer for more than a few hours a day, keep a few packs of batteries around, because you're going to need them and you're not going to get much notice when you do.
Looking back, the only good thing I can say about the Mighty Mouse is that it does look cool, and it is probably one of the most accurate input devices I've ever used. But in the end, I tossed it in a drawer with the Apple Wireless Keyboard (which I also couldn't stand using, but that's another story) to use only in case of emergency.
Who said size doesn't matter?
Next, I pulled out my Kensington
Expert Mouse
. This is my old standby, one that served me well for many years. Trackballs aren't for everyone, and the Expert Mouse, with its oversized trackball, is even more difficult to get the hang of. But if you can get used to using trackballs, you'll probably find you don't want to go back to a regular mouse.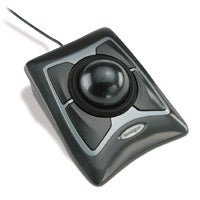 The Expert Mouse tracking is smooth and very accurate. Four large buttons, a large trackball that's actually quite comfortable to rest your hand on, and their unique scroll ring around the trackball all make it a joy to use. I have one at work with my Power Mac G5 and have configured the top two buttons as left and right click and the bottom two as Back and Forward in my browser. You can also adjust the tracking, chording and scrolling speeds to your liking. And, if that wasn't enough, it comes with a nifty wrist-wrest, which attaches to the bottom of the mouse.
You might be wondering why I even mentioned the fact that I have a Power Mac G5 at work; well, it's the last computer I can get the Kensington software to work on. All attempts to use the MouseWorks software on three Mac Pros, a MacBook and a MacBook Pro all ended with the same "no device connected" error message. The trackball itself works, but you cannot configure the buttons, tracking speed or scrolling. Apparently Kensington's drivers simply don't like Intel Macs. Repeated emails and submissions via their Web site have been ignored. The problem is not limited to my experience, a search of various Mac forums found others having the same problem.
The Expert Mouse is a superb piece of hardware, but Mac users who have or expect to upgrade to an Intel Mac should probably think twice about it due to the lack of software and support.
They say you want a revolution…
So after reading
Macworld's
review of Logitech's
MX Revolution
(

) a few months ago, talking to several people who have one and actually holding one at the local computer store, I decided to give it a try.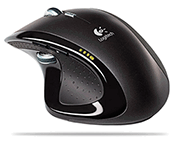 Everything about the MX Revolution is cool, right down to the box it comes in. The mouse itself is a mix of glossy black and frosted graphite in color with chrome scroll wheels. Yep, two of them. One on top which scrolls up, down and sideways in a freeform or normal manner (read the review linked above for more on that) and one on the side for more precise "bumping" up and down pages. Each wheel also features a button.
My favorite features are the ability to have the two side buttons configured as buttons for Web browsing, the little battery indicator which lights up (and actually appears to be accurate), the long battery life and the extremely accurate tracking the mouse provides on every surface I've tried.
Simply put, this mouse is just awesome!
Unfortunately, besides the ugly logo, the MX Revolution suffers from one other flaw, and I think it's a conspiracy against me. The Logitech Control Center software only offers me one line of text upon launching it on my Mac Pro: "No Logitech device detected." All attempts to install every version of the Logitech software I could download ended the same, as did hours of searching Web forums and support sites for an answer.
Luckily, after reading about tons of users with the same issue with numerous Logitech mice, one solution kept popping up over and over: SteerMouse, a $20 generic mouse driver, solved all my problems and made the MX Revolution all it was supposed to be…which was fully configurable.
With Leopard around the corner, I'm praying that SteerMouse continues to work, or at the very least gets updated quickly, because I really love the MX Revolution. But if spending an extra $20 on a third-party mouse driver after you just spent money on the mouse itself bothers you, I would highly suggest you consider future upgrades when you buy your next mouse. Mac support with even the largest input device vendors seems to be weak at best right now. Hopefully Apple's increasing market share does something to change that.
[James Dempsey runs the Creative Guy blog, which offers tips, tricks and opinion on a variety of design topics.]