Pete Jensen came to the Apple Store in Arlington, Virginia, with an iPod, PDA, and cell phone. He's hoping to leave with just an iPhone.
"Today, I've got three things in my pocket," Jensen said on Friday afternoon. "Tomorrow, I'll have one."
He's hardly the only person with that plan. From coast to coast Friday, the covetous and the curious stood in line at Apple Stores and AT&T retail outlets so that they could be among the first to lay their hands on Apple's new iPhone.
Line sizes varied from place to place—in Arlington, the line outside the outdoor shopping center easily topped 100 people long before the Apple Store opened at 6 p.m. local time. At the Apple Store in the Washington Square Mall in Tigard, Oregon, roughly 50 people were in line three hours before the iPhone's launch; only five people were waiting at a nearby AT&T Store.
Lawn chairs, like the ones outside the Arlington, Va., Apple Store, were a much-needed accessory for those waiting in long iPhone lines.
What drove the majority of people to queue up in front of a store for a device that they could order online? For many, it was the promise of a better mobile device than what they have now. Jason Miller, an environmental engineer from Arlington, Virginia, was looking to upgrade from his Treo, which he said "does everything about half as well as it should."
Glenn Sparico, a teacher, smiled, as held up an LG Electronics phone that he claimed he may sell for "like a dollar" once he had his iPhone in hand. He finds his current phone bulky and calls the Web browsing "atrocious" and hopes that the iPhone offers some improvement.
For a lucky few came the fleeting glory of being first in line for the phone. In Arlington, that honor went to Kevin Towson, a police officer from the D.C. area who got off his shift and lined up for the iPhone at 9 p.m. on Thursday evening. Towson says he's looking forward to plugging the iPhone in and syncing up his iTunes library after a night with only two hours of sleep.
The first two people in line at the Danbury, Conn., Apple Store are 28 year-old Giovanni Scaringi and 22 year-old Oren Krinsky. Giovanni, who is from Orange County, New York, but goes to graduate student in Bridgeport, arrived at the store at around 5:00 a.m. Friday determined to be the first person in the iPhone line.
"I've actually been up for about 72 hours," he said. "Not because of the iPhone, but because I had to study for a test. I just wasn't going to let sleeplessness deter me from being the first in line."
Krinsky, who arrived about two hours later than Scaringi and still got the No. 2 spot in line, made a pact with Scaringi to make sure that no one took the other's spot when they had to head our for bathroom and food breaks.
When asked how many iPhones they'd be purchasing both Scaringi and Krinsky stated that they were only getting one. "I want it for personal use, and I paid a $200 fee to Nextel about three weeks ago in order to get out of my contract," Scaringi said.
At the San Francisco Apple Store on Stockton Street, one of Apple's flagships stores, marketing professional Jerry Taylor was first in line. Taylor, who'd been in line since 10 a.m. Thursday, hopes to show his boss, a BlackBerry user, how much better the iPhone is.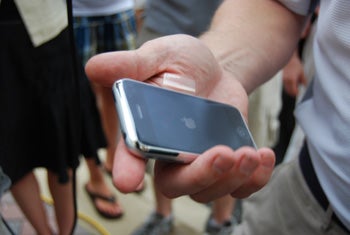 There's another benefit to being first in line other than getting your hands on an iPhone before everyone else—you also get your share of media attention. Taylor said that he'd been interviewed more times than he cared to count by Web, print, radio, and TV reporters. While a Macworld reporter spoke to him Friday morning, other reporters from Cnet, Wired, and Bloomberg queued up to interview him as well.
From iPhone launch events around the country:
San Francisco
An hour before the Apple Store on Stockton Street opened its doors, about 400 people were lined up, with the line snaking around the store for two-and-a-half blocks. At spot No. 153, Philippe Bartoszewicz of San Francisco waited his turn. "I've said the reason I'm here is because I'm going on a trip in a few days and want it with me. But really, it's because I'm obsessed," he said. "I didn't realize I was obsessed until people started asking questions about it, and I knew all the answers."
Just ahead of Bartoszewicz, San Franciscan Brian Shire held down spot No. 152 after arriving at noon and offered a much simpler explanation for waiting in line: "It's better than sitting in the office all day."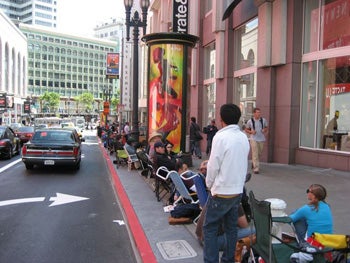 Clowning it up near the front of the line were "Glam Sam" (a.k.a. Barron Levkoff) and "J-Rad," two performers from Peepshow Minigolf, both dressed like vaudevillian hucksters. They had lined up at 10 a.m. Thursday.
"We're putting the circus in media circus," said Glam Sam. "We're feeding the iFire."
"That's coming out next year," added J-Rad.
While people massed in front of the Apple Store, a stone's throw away, the lines at one of the AT&T stores in downtown San Francisco were much shorter. Roughly two dozen people were waiting in line late Friday afternoon, with 23-year-old photojournalism student Amanda Rybarczyk and 23-year-old J. Martin holding down the first two positions. The two began their morning at the Apple Store, showing up at 2:30 a.m. to find themselves 60th and 61st in line, respectively. Instead of waiting, they made the two-block trek to the AT&T outlet, where their position improved dramatically.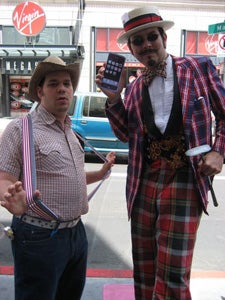 Neither plan to use the phone they were waiting to buy; both are looking to sell their phones on eBay.
"I really do want the phone at some point," Rybarczyk said. "But I want to wait for updates. Besides, we're college kids, hard up for cash, and it's better than selling blood."
Ryan Overdevest, a 22-year-old student on a summer internship at an equity research firm, was third in line at the AT&T Store. Unlike Rybarczyk and Martin, Overdevest wasn' planning on selling the iPhone he was there to buy. But he wasn't planning on using it, either. "I would love to have it for myself, but I can't afford it," he said. "I'm here for my boss. He sent me here as soon as I got in." Overdewest showed up for work at 6 a.m., and was in line by 6:30 Friday morning.
Back on Stockton Street, The Apple Store's doors opened at 5:50 p.m., and immediately the crowd started twittering and buzzing, before erupting into cheers. A line of black- clad Apple store employees went through the crowd clapping and cheering. Traffic was stopped on Stockton Street.
At 5:55 p.m. employees entered the store, seiged by an army of news cameras. The crowd counted down to 6 p.m., and then started to sing Auld Lang Syne . Just after six, the store let people in, and Apple employees lined either side of the stairs, clapping and cheering.—MATHEW HONAN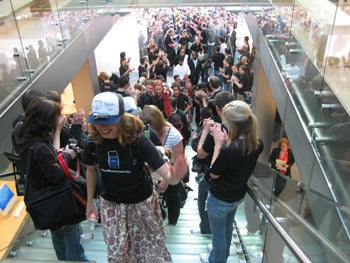 New York
At the Apple Store in the SoHo section of New York, there was a carnival atmosphere throughout the afternoon, which built to a climax with a crowd of hundreds counting down from five, right before 6 p.m. In the last hour before doors opened, a man was even heard selling spots close to the front of the line to those who were closest to the back.
Amid whoops and hollers, movie director Spike Lee was the first to walk into the store, saying he was there for charity. A Brooklyn, New York-based charity called Keep a Child Alive grabbed first place in line earlier in the week, using its position to publicize its plans to auction an iPhone on eBay and use the money for charity.
"They asked me to be a part of it," Lee said. He noted that the charity did the "hard part" waiting in line all week in front of the store, and said he felt lucky to be part of the effort.
Actress Whoopi Goldberg was second in line. When asked what she was doing there, she commented on the media crowding around her, saying "I don't really know at this point." When asked whether she was going to buy a phone, she said yes.
About 10 minutes before the doors opened, an Apple employee came out with instructions and tips for the crowd. He said people could buy up to two phones each, and encouraged people to buy iPhones before shopping for accessories.
By morning the line outside the SoHo store stretched for three blocks. Some enthusiasts were napping in folding chairs while others talked on the phone or to each other as they waited. Temperatures had dipped nearly 20 degrees Fahrenheit since Tuesday and though the skies threatened rain, the weather provided a more comfortable atmosphere for iPhone enthusiasts than the summer heat that assaulted them earlier in the week.
Bill Mac and Jonathan Bricklin had another way to pass the time—they had a small ping-pong table set up as a way to promote their social networking site, The Naked PingPong club, which encourages people to meet by playing ping-pong.
Mac said he was waiting for the iPhone because it would allow the two to run their business entirely from a phone without needing a PC. "In LA [the mobile office] is about your car, in New York it's about your phone," he said. Later, Mac took a break from line to visit a local cafe Aroma, where he was overheard on his current phone telling someone about the two-iPhone limit.—ELIZABETH MONTALBANO AND BEN AMES
At the flagship Apple Store on Fifth Avenue, the line of would-be iPhone buyers stretched midway through Madison Avenue and then went 180 degrees around the city block; all told, the line went for about a quarter-mile.
Daniel Hobbs had been waiting in the line since 6 a.m. Friday because he wanted to get "the coolest gadget out there." Likewise, Kesu James called the iPhone "the coolest gadget of the century;" some friends had been holding his place in line since 7 a.m.
It wasn't just iPhone shoppers who gathered at the Fifth Avenue store; media from NBC, ABC, CNN, and Fox News also were on hand. New York Times columnist David Pogue was going from section to section in the line, getting people to sing about the iPhone to tune of popular songs.
The doors to the Apple Store opened at 6 p.m., with employees giving line-waiters high-fives as they entered.
A mile-and-a-half away at the AT&T Store on Broadway and 78th Street, the opening went less smoothly, with the first group of people still in the store after what an employee called "a systems issue." As of 6:40 p.m. local time, they still hadn't received their phones.—AARON FREEDMAN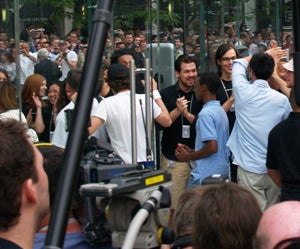 King of Prussia, Pennsylvania
The Apple Store in the King of Prussia Mall outside of Philadelphia is sandwiched between a Bose and Ann Taylor store on the mall's first floor, so the line of potential iPhone customers was broken up into several sections around neighboring stores.
Roughly 90 minutes before the iPhone launch, more than 100 people waited in line. Stephanie Haas, of Lafayette Hill, Pa., was one of the first people in line at 7 a.m. Friday, when mall stores were not even open yet.
"I wanted to guarantee I would get an iPhone today but I wasn't looking to be first in line," Haas said. Although she's used a Motorola Razr cellphone in the past, the iPhone is her first smartphone. "It seems easier to use than other phones," she said.
That belief about ease-of-use a common sentiment among others in line, including Rob Terrio of West Norriton, Pa. He and brothers Will and Matt arrived at King of Prussia just a few minutes after Haas Friday morning.
"I'm more of a PC guy than a Mac guy," Terrio said. "But I really like Apple's consumer products. The iPhone is the hottest technology out on the market. Its interface is completely mind-blowing."
People waiting in line weren't left to fend for themselves. Apple Store employees offered bottled water throughout the day while employees from the nearby Starbucks passed out free coffee and Chick Fil-A provided sandwiches, according to Terrio.
For Steve Godlewski, purchasing an iPhone is "a serious business need." The CEO of a vitamin business Web site, Godlewski travels frequently with a BlackBerry, iPod video, and digital camera; he hoped that the iPhone could replace all three devices.
Forty minutes before the store opened its doors, employees removed the black banners covering its entrance to reveal a very large iPhone equipped with a countdown timer to 6 p.m. At 5:50 p.m. employees explained to the waiting customers that once they entered the store, they should proceed to the left to purchase an iPhone. As the timer counted down, employees would periodically lead people in a chant of "Let's go, iPhone!" As the timer reached zero, huge cheers went up from everyone in line and the large crowd of spectators that had gathered.—KATE MARSHALL
Chris Barylick reported from Arlington, Virginia. Mathew Honan reported from San Francisco. Rob Griffiths reported from Tigard, Oregon. Jeffery Battersby reported from Danbury, Connecticut. Aaron Freedman reported from New York. Kate Marshall reported from King of Prussia, Pennsylvania. Elizabeth Montalbano and Ben Ames of IDG News Service contributed to this report.
Updated at 3:22 p.m. and 4:43 p.m. PT to include more reports from the East Coast launches. Updated at 5 p.m. PT to add more information from San Francisco. Updated at 6:13 p.m. PT to add more information from New York. Final update at 8:25 p.m. PT to add more details from San Francisco.