When first announcing the iPhone back in January, Apple touted the phone's 30-pin dock connector—the same one present on every non-shuffle iPod since the 3G iPod debuted back in April 2003. The implication was that, by using this connector, the iPhone would be compatible with many accessories for the iPod. Of course, "many" means different things to different people, so you're probably wondering exactly which of the iPod gadgets you've spend so much money on over the years will work with your shiny new phone. Here a rundown based on a few days of plugging the iPhone into anything shiny we could get our hands on.
Speakers: In terms of "dockable" iPod speakers —those that connect via the iPod's 30-pin dock-connector port—the iPhone has worked with every system we've tested, and sounds great. You just place the iPhone in the dock cradle (you may need Apple's Universal Dock Adapter to get a perfect fit), or connect the appropriate dock-connector cable, and press play. On those speaker systems that automatically start playback when you turn them on, the iPhone's iPod section does indeed begin playback automatically. If your speaker system includes a remote, that remote will control playback; in fact, remotes designed to let you navigate an iPod's menus, such as the one included with JBL's excellent Radial, also let you navigate the iPhone's iPod menus. (More on remotes below.) And contrary to a few reports we've seen around the Web, in our testing the iPhone was able to play audio and charge at the same time.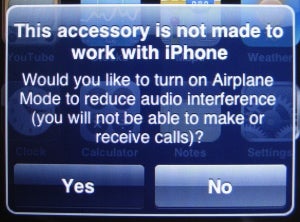 However, there are a few caveats here. The first is that when you connect the iPhone to one of these docking speaker systems, a message (at right) appears on the iPhone's screen letting you know that the iPhone's wireless features may cause audio interference with the speaker system and asking if you want to switch to Airplane Mode (which disables those wireless features). If you press Yes, you won't get any interference, but you also won't be able to make or receive phone calls or use any Internet features of the iPhone. If you press No, the iPhone will still play through the speakers, but you may hear varying amounts of static and buzzing, especially when a call comes in. (That said, I've personally been using the iPhone with dockable speakers without enabling Airplane Mode—because I want to know when someone's calling me—and, depending on the speaker system, it can be quite usable.)
A more minor issue is fit. If your speakers don't use Apple's Universal Dock, the iPhone will fit loosely in the dock cradle due to the phone's slim profile. And you may find the iPhone itself to be too tall for some systems that aren't open on top; for example, JBL's Radial Micro is a tight fit.
Of course, you can also plug any "computer" speaker system—one that connects to a standard headphone jack—into the iPhone and then control volume using the iPhone's own volume level. However, as I'll get to in the next item, you may need an adapter.
Headphones: The iPhone has a standard 1/8-inch stereo headphone minijack, so any headphones with a standard miniplug will work—assuming you can plug them in. The problem is that the iPhone's headphone jack is recessed considerably into the phone's body, so headphones with thick plugs, or with short L-shaped plugs, won't fit. If you've got such headphones, you'll need an adapter such as Belkin's $11 Headphone Adapter (pictured at right) or Shure's $40 Music Phone Adapter; the latter includes a microphone and control switch, so you can use your favorite headphones as a wired phone headset.
Cables and adapters: Standard iPod dock-connector cables and adapters have worked fine for us. For example, I was able to use Fruitshop's excellent Bone iLink to sync and charge the iPhone via a USB port on my Mac.
Chargers and batteries: Physically, iPod chargers that connect to an iPod's dock-connector port will plug into the iPhone, and do power and charge the iPhone; in fact, the AC-to-USB power adapter Apple promotes for the iPhone is the same one the company sells for charging standard iPods. That said, we obviously haven't tested every third-party device to make sure it's actually safe to use for charging the iPhone. The same goes for external iPod batteries, which connect and power the iPhone. For example, I tested Griffin Technology's TuneJuice 9-volt battery pack for the iPod; when connected, the iPhone's battery icon switched to "powered" mode, indicating that the iPhone was being powered by an external source. However, inappropriately enough, the iPhone also popped up the "Would you like to turn on Airplane Mode?" message about possible audio interference.
FM transmitters: When it comes to iPhone compatibility, FM transmitters are a mixed bag. We tested several transmitters that connect to the iPhone's dock-connector port but provide their own screen for choosing an FM frequency, and all were able to successfully grab the iPhone's audio signal and "broadcast" it. However, as with speakers, we received the message on the iPhone's screen about audio interference, offering to switch to Airplane Mode. When we enabled Airplane Mode, the signal was relatively clear; if we declined to use Airplane Mode, the transmitters were still able to broadcast the iPhone's audio, but we experienced a good deal of interference.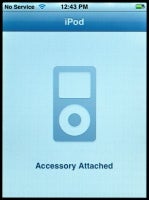 A number of recent dock-connecting FM transmitters for the iPod actually use the iPod's screen to display information such as the current FM frequency and presets. Unfortunately, in our testing, these accessories don't work at all with the iPhone. When you first plug them in, you get the familiar Airplane Mode warning, but even if you turn on Airplane Mode, all that happens is the iPhone displays a screen (see right) indicating that some kind of accessory is attached.
Finally, many FM transmitters not made specifically for the iPod connect to an audio source via a standard headphone minijack. Unfortunately, we weren't able to test any of these products yet, thanks to the aforementioned headphone-jack size issue. Once we receive an adapter that lets us use larger headphone plugs with the iPhone, we'll test several of these transmitters. We suspect that performance will be similar to that of the first group of transmitters mentioned above: if in Airplane Mode, audio quality should be fine, but if not, you'll likely get some amount of interference.
Remote controls: As with speaker systems that can also control your iPod, several wireless remote-control accessories we tested worked perfectly with the iPhone; those designed to let you navigate an iPod's menus also work with the iPhone's iPod menus. (You can't navigate non-iPod menus, however.) We also tested the iPhone with Chestnut Hill Sound's George stereo system, which lets you view and navigate your iPod's contents via its screened remote; the George worked perfectly, displaying the iPhone's contents on the remote, as expected. (We haven't yet had a chance to test the iPhone with standalone remote controls that display an iPod's menu on the remote's screen.)
On the other hand, Apple's Radio Remote doesn't work as an FM radio or a remote; connecting it results in a "This accessory is not supported by iPhone" error.
Microphones: Unfortunately, current iPod microphone attachments aren't compatible with the iPhone, resulting in the same "not supported" image you see if you connect the Radio Remote. Coupled with the lack of built-in voice-recording functionality, this means that the iPhone can't currently record audio at all.

Audio/video docks: There are plenty of docks out there that let you get your iPod's audio and video into your home stereo and onto your TV. The good news is that, in our testing with several such products, the iPhone sends its audio through, and can be charged by, such docks; again, as with speakers, you may need Apple's Universal Dock Adapter (pictured at right) for the best fit. The bad news is that, despite being the best video-playing iPod yet, the iPhone offers no video-output features—neither through its dock-connector port nor via its headphone jack. So, unlike the 5G iPod, you can't view your photos or video on a TV. (My colleague Christopher Breen even tested the iPhone with DLO's HomeDock Deluxe; he was able to navigate his iPhone's audio content via the HomeDock's on-the-TV-screen menus, but was not able to navigate videos or view them on his TV.)
Cases: Cases for iPods, other than generic fabric or foam pouches, won't fit the iPhone. Not to worry: there are plenty of iPhone-specific cases out there already, and we're sure to see scads more before long. And the good news is that, according to our sister publication, PC World , the iPhone is much more scratch-resistant than any iPod.
Miscellaneous: We also tested a few other popular accessories with the iPhone. Unfortunately, Apple's iPod Camera Connector, which lets you import photos directly from your digital camera to an iPod, doesn't work with the iPhone. Similarly, the Nike+iPod Sport Kit doesn't work with the iPhone; despite being a 4GB or 8GB, flash-based iPod, the iPhone works more like a full-size iPod in this respect.
Automobile integration: We haven't had a chance to test the iPhone with in-car integration systems, such as those from Alpine, Harman Kardon, and BMW. Given the success we've seen with dockable speaker systems and remotes, we don't expect problems, but we're contacting vendors and will be doing some testing of our own to determine compatibility.
Testing, testing…
We'll be covering the imminent deluge of iPhone accessories here on Macworld and iPhone Central. And over the next few weeks, we'll be updating the reviews of many older products in the Playlist Product Guide to reflect iPhone compatibility. Stay tuned.
Christopher Breen contributed to this report.