Let's face facts: Your decision to buy any cell phone—let alone one that costs $499 to $599—does not hinge on the question of how good the phone's built-in camera is. And that's a good thing since my experience with mobile phone cameras has been nothing to write home about.
I've never much cared for the finished product of the photos I've taken with my assorted phones over the years. Your experience may differ, of course, but I've always found the photos to be pretty dismal. Whether I tried the zoom or left the settings alone in their default state, the pictures were uniformly terrible.
So you can understand, then, why testing out the iPhone's camera was at the bottom of my list of things to try out with the mobile device. As we've reported previously, the specs for the iPhone's built-in camera are these: it's 2.0 megapixels with no zoom. In addition to taking photos, the Camera feature also allows you to flip through images you've shot, set them as wallpaper, assign them to a contact, e-mail them, or delete them.)
Like I said, putting the camera through its paces wasn't really on my agenda. But on Sunday, I took my family to the Canada Day celebrations in Halifax, and my daughter suggested I take a few pics. I thought, why not give it a try? Here are two iPhone camera images, side-by-side.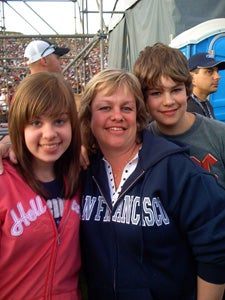 At their full-size, the pictures are 1,200-by-1,600, 72 DPI, RGB and take up about 550KB of space. Accessing and using the camera couldn't be any simpler—from the home screen just tap the camera icon. When the camera opens there is one button to push to take a picture and one to see any pictures you've already taken. Tap the button and you'll see an animated shutter closing and opening. Nice touch on Apple's part.
When you connect the iPhone to your computer, iPhoto or Aperture opens, sees the phone as another camera, and imports the photos for you—that's a handy feature. But it becomes less handy when one of those apps launches whether you have photos or not—that's happened to a few Macworld editors.
One other thing about the camera—there's no flash. So if you're shooting in low-light situations, your images will suffer. To demonstrate, Macworld.com executive editor Philip Michaels descended into his garage to snap some photos of his cat Zito. As above, there are two images side by side; the one on the left was shot with ambient light coming in from the side window while the one on the right was shot with the shade drawn.
The camera still isn't something that I would add to my list of must-have items on a phone, but having a decent camera is definitely a bonus. The trick is to use the camera in conditions that are conducive to good shots.
[ Jim Dalrymple is Macworld.com news director and a proud Canadian. ]