At a Glance
Expert's Rating
Pros
Lets you sync your iPod wirelessly
Includes dock inserts for different iPods
Provides audio and video output for connecting to home entertainment system
Cons
Lacks 802.11n support
Wireless synching slower than USB
Doesn't include remote control (can use Apple Remote, but functionality is limited)
Our Verdict
Nowadays, everything should be wireless, right? For iPod users, wireless technology finally arrives with Silex's WiDock , an iPod dock, using Apple's Universal design, that synchronizes your iPod with your computer over a wireless network. Designed to be used in your home entertainment center, the WiDock includes both audio and video outputs and charges your iPod. But it's the WiDock's ability to free you of the need to move your iPod between your living room and your desktop that makes the product unique, though it's not without limitations.
Setup
The WiDock is light and compact, so it should be easy for you to choose a spot that best suits your home entertainment system. Its design is simple: on the back of the WiDock you'll find a 1/8-inch stereo minijack for audio output and an S-video output; on the front, you'll find a "Link" button you press to sync your iPod.
But before you can take advantage of the WiDock's wireless capabilities, you must first connect the dock to an 802.11b- or 802.11g-compatible router via an Ethernet cable. (Although the WiDock will work with 802.11n routers that support at least 802.11g, you won't see 802.11n speeds. Silex told Playlist that the company is currently investigating 802.11n compatibility.) Note that you must connect the Ethernet cable to the WiDock before plugging in the WiDock's power cord; if you do this the other way around, the WiDock will attempt to make a wireless connection without the proper configurations.
After connecting the WiDock, you run a setup utility, provided on the included software disc, on your Mac or Windows PC. The software should automatically detect the dock's Ethernet address over your local network (if it doesn't, you didn't connect the dock properly). The software will then prompt you to choose between AdHoc and Infrastructure modes (most users will likely choose Infrastructure) and enter your network information, such as your username, password, and security encryption mode; The WiDock works with WEP, WPA, and WPA2 security. (If you've got a wired network connection near your entertainment center, you can instead opt to forego the wireless connection and use Ethernet permanently.)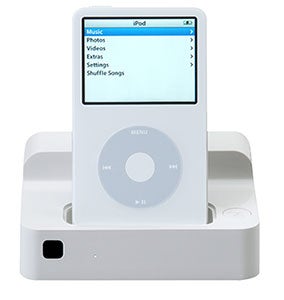 The final step in the setup process is to install, on your computer, an included utility called SX Virtual Link. With this done, you can now unplug the Ethernet cable from the dock. After you press, hold, and release the "Link" button, a white LED light will flash, indicating that your iPod has begun synching with your computer wirelessly. The iPod will appear in iTunes just as if you'd connected it directly to your computer, and the Do Not Disconnect message will be displayed on the iPod's screen until synching is complete.
Performance and compatibility
Synching your iPod with iTunes via the WiDock is clearly slower than synching over a direct USB connection. On my 2.16GHz Core Duo MacBook Pro, it took me 2 minutes and 17 seconds to transfer 110MB worth of MP4 video files to my iPod wirelessly via the WiDock over an 802.11g network; it took 1 minute and 6 seconds to transfer 32MB worth of AAC audio files. Over a direct USB 2.0 connection, the same transfers took 32 seconds and 27 seconds, respectively. But in my opinion, the convenience of circumventing the USB cable is worth the loss in speed. (Though if you're synching your entire iTunes library to your iPod—for example, to restore the iPod or if you get a new one—I do recommend reverting to the standard USB connection for the initial sync, and then performing updates wirelessly.)
One factor contributing to this slower performance over wireless is the lack of support for 802.11n, mentioned above. Although the WiDock works with 802.11n products such as the newest AirPort Extreme Base Station and similar routers from companies such as LinkSys and Belkin, it connects using the slower 802.11g technology. If Silex does upgrade the WiDock for 802.11n compatibility, sync speed should increase considerably.
The WiDock is compatible with first- and second-generation iPod nanos, the iPod mini, and fourth- and fifth-generation iPods. Included in the box are plastic dock inserts that allow each of these iPod models to fit properly in the dock. I tested the dock with an iPod nano as well as a fifth-generation iPod, and I didn't run into any issues switching between them.
The WiDock can also be configured to sync up to five different iPods with multiple computers. The setup process is slightly complicated, but Silex's Web site includes an illustrative manual that walks you through the process. Once this setup is done, you can, for example, place your sister's iPod nano in the WiDock, and the Link button will automatically sync her iPod with her computer over the network. And when you place your iPod in the WiDock and press the Link button, your iPod will sync with your computer.
Although the WiDock, unlike many AV docks, doesn't include a remote control, Apple's standard Apple Remote can be used to control basic iPod playback—play/pause, forward/back, and volume up/down—when in the WiDock. However, just as when using Apple's iPod Dock with the Apple Remote, you can't browse your iPod's menus to choose tracks or playlists or to access videos. I'm hoping that Silex designs their own remote, with additional functionality similar to that found on the remotes included with other AV docks, for the next version of the WiDock.
The Lowdown
At a price of $150, the WiDock is not cheap, especially considering the lack of a full-featured remote control; the convenience of a wireless dock is in some ways compromised by the need to get up and walk to your iPod each time you want to switch to a new playlist or a different movie. But as a device that offers new, never-before-seen technology, the WiDock works well and is, hopefully, a sign of even better things to come. If your entertainment system is cluttered with too many wires, or if you're just tired of carrying your iPod back and forth between your desk and your entertainment center for synching, the WiDock offers a unique solution that just may be worth the cost.
[ Brian Chen is an assistant editor at Macworld.]