No matter how many productivity tools you instal, the core system configuration will always be your Mac's heart and soul. Here are a dozen utitilities that will help you take, and keep, control of your system.
Utility: Caffeine 1.1
If you need your Mac to always be awake—because you're serving up your Web site from it, perhaps—you can use the Energy Saver pane in System Preferences to turn off all sleep options. But if you need your Mac to be sleepless only occasionally, Caffeine 1.1 ( ) is the stimulant for you. Set your Mac up with normal energy-conserving settings; when you need it to be sleepless, simply click on the Caffeine icon in the menu bar. While thus "Caffeinated," your Mac won't go to sleep, dim its screen, or activate a screen saver. When you no longer need Caffeine's help, you can revert to your standard settings by clicking on the icon again (free; Lighthead Software ).— Dan Frakes
Utility: DasBoot 1.0.2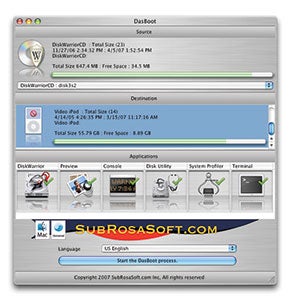 DasBoot 1.0.2
Even in OS X, things can go wrong, so having diagnostic and repair tools on hand is important. DasBoot 1.0.2 ( ) takes an interesting approach to the problem: it lets you install the software from bootable repair CDs and DVDs, such as Alsoft's DiskWarrior or Micromat's TechTool Pro, onto an iPod (or a portable hard drive or flash drive, for that matter) with enough free space. You then have a portable repair system you can use to boot and fix your Mac much more quickly than you can with a CD or DVD (just remember that not all iPod models or cables will work with all Macs for booting purposes). DasBoot can also install other OS X programs, such as Console, Disk Utility, System Profiler, and Terminal, for use when diagnosing problems. Installing and running DiskWarrior from a fourth-generation iPod, for example, worked flawlessly for fixing problems on my Mac Pro. Best of all, your iPod remains an iPod—you can still use it to listen to music, view photos, and watch movies (free; SubRosaSoft.com ). — Jonathan L. Seff
Productivity: inkBook 1.3.2
Apple's handwriting recognition technology, Ink, is OS X's forgotten feature; inkBook 1.3.2 ( ) gives it new life. If you have a compatible tablet, such as a Wacom model or OWC's ModBook, inkBook provides a virtual pad on which you can write notes by hand; behind the scenes, Ink recognizes each word and converts it into standard text. You can search your handwritten notes for particular words, copy your handwriting and paste the text into another document, or export your notes directly to a text file. You can even drop an image or a PDF file into inkBook to make it a new page in a document; you can then write on the image or PDF. You can also use calligraphy and paintbrush modes to sketch complex creations right next to your text ($20; Mage Software ).— DF
Backup: NTI Shadow for Mac 3.1.07
While you should regularly back up your entire hard drive, making frequent backups of just the files you modify often can be even more critical. Preserving these files is the idea behind NTI Shadow for Mac 3.1.07 ( ). It doesn't have all the bells and whistles of a full-featured backup utility, but it is quicker and easier to use than most. Just select one or more files or folders, and then set a backup schedule—and you're done. Choose a brief interval—30 minutes, say—and you'll never again risk losing recent versions of files. You can also choose to save, rather than delete, older versions of backed-up files. The program has some rough edges—it occasionally disregarded the schedule I selected, backing up less often than it should have, for example—but it's still a worthwhile addition to your Mac ($30; NewTech Infosystems ).— Ted Landau
Utility: PlistEdit Pro 1.3
There are several choices out there when it comes to utilities for editing property list (.plist) files, including Apple's own Property List Editor (one of the Xcode developer applications). If you want the best choice, however, shell out a few bucks and get PlistEdit Pro 1.3 ( ). PlistEdit Pro's extensive feature list includes the ability to cut or copy any .plist file property and paste it into another file (something Property List Editor can't do). Finding and editing the file or property you want is a snap—a Find dialog box offers numerous options for locating and replacing any property within an open file. And a convenient Preference File Browser lists all the .plist files in your Preferences folders and lets you search for a file by name or by content ($25; Fat Cat Software ).— TL
Productivity: PTHPasteboard Pro 4.2
Every time you cut, copy, or paste, you use your Mac's Clipboard. But the Clipboard holds just one item at a time—you overwrite that item when you copy something else, and the Clipboard contents are erased when you shut down your computer. Enter PTHPasteboard Pro 4.2 ( ), which lets you store as many copied or cut items as you need and selectively paste any one of them with a few clicks or keystrokes. Copied items will still be there even after you restart. Plus, you can define custom pasteboards to store frequently used items such as boilerplate text. Unlike the free PTHPasteboard, the Pro version offers filters that can manipulate your text while pasting it (changing the case, performing find-and-replace actions, or removing formatting, for example), and it lets you sync pasteboards between Macs ($20; PTH Consulting ).— Joe Kissel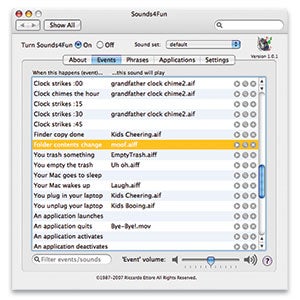 Sounds4Fun 1.0.1
Utility: Sounds4Fun 1.0.1
If you remember the classic Mac OS sound utilities SoundMaster, iBeep2, SndControl, and FunSounds, you'll probably enjoy their OS X equivalent, Sounds4Fun 1.0.1 ( ). This amusing utility plays sounds whenever you perform events such as accessing a menu, moving a file, opening a document, pressing the caps lock key, and closing a window—there are nearly 70 events in all. Although Sounds4Fun provides sample sounds, the real fun begins when you supply your own (in AIFF, MP3, M4A, .mov, SFIL, or WAV format). You can configure and switch between sound sets, and you can assign a hot key to turn Sounds4Fun on and off. In addition to being just plain fun, the custom alerts Sounds4Fun creates may appeal to your practical side as well—for example, an alert can let you know that your MacBook or MacBook Pro's MagSafe power connector has come loose ($14; Ettore Software ).— DF
Utility: The Unarchiver 1.6
The vastness of the Internet often throws you into close quarters with myriad arcane and cryptic compression formats. While OS X's built-in decompression feature can handle most ZIP files, what do you do when you encounter the odd RAR or ACE file? The Unarchiver 1.6 ( ) deals with these files and more with aplomb. The Unarchiver's preferences let you choose which formats the program will handle. Although it does work with StuffIt's SIT format, it isn't compatible with the newer SITX format, so you'll probably still need to keep a copy of StuffIt Expander handy. And as its name suggests, it handles only unarchiving tasks; for your compression needs, you'll have to look elsewhere (payment requested; Dag Ågren ).— Dan Moren
Utility: USB Overdrive 10.4.5
Have a USB input device—old or new—that doesn't have OS X drivers (or has drivers that are, well, lacking)? USB Overdrive 10.4.5 ( ) may be the solution to your problems. This Universal USB driver works with most third-party USB devices—including mice, trackballs, joysticks, and game pads—and lets you configure the systemwide or application-specific behavior of each button or switch. Possible actions include a variety of clicks; keystrokes; system, editing, and browser commands; and cursor controls. You can also configure buttons on your input devices to launch programs, open documents, and go to URLs. Note that USB Overdrive doesn't work with all devices (for instance, it doesn't work with Bluetooth ones), so be sure to try out the free demo before buying ($20; Alessandro Levi Montalcini ).— DF
Uno 1.5.1
Utility: Uno 1.5.1
Ever wish you could override the design team at Apple and apply Tiger's slick unified-toolbar interface to all of your programs? With Uno 1.5.1 ( ), that's finally possible. The program lets you assign one of several variations on the unified-toolbar's appearance to your software, including the Finder, Safari, Mail, iTunes, Quick-Time, and Preview (as well as dialog boxes and other system windows). Since Uno swaps out system files, it doesn't necessarily play nice with all your other programs: some third-party software may look a little odd. Luckily, Uno gives you a preview of what programs will look like before you apply the change (but you'll need to restart to see the effects in action). And if you decide that Apple had the right idea after all, you can always restore your system to the way it was (payment requested; Pedro Grilo ).— DM
Graphics: VueScan 8.4.22
If you've got an older scanner that's not supported in the current version of OS X—or a supported scanner that's sorely lacking software features—check out VueScan 8.4.22 ( ). This scanner software package works with nearly any scanner that you can physically connect to your Mac (more than 700) and provides both basic and advanced scanning features. VueScan gives you extensive control over your scans, including color-balance adjustments—you can choose from presets for common photo-taking conditions, such as fluorescent or incandescent lighting, and for particular media, such as slides and film negatives. You can also save setting combinations without altering the original scan. VueScan even provides simple optical character recognition features and performs batch scanning. Note that some scanners still require drivers from the manufacturer; for these scanners, VueScan acts only as your scanning software (Standard Edition, $40; Professional Edition [with lifetime updates and additional features], $80; Hamrick Software ).— DF
Utility: Visor 1.2.1
As a concept, Visor 1.2.1 ( ) will be familiar to people who've played games such as Quake 3. When you install this handy add-on (a SIMBL plug-in, actually), you'll be able to press a hot key of your choice and have a Terminal window slide down from the top of your screen—command-line jockeys will wonder how they ever got by without it. The Tiger-only program even lets you specify a Quartz animation—one of Tiger's screen savers, for example—as a background, though doing so will slow it down a bit. While the program has a few quirks (Terminal needs to be running, though some enterprising users have come up with hacks that hide it), people who live on the command line will quickly find that Visor has become part of their muscle memory (free; Blacktree ).— DM
[ Jeff Carlson is TidBits' managing editor; Peter Cohen is a Macworld senior editor; Dan Frakes is a Macworld senior editor; Joe Kissel is TidBits' senior editor; Ted Landau is a Macworld senior contributor; Dan Miller is Macworld's executive editor; Dan Moren is a coeditor of MacUser.com; Jonathan L. Seff is Macworld 's senior news editor; Jason Snell is Macworld 's editorial director; Kelly Turner is Macworld 's senior features editor. ]
Gems favorites: Rick LePage, Macworld's editor at large:
ImageWell ( )
Resizing images or converting them to PNG or JPG is painless with ImageWell, which is also a great tool for quick edits or for watermarking images without having to go into Photoshop.
LaunchBar ( )
For me, there's no more useful program than this all-purpose file launcher and search utility. It adapts to my work brilliantly, and the developer continues to add the right features while keeping it bloat-free.
Menu Master ( )
I use quite a few of Unsanity's haxies, and Menu Master—which lets me customize my menus to suit the way I want to work—is the one I absolutely can't live without. It's simple and elegant, and it's the first thing I install on any new Mac.
Snapz Pro X ( )
Snapz Pro is obviously the best utility for making screen grabs for reviews and blog entries, but it's so good that I keep finding new uses for it. The movie-capture feature, for example, lets me show my folks how to do something in iPhoto.