Applications that allow real-time messaging and file transfers are common these days. But there are still several gems that have slipped under the radar. Here are six communication tools that will keep you in touch, everywhere you go.
Audio-Video: Call Recorder 2.0
Interviews are a great way to spice up podcasts. Skype has made long-distance calling via your computer easy and inexpensive, and Call Recorder 2.0 ( ) makes it a cinch to record a Skype chat for inserting into your next podcast: it's literally as simple as clicking on a button. Call Recorder lets you choose the compression method and the recording quality, and it's smart enough to record you and your chat partner on separate tracks—perfect for editing later. It also lets you record one or both sides of a video chat in versions of Skype that support it ($15; Ecamm Network ).— DM
Internet: Cyberduck 2.7.3
Competition among file-transfer clients on OS X can get heated at times—heavyweights include Transmit and the venerable Inter-archy. Cyberduck 2.7.3 ( ) has one big advantage over both of these worthy competitors: it's free (donations are requested). This open-source program's features include must-haves like SFTP support, integration with OS X's Keychain, and drag-and-drop file transfers. It also supports external editing with most common text editors. The intuitive interface will be familiar to any Mac user; it mimics the Finder's list view. To me, Cyberduck's top feature is its ability to resume stopped downloads, even after you've quit and reopened the program (payment requested; David V. Kocher ).— DM
Chat: Adium 1.0.3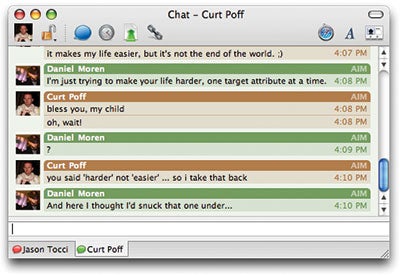 Adium 1.0.3
While iChat is fine for people just starting out in the world of instant messaging, seasoned IM users might yearn for a little more variety. The open-source Adium 1.0.3 ( ) gives you choices in spades. It easily supports accounts on all major chat networks, from AIM to Yahoo, and even lets you log in to multiple accounts at the same time, consolidating all of your contacts into one master buddy list. Its user-interface customization capabilities put iChat to shame, and its built-in log viewer will be a huge help when you need to find that link your friend sent you the other day. Like iChat, Adium plays nicely with OS X's Address Book and supports encrypted chat. On the downside, it lacks iChat's audio and video chatting, and file transfers can be wonky at times (payment requested; Adium ).— DM
Business Productivity: PageSender 4.0.1
PageSender 4.0.1 ( ) is a must for anyone who handles more than the occasional fax. Like OS X's built-in feature, PageSender lets you send faxes via OS X's Print dialog box and receive incoming faxes automatically. But PageSender provides postreception features that actually work, integration with most popular contact-management and e-mail-client address books, the ability to attach PDF documents and custom cover pages to faxes, and even spam filtering on incoming faxes. It also works with fax services such as eFax, jConnect, EasyLink, and MaxEmail ($40; SmileOnMyMac ).— DF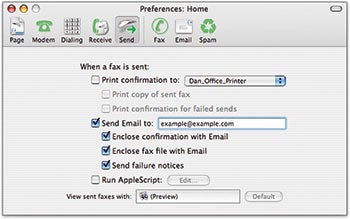 PageSender 4.0.1
internet: Transmission 0.72
As someone who loves downloading (legal) recordings of live music, I've tried most of the BitTorrent clients out there—software that lets you connect to other users for distributed file downloads (particularly useful for large file sets). For me, none is as fast or as easy to use as Transmission 0.72 ( ), and none can match its uncluttered interface. With it, you can handle multiple torrent files at once, limiting upload and download bandwidth for each (although that takes a few extra steps). It lets you filter your view to see only active downloads, files you've completed and are continuing to share with others, or files you've paused and aren't actively downloading. And it offers any information you could want about torrents. All it's missing is the ability to download individual files from larger sets—one reason I keep Azureus installed on my Macs, too (free; Transmission Project ).— JLS
Internet: Twitterrific 2.0
Twitterrific 2.0
Say what you will about Twitter, the new social-networking phenomenon—but if you're using it without Twitterrific 2.0 ( ), you're getting only half the experience. This slick little program lets you forgo Twitter's Web-based interface, checking for tweets at regular intervals and enabling you to post your own. Keyboard shortcuts let you summon or hide Twitterrific's window, easily reply to tweets, and even send private messages. The latest version adds integration with IM clients, so you can opt to set your latest tweet as your status message. So what doesn't Twitterrific come with? A much-needed warning about just how addictive Twitter can be (free; The Iconfactory ).— DM
[ Jeff Carlson is TidBits' managing editor; Peter Cohen is a Macworld senior editor; Dan Frakes is a Macworld senior editor; Joe Kissel is TidBits' senior editor; Ted Landau is a Macworld senior contributor; Dan Miller is Macworld's executive editor; Dan Moren is a coeditor of MacUser.com; Jonathan L. Seff is Macworld 's senior news editor; Jason Snell is Macworld 's editorial director; Kelly Turner is Macworld 's senior features editor. ]
Gems favorites
Merlin Mann, editor of and primary contributor to 43 Folders.
Default Folder X ( )
You can tell Default Folder X is a classic because you start missing it the second you sit down at a Mac that doesn't have it installed. It reduces the tedium of a handful of annoying dialog-box tasks, and it's worth its price solely for the ability to set a per-program default location.
MailTags ( )
This Apple Mail add-on will make you scratch your head and ask why its features aren't already available in OS X's e-mail program. MailTags makes it a breeze to apply ad hoc tags, as well as—my favorite—generate iCal tasks and appointments that stay associated with the originating e-mail message.
SuperDuper ( )
This is the most brain-dead-easy way I know of to make a bit-for-bit bootable image of a Mac's drive—a true lifesaver in waiting.
TextExpander ( )
This huge time-saver creates tiny text shortcuts for big blocks of text. It's great for boilerplate responses, and it can also correct your most-common typos. It saves me a few thousand keystrokes a week.