You've taken the pictures and done your editing. Now it's time to put your work into action. These tools will help you get your original artwork and designs ready for prime time.
Photography: DoubleTake 2.1
Many digital cameras come with a photo-stitching program that lets you combine several photos in a panorama. But I haven't seen one that works as well as DoubleTake 2.1 ( ). Drag a group of photos into DoubleTake, and it automatically arranges and combines them—even if they were out of order when you dragged them in. If the arrangement isn't right, you can drag images to the correct placement. To perfect the arrangement, you can rotate, tilt, and scale each image, as well as adjust its exposure, gamma, brightness, contrast, and saturation. You can even correct fish-eye distortion via a focal-length control. And if you can't quite get the colors of two adjoining images to match, you can move the seam between them to a different location or widen the seam for a more gradual transition. DoubleTake lets you save both the resulting image and the arrangement—so you can go back and make changes later—and includes options for creating a QuickTime VR movie and for printing poster-size images on a standard printer ($22; Echo One ).— DF
Flickr Uploadr 2.3
Photography: Flickr Uploadr 2.3
People who love to share their digital photos know that Flickr is the place to go on the Web. But while Flickr's Web-based uploading is fine for one or two snaps, uploading a memory card full of shots from your vacation is a pain. Fortunately, Flickr also provides the free Flickr Uploadr 2.3 ( ), stand-alone software that lets you easily upload a batch of photos (you can even drag and drop pictures from iPhoto). Flickr Uploadr can scale pictures to a preferred size (great for people with free Flickr accounts, which limit monthly bandwidth). You can also tag your photos, individually or as a batch; create new photo sets; and choose who's allowed to view your shots. And the latest version is Universal (free; Flickr ).— DM
Photography: FlickrBooth 1.1
Though Photo Booth, which Apple includes on all Macs with built-in iSight cameras, may not boost your productivity, it sure is fun. But once you've taken shots of yourself with all sorts of crazy effects, how do you share them with your friends? With the FlickrBooth 1.1 plug-in ( ), naturally. It gives you the option of uploading your snapshots to the photo-sharing site Flickr, either automatically or on a per-picture basis. FlickrBooth lets you title, describe, and tag the pics, and it even offers an option for tagging them with the effect used (Sepia or Pop Art, for example). And since it also tags them with the word flickrbooth by default, it's easy to browse Flickr for other people's Photo Booth shots (payment requested; Tristan O'Tierney ).— DM
Photography: Posterino 1.1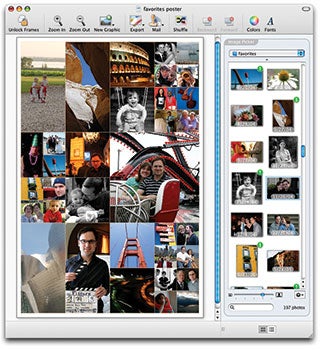 Posterino 1.1
If you want to create a collage of your favorite photos and put it on a poster, Posterino 1.1 ( ) is the slickest and easiest way to get the job done. The program offers a variety of templates, with grids of identically sized frames or with mixtures of shapes and sizes. Adding photos from iPhoto or elsewhere is a cinch. You can have Posterino fill the frames for you, or you can drag and drop images manually for more control. You can also change the size and shape of individual frames, and adjust the placement of each image within its frame. Export options let you send your finished poster to iPhoto or Flickr, hand it off to your e-mail program, or save it elsewhere on your hard drive. The program also lets you create postcards, but they'll cost you about $4 to mail, since they're mailed through the Swiss Post ($25; Zykloid Software ).— Kelly Turner
Education: Quiz Press 1.7.6
Quizzes are popular ways to test students' (or employees') knowledge; Quiz Press 1.7.6 ( ) lets you put your quizzes on the Web. The program's easy-to-use interface lets you create multiple-choice, fill-in-the-blank, short-answer, true-or-false, and cloze questions; you can even include audio and video (in Flash format). After creating your quiz, you just copy the resulting folder of HTML and Flash files to your Web server or .Mac Sites folder (or use Web Sharing on a local Mac). Quiz-takers can use any browser to take the test. At the end, the online quiz tells the taker how well he or she did, and which questions were missed; a click of a button sends you, the quiz-giver, the results in an encrypted format. Quiz Press doesn't manage the results, but it's a great way to create electronic tests ($50; Sol Robots ).— DF
Design: PulpMotion 1.1.2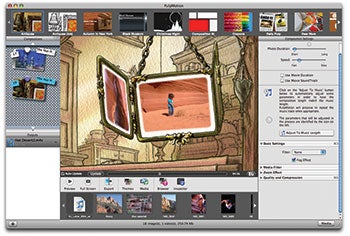 PulpMotion 1.1.2
The Mac encourages creativity, and this has inspired Aquafadas to provide a more entertaining approach to making photo slide shows. PulpMotion 1.1.2 ( ) lets you put your photos (as well as videos and live captures from an iSight or a camcorder) into animated themes. And like the themes found in Apple's Keynote or iDVD, PulpMotion's environments range from whimsical to boardroom professional. You can crop and rotate images within the program, as well as apply a dizzying array of settings to a slide show—such as customizable backgrounds and timing adjustments, all powered on-the-fly by OS X's Quartz technology. You can then export the result as a movie in several formats, including iPod- and Apple TV-compatible ones; pass it along to iWeb, iDVD, GarageBand, or Mail; or even save it as an OS X screen saver. PulpMotion does have some rough edges, such as the inability to use photos from Aperture. But it's a fun way to express yourself by using more than just your photos' contents ($30; Aquafadas Software ).—: Jeff Carlson
[ Jeff Carlson is TidBits' managing editor; Peter Cohen is a Macworld senior editor; Dan Frakes is a Macworld senior editor; Joe Kissel is TidBits' senior editor; Ted Landau is a Macworld senior contributor; Dan Miller is Macworld's executive editor; Dan Moren is a coeditor of MacUser.com; Jonathan L. Seff is Macworld 's senior news editor; Jason Snell is Macworld 's editorial director; Kelly Turner is Macworld 's senior features editor. ]
Gems favorites
Adam C. Engst, Macworld senior contributor and publisher of the TidBits newsletter:
Backdrop ( )
For those of us who need to take screenshots of OS X's frequently translucent interface elements, Backdrop's disarmingly simple function—putting a white background above all the usual window clutter—is tremendously useful.
EasyFind ( )
Spotlight simply doesn't work well for me, since I often want to limit my search to just file names—a task that EasyFind performs with less fuss.
GrandPerspective ( ) and WhatSize ( )
When I'm running out of space on one of my Macs, I take a two-pronged approach to identifying the culprits. First I run GrandPerspective to get a graphical overview of which folders and files are the largest. Then I use WhatSize to drill down and determine more specifically what I want to delete.
SubEthaEdit ( )
For quick writing with a small group, such as the writing we need to do when covering an Apple keynote for TidBits, I have come to depend on SubEthaEdit's real-time collaborative writing capabilities.