Audio and video is booming all over the Web, with embedded media files bringing rich content to the user with minimal interaction. These tools will help you get the most of your multimedia experience, and maybe even learn something along the way.
Audio: ClickRepair 2.1
Converting LP tracks into digital music files is a snap—plenty of programs handle that task with ease. The more difficult part of the process is ridding the files of audible flaws—clicks, pops, crackles, and thumps caused by scratches, dust, and other damage. ClickRepair 2.1 ( ) has become almost legendary for its effectiveness in performing this task without significantly affecting audio quality. You can customize ClickRepair to be more or less aggressive in its efforts; you can save settings that you've found to be effective with particular types of music; and you can manually remove sonic blemishes. Useful monitoring modes let you hear the original or soon-to-be-repaired audio (or just the noise being removed) in real time. Finally, the ClickRepair manual and Web site provide extensive documentation and tutorials on the process of converting vinyl to digital ($45; Brian Davies ).— DF
Audio: EasyWMA 2.7.3
If you've got WMA, WMV Audio, ASF, or Ogg Vorbis audio files that you'd like to be able to play in iTunes or on your iPod, EasyWMA 2.7.3 ( ) is worth a look. Just choose your output format (AIFF, MP3, M4A/AAC, or WAV) and bit rate, and then drag the audio files—as many as you want—into the EasyWMA window; the program will quickly convert and save them in a location of your choosing. (Unfortunately, EasyWMA doesn't support DRM-enabled Windows Media files or the WMA Lossless and WMA Voice codecs.) The software preserves existing ID3 tags and can even import the resulting tracks into iTunes ($10; Patrice Bensoussan ).— DF
Max 0.7.1
Web: FLVR 1.0
How many times have you found a great video on a Web site and tried to save it to your hard drive, only to discover that the clip is in Flash format? Thanks to the FLVR 1.0 plug-in for Safari ( ), Flash no longer means "can't download." FLVR places a new button in Safari's toolbar and lets you download any Flash media from a Web page, with just a few clicks. Even better, FLVR can automatically convert Flash video to AVI, MP4, or QuickTime files (using the MPEG-4 or H.264 codec) and can save Flash audio as AAC or MP3 files, so you can take the files with you on an iPod ($15; Tasty Apps ).— DF
Audio: Max 0.7.1
If you're an audio geek, you may feel limited by iTunes when it comes to features for converting your CDs to digital music files. If so, you'll want to check out Max 0.7.1 ( ), which lets you rip CDs to more than 20 audio formats, including all of iTunes' choices (AAC, AIFF, Apple Lossless, MP3, and WAV), as well as such popular alternatives as FLAC, Monkey's Audio, and Ogg Vorbis. Max also offers advanced options for ripping damaged discs and tagging tracks; lets you customize the format for file names; and can even automatically rip multiple versions of each track—for example, uncompressed for playing in your home audio system and compressed for use on an iPod (payment requested; Stephen F. Booth ).— DF
Dashboard: Radar in Motion 2.4
Weather mavens may find Dashboard's included Weather widget somewhat lackluster. Its icons are pretty enough, but what if you want more in the way of raw data? Then turn to Radar in Motion 2.4 ( ). This widget lets you watch animated radar and satellite maps from either Weather.com or the National Oceanic and Atmospheric Administration's Web site. You can add as many maps as you want and set them to cycle automatically or with the click of a button. Now you'll never be more than a keystroke away from knowing whether it's about to rain outside—even if your office doesn't have any windows (free; Kamal Aboul-Hosn ).— DM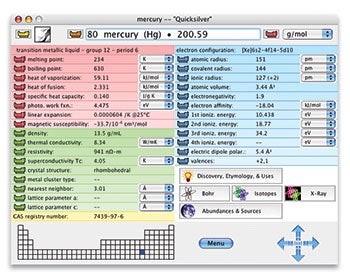 Periodic Table 4.0.6
Education: Periodic Table 4.0.6
In addition to giving you basic periodic-table information, Periodic Table 4.0.6 ( ) provides property-specific tables (for example, physical and bonding properties), a molecular-mass calculator for compounds, customizable graphs and tables (including alternative table arrangements and the ability to build tables that include just the information you want), and a built-in chemistry glossary. Add to that more-detailed information on each element than you'll likely find in any other resource, along with the ability to generate a slew of educational graphs, and you have a handy tool for students, teachers, and professionals alike ($20; Synergy Creations ).— DF
Video: NicePlayer 0.95
Many QuickTime Player users find themselves frustrated when they try to play video in full-screen modes (that's possible only if you pony up $30 for QuickTime Pro). The open-source NicePlayer 0.95 ( ) lets you do that and more. It'll play DVDs, and even let you use the Apple Remote to control playback from the comfort of your couch. One unique feature of NicePlayer is the ability to resize the video using your mouse's scroll wheel—this allows you to eliminate letterbox effects in some DVD videos. With the addition of codec plug-ins, NicePlayer can handle pretty much any format you throw at it. And unlike QuickTime Player, it supports playlists (payment requested; Robert Chin and Jay Tuley ).— DM
NicePlayer 0.95
Audio: Soundflower 1.2.1
Soundflower 1.2.1 ( ) lets you route audio from one program to another through the use of virtual audio devices. For example, you could set Skype's sound output to Soundflower as well, set GarageBand's sound input to Soundflower, and then record the audio from Skype into GarageBand. An included program, Soundflowerbed, sits in your menu bar and lets you monitor the audio through your headphones, your speakers, or another output device. Since Soundflower acts as a virtual audio device, you can also set it as the default input and output for programs that don't let you select audio sources (free; Cycling '74 ).— DM
[ Jeff Carlson is TidBits' managing editor; Peter Cohen is a Macworld senior editor; Dan Frakes is a Macworld senior editor; Joe Kissel is TidBits' senior editor; Ted Landau is a Macworld senior contributor; Dan Miller is Macworld's executive editor; Dan Moren is a coeditor of MacUser.com; Jonathan L. Seff is Macworld 's senior news editor; Jason Snell is Macworld 's editorial director; Kelly Turner is Macworld 's senior features editor. ]
Gems favorites: Andy Ihnatko
Andy Ihnatko, technology columnist for the Chicago Sun-Times :
This plug-in provides seamless integration between my photo library and the service that lets me share my pics with the world—a no-brainer for any enthusiastic snapper.
Salling Clicker ( )
For God's sake, Apple, write this man a check. A Bluetooth phone is the one device that you have with you at all times. Who wouldn't want to always have the ability to control and communicate with his or her Mac?
SmartReporter ( )
I've had this installed in my menu bar—and have been nervously eyeing it regularly—since the day three years ago when my PowerBook's hard drive failed.
VLC media player ( )
I'm still thrilled and surprised that a program this good and handy is still free and still energetically updated. It's a must-have, if only because it's the easiest way to watch a DVD and still be able to make screen grabs.