Last year, I raved about Logitech's then-new Revolution wireless laser mice —specifically, the company's MicroGear Precision Scroll Wheel technology, a "freewheel" design that lets you quickly scroll through pages and pages with a simple flick of your finger. (See my original write-up, linked above, for complete details.) The full-size MX model earned a 5-Mouse rating in our official review, and I've personally called the more-portable VX model the best laptop mouse I've used.
So I was obviously interested in the company's latest offering, the even-more-portable VX Nano ($70). After testing the new Nano, my impressions are largely positive.
Like the original VX, the Nano is much smaller than the flagship MX. However, the Nano is even smaller than the first VX: approximately half an inch shorter (front to back), and a bit more than a quarter-inch thinner (top to bottom); the width is about the same. Although this doesn't seem like much space savings, the Nano feels much smaller in your hand. And in a move that's sure to appeal to southpaws, the VX Nano's body is symmetrical, making it usable with either hand.
The VX Nano (left) and the original VX (right)
The downside to this smaller, ambidextrous design is that whereas the original VX was a near-perfect size and shape, at least for most right-handers, the VX Nano feels more like a true travel mouse. I could use the original VX all day with my desktop Mac; the VX Nano is a bit too small (for me) for full-time use. Still, for a portable mouse it's quite comfortable—better than most I've tested.
The other major difference between the two models is in the size of their respective USB receivers. (Both mice use 2.4 GHz radio-frequency [RF] technology, which requires you to plug a small receiver into a USB port on your computer.) The original VX's receiver was already quite small, but the Nano's is the tiniest I've ever seen—by far. In fact, as you can see in the image at right, it's not much bigger than the USB connector ; only a small nub protrudes from your computer. According to Logitech, this design lets you leave the receiver plugged into your laptop; you don't have to unplug it whenever you want to move your laptop.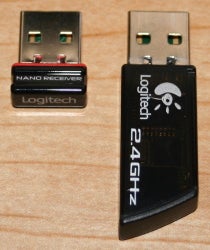 The RF receivers for the VX Nano (left) and the original VX (right)
For the most part, this is a fair claim; however, the receiver still protrudes a bit, so you'll want to be careful not to set your laptop down on that edge, or slide it across a desk on that edge. But during my testing, I've indeed left the RF receiver plugged into my MacBook Pro and neither the receiver nor the computer has suffered any ill effects. (If you don't want to keep the receiver plugged in, it tucks into a nifty spring-loaded slot behind the mouse's battery door.)
As a side note, some people have lamented Logitech's decision to use RF technology instead of Bluetooth in its Revolution mice. I suspect the main reason for this is compatibility: although every Mac laptop includes built-in Bluetooth, it's still fairly rare on the Windows side—which means a (more expensive) dongle would be necessary anyway. For what it's worth, I can tell you that after several years of testing both technologies, I've personally come to prefer a good RF mouse to a Bluetooth one. RF peripherals work more reliably, in my experience; you don't have to deal with Bluetooth pairing issues; there's no annoying delay while the mouse and computer "wake up" and reconnect; and I don't have to leave Bluetooth active all the time (which reduces battery life). The only real drawback to RF has been the inconvenient RF dongles, and the VX Nano's super-small version is a good enough workaround for me—for now.
The Nano also uses a slightly different (and slightly smaller) scroll wheel than its larger sibling. You still get the freewheel feature I loved so much last year. The difference here is that whereas switching to a standard "step" scroll-wheel mode on the larger VX required you to turn the mouse over and flip a switch on the underside, with the VX Nano you can simply click the scroll wheel itself to toggle between freewheel and step modes. This means that you lose the scroll-wheel-click for other uses, but it's a fair tradeoff, in my opinion.
The Nano also loses the original VX's Zoom slider, which let you zoom the screen or documents in and out, but retains left, right, search (Spotlight), up, and down buttons. My only complaint here is that the programmable up and down buttons were easily accessible with your thumb on the original VX; on the Nano, they're designed to be pressed by your index finger (if you're right-handed) and the down button requires a bit of an awkward bend. In fact, if you're left-handed, those buttons may in fact be easier to press; when using the mouse left-handed, I was able to easily press them with either my middle or ring finger.
Speaking of programmable buttons, that leads me to the one problem I had with the VX Nano: Logitech's Mac software. I've been hearing occasional complaints about Logitech Control Center (LCC) for Mac OS X for years, along with praise from people who've used it successfully. I'd personally had only good experiences in the past, using it with a number of Logitech products, including several I've reviewed. But after installing the software on my MacBook Pro and plugging in the VX Nano, I wasn't so lucky. LCC launched fine and let me configure the Nano's settings; and those settings worked well. However, whenever the screen would dim and I would try to "wake it up" using the mouse—not from a true sleep, which worked fine, but from just a dimmed screen—I would get a kernel panic. Uninstalling LCC fixed the problem.
I should point out that I didn't have this problem on a MacBook I tested, and given my past experiences, I suspect many people won't see such a problem a problem at all. But in the context of other complaints I've heard about LCC, my experience here is worth mentioning. (If you're LCC-averse, it turns out that SteerMouse, which has improved quite a bit since I reviewed it, and USB Overdrive each work very well with the VX Nano; I was able to configure the various buttons as desired when I tested these third-party mouse drivers.)
The Nano requires 2 AAA batteries (included), which Logitech claims should last up to to 6 months—or longer with judicious use of the on/off button on the bottom of the mouse. The mouse also includes a padded carrying pouch and a USB dock with a five-foot USB cable for using the mouse with a desktop computer.
If you're a right-hander looking for a mouse to use both on the road and at home, I still recommend the original VX Revolution; its larger size and ergonomic design makes it a better all-day mouse, even if it does take up a bit more space in your laptop bag. But if you're a lefty laptop user, or just looking for a great compact mouse, the VX Nano is tough to beat, despite the software issue I experienced. It's quite comfortable as small mice go, its tracking and overall performance are excellent, and once you've used the freewheel scroll-wheel mode, standard scroll wheels feel positively klunky. If Logitech's Mac software was more robust, I'd be able to recommend the Nano without reservations. Still, this mouse's hardware is so good that I still think it's worth a try for any road warrior.