"Imitation is the sincerest form of flattery."
For guitar players, there is no truer quote. Over the years, many of us have bought equipment similar to that of our heroes, trying to duplicate the tone mastered by such players as Eddie Van Halen, Zakk Wylde and Eric Clapton. It doesn't necessarily make us any better players, but at least we sound good.
The digital age of music has brought with it many companies that promise to give you the sound of the greats, but one company has taken it a step further. IK Multimedia recently released AmpliTube Jimi Hendrix Edition, a $249 guitar amplifier and effects-modeling application based on IK Multimedia's AmpliTube 2 engine.
IK Multimedia did more than just try to model the sounds of Jimi's gear from recordings. They teamed up with the family-owned foundation, Authentic Hendrix, and went out and purchased original versions of the gear that Hendrix used, in an attempt to model as closely as possible the tones found in the guitarist's setup.
The Jimi Hendrix Edition includes nine stomp models, four amp models, seven cabinet models, five microphone setups and four rack effects—quite a bit of gear. All of this allows you to build a lot of custom tones yourself, not only for ones similar to Hendrix's, but from other guitarists of that same era as well.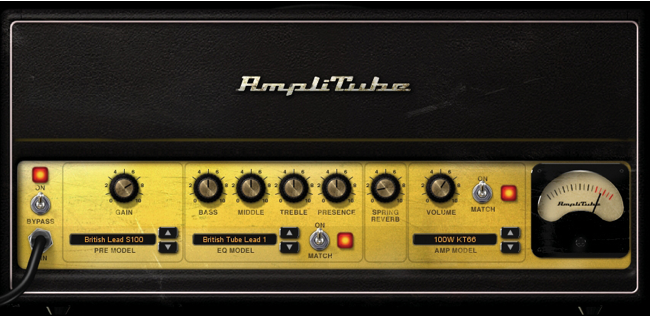 The package includes over 100 presets, organized by Hendrix's albums and songs, so they are all very easy to find. The designers even split the presets into rhythm and lead tones for each song.

How does it stack up?
Releasing a few presets that mimic the sound of a particular guitar player is one thing, but to dedicate an application to one of the rock's greatest guitarists is quite another. If they succeeded, IK Multimedia would certainly raise the bar for others in the industry. If they failed, it would surely be a black mark on the AmpliTube product line.
I love so many of Hendrix's classics, songs like Purple Haze, Foxey Lady, Fire and Hey Joe—and I love playing them. When I plugged into the Jimi Hendrix Edition, the tones I found sounded remarkably authentic. Unlike some other applications I have played with, there were no digital artifacts in either the tone presets or the ones I made myself. (To get a sense of the Hendrix Edition's capabilities, you can listen to some sample riffs yourself on the AmpliTube site.)
Creating a preset is as easy as adding an amp, a cabinet and effects, then saving it. The number of settings that can be changed is incredibly deep, and each time you adjust a knob setting your tone will change, as you would expect.
And, while not as important as the tone the application can create, IK Multimedia also put a lot of time into making the gear look authentic. Some of this gear is 40 years old or more, so it shouldn't look sparklingly new in the application—and it doesn't. I got a kick out of seeing how beat up some of the pedals and amps were—it's almost like they took a picture of the gear and put it into the application.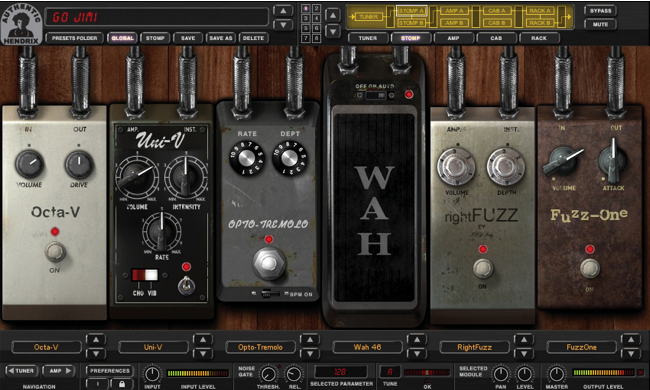 The only thing I didn't like about the product was cosmetic, and not a functional part of the application. When you choose a preset, there is a pop-up menu at the top of the application. While the rest of the application looks well crafted, with great attention to detail, this menu looks like something out of Linux or MS-DOS. It doesn't affect the overall performance or functionality, but it just doesn't fit. That said, if you are a Jimi Hendrix fan, or you just want to create authentic guitar tone from that era, I can't think of any better software application to make that happen.