At a Glance
Expert's Rating
Pros
Varied gameplay modes
"Pass 'n Play" mode for more than one human player
Cons
Bowling itself is not terribly challenging
Our Verdict
So far, a lot of the games available for the iPod have been arcade or puzzle games, but The Sims Bowling is a different breed. And it's a lot more than just a bowling game with The Sims tacked on.
The Sims —the hit simulation game for Macs and PCs from EA—serves as the basis for The Sims Bowling. Just like in a real Sims game, you create an in-game persona, a Sim—you can pick from one of a series of different characters, either male or female. You don't have the same level of customization that you do in a real Sims game, of course, but you can manipulate hair color and clothes a bit to give your Sim a personal flavor.
Then it's off to the lanes for a game of bowling against computer-controlled opponents. You see the lane through your Sims' eyes, and you determine how the ball will be positioned, how much power the Sim will use, where the Sim will aim and how much spin the Sim will put on the ball. Your goal, of course, is to score a perfect game of 300.
But this is a Sims game, so there's a lot more to it than just knocking down pins. See, the Sim also has aspirations—life goals on the lanes. He or she wants to become a beloved star at the bowling alley, and their aspiration level increases as their skills do. So the better you do at the game, the better the Sim wants you to do. And to that end, The Sims Bowling features four different game modes: Classic, a regular bowling game; Strike-o-thon (how many strikes you can hit) and Spare-o-thon (the same for spares). You can also hone your skills with Practice Mode, a great way of developing strategies for dealing with tricky pin situations like 7-10 splits.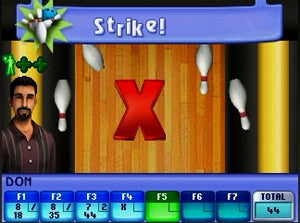 Bowl Game Scoring a strike makes your Sim very happy in the iPod-based The Sims Bowling.
You can even play against another human, in a manner of speaking, using the game's Pass 'n Play mode (where you play a frame, then hand your iPod off to a friend who plays a frame—sort of an iPod version of "Hot Seat Mode"-style gaming on the computer.
If all of this sounds like a little much for you to deal with, there's also a "Bowl Now" mode that will put you instantly into play against a random opponent. This is handy even if you're trying to cultivate your Sim most of the time—it has no impact on the Sim's life at all.
Your Sim can customize his or her wardrobe with new clothes and new bowling gear purchased from the Shop in the alley. You can get everything from gloves to special bowling balls to snazzy shirts there, and new items are unlocked over the course of the game. As your Sim becomes a regular customer, the Shop's owner will even offer a bit of advice.
And it pays to send your Sim home once in a while, too, because as he or she does better in the lanes, they'll be rewarded with more benefits outside of bowling too, like new jobs and careers that pay more, so they can further invest in their bowling gear.
The game features quite extensive statistical tracking, offering details on your best game score, your overall average, the number of games left with no open frames (Clean Sheets), the number of perfect games, how many "strike streaks" you've had, and more. You can even win awards and plaques for hitting high scores in each game mode and fulfilling special requirements.
It's good that there's a lot more to do in The Sims Bowling than just bowl, because the bowling part of it isn't exactly the most challenging. Once you figure out the basic mechanics and time your clicks right, it's pretty easy to bowl well. I'm not saying I had a lot of perfect games, but it's fairly easy to get the knack of consistent enough spares and strikes to beat most of your opponents.
Overall, quality of graphics, gameplay and music are good. The Sims Bowling features its own custom soundtrack and an "auto" feature that will let you supply your own music for the game if you prefer (it'll continue to play whatever is playing when you start up the game). If you prefer no music, you just click on the play/pause area on the Click Wheel and you can quiet it right down.
The lowdown
Compatible with fifth-generation iPods only, the Sims Bowling mixes EA's The Sims franchise with bowling for a different and fun—albeit not overly challenging—iPod gaming experience.
[ Senior news editor Peter Cohen reviews Mac games at Macworld's Game Room. ]