Among the iPhone's three personalities— phone, iPod, and Internet communicator—it's the last one that has perhaps generated the most hype. After all, although there have been many phones that could access the Internet, few have done so well, and none has come close to approximating the same sort of experience you can get on a "real" computer.
After a month of use, we've found that the iPhone largely delivers on its e-communicator promise—and then some. Still, this remains a 1.0 product, with the sort of not-quite-there flaws you'd expect from that label. Here's a rundown of the four main Internet-related apps on the iPhone— Safari, Mail, SMS, and Maps —and how each one performs.
Wi-Fi versus EDGE
Before diving into specifics about the applications, a quick comment about networks and speed: As previously explained, the iPhone accesses the Internet over 802.11b/g Wi-Fi or, if Wi-Fi isn't available, via AT&T's EDGE network.
When connected over Wi-Fi, the iPhone's Internet-related apps work impressively fast; for example, Safari on the iPhone loads Web pages nearly as fast as Safari on a Mac, and Mail downloads messages in an instant. Performance on the EDGE network is a different story. Speeds can vary widely depending on where you are and how many people in your area are also using EDGE. As an example, I was at a local park one afternoon, along with many other cell-phone-toting people—EDGE performance was so slow that I had trouble loading YouTube videos at all while Web pages took a minute or more to load. Later that same day, as the crowds thinned out, EDGE worked much better—YouTube videos, while still slow, were watchable, and Web pages loaded reasonably quickly.
At its best then, EDGE offers a surprisingly usable alternative to WiFi; at worst, the wait for Web pages to load seems endless.
Safari
If you've ever browsed the Web on a PDA or mobile phone, Safari on the iPhone is a joy to use, although it's not without some minor limitations.
General browsing Tap on the Safari icon on the home screen, and a miniature version of the same browser you'd find on a Mac appears. The top of the Safari window features an address bar with two buttons: a plus symbol (+) for adding bookmarks and a circular Refresh arrow. A toolbar with Back, Forward, Bookmarks, and Pages buttons is at the bottom of the page.

Two views of the Safari keyboard on the iPhone—the large, horizontally-oriented keyboard is on the right.
To visit a Web page, tap on the address bar; the iPhone's keyboard slides up from the bottom of the screen. Rotate the iPhone horizontally before tapping the address bar, and the Safari window will re-orient itself horizontally; so will the keyboard when it appears after you tap the address bar. The horizontal keyboard—which is only available in Safari—is noticeably larger than its vertical counterpart, making it much easier to type in URLs.
As you begin to type a URL, Safari—just like its computer-based sibling—will display a list of sites in your bookmarks and history that match; tap on one to go to it. Otherwise, type the entire URL and then tap Go. The Safari keyboard helpfully includes . , / , and .com buttons while entering URLs. (When entering text on a Web page or search engine, the keyboard switches back to the standard layout.) If you can't currently see the Address Bar—say you've scrolled down the Web page—just tap the very top of the screen; the Address Bar will appear, saving you from scrolling back to the top of the page. You can clear the address field by tapping the X icon on the right.
You can also search the Web by tapping the address bar and then typing your query in the search field that appears just below the address field. By default, the iPhone uses Google, but you can go to the Settings screen to change this default to Yahoo.
Once you're viewing a Web page, Safari works like any standard Web browser, except for the fact that you'll have to do quite a bit more scrolling and zooming in on text due to the iPhone's smaller screen. You can scroll up, down, left, or right by dragging your finger across the page in the desired direction. Flick your finger quickly and the page will scroll on its own with virtual momentum; tap the screen to stop it or let it come to "rest" on its own.
To zoom in, place two fingers together on the screen and then spread them apart—a sort of inverse pinch. To zoom back out, reverse the action. (You can also zoom in on a particular column or part of a Web page by double-tapping on that column; double-tapping again zooms back out. However, this feature doesn't work on all Web pages; it works best on those pages with columns and table-style layouts.)
On a laptop or a desktop, this Web page text would likely be unreadable, but the iPhone's display and rendering capabilities make even the smallest fonts legible.
Pages are rendered beautifully, and text is amazingly clear even at the smallest sizes, thanks to the iPhone's stellar display. I've been able to make out text on the iPhone at sizes at which text would be little more than a blur on my laptop or desktop.
There are some limitations to browsing, though. Safari on the iPhone currently doesn't support Flash or Java, so you will encounter pages with content you won't be able to view. Depending on the site, you'll either see an error page or a loaded page with an error icon where the Flash or Java content would be.
While reading a Web page, tap on any Web link to go to that page; use the forward and back buttons to navigate between pages just as you would on any browser. Tapping an e-mail link opens a new e-mail message in Mail while tapping a map link opens the iPhone's Map application and tapping a phone number initiates a call. And if you tap on a link to a supported audio (AAC or MP3 up to 320 kbps, Audible, Apple Lossless, WAV, or AIFF format) or video (H.264 or MPEG-4) file, Safari will play the media right there in the browser. When you hold your fingertip over a link instead of tapping, after a second or two, an information balloon displaying the underlying URL will appear.
If you need to enter text into a field on a page, tap on the field; Safari will zoom in on the text field and then bring up the onscreen keyboard. While in this text-entry mode, Previous and Next buttons let you jump between text fields without having to zoom back out to click on the next field.
You can open up to eight Web pages in iPhone's Safari, using miniature previews to jump to a new page.
Safari also lets you open multiple Web pages simultaneously—up to eight. Tap the Pages icon in the lower-right corner and then tap New Page; a new Safari window will open and come to the front. The Pages button displays a number representing the number of pages currently open. You can switch between these pages at any time by tapping the Pages button: you'll see miniature previews of each page, and you simply drag your finger left or right to find the desired page. Once you do, tapping the red x icon closes the page, or tapping anywhere else on the page brings it forward.
Unfortunately, unlike the full version of Safari, you can't open a link directly in a new window; and since the iPhone offers no copy-and-paste functionality, you can't copy a link on one page and then open a new window and paste the URL to open it. Given the popularity of tabbed browsing, I hope Apple will add this feature in the future; for example, the tap-and-hold informational display mentioned above could include a few menu options, one of which could be Open In New Window.
Bookmarks and History iPhone's Safari, like all Web browsers, includes a Bookmarks feature for saving the URLs for frequently-visited Web sites. To add a page to your Bookmarks, tap the Add Bookmark (+) button on the left side of the Address Bar. An Add Bookmark screen will appear where you can edit the page's name; you can also place the new bookmark inside an existing folder in your Bookmarks list by tapping the Bookmarks item and then tapping on the desired folder from the easy-to-browse hierarchical list that appears. When you're done, tap Save.
Safari bookmarks, listed on an iPhone
To open a page from your Bookmarks list, tap the Bookmarks icon (which looks like an open book) on the bottom toolbar. Tap on any bookmark to open it, or tap on a folder to browse its bookmark contents. A back-arrow Bookmarks button in the upper-left corner takes you back up one level.
You can also edit bookmarks on the iPhone's bookmarks screen by tapping the Edit button. Once in editing mode, you can you can delete any bookmark or folder—except for the History, Bookmarks Bar, and Bookmarks Menu folders—by tapping the Delete symbol (-) next to its name. Tap a bookmark itself to edit its name or URL; you can change its location by using a hierarchical menu similar to the one found on the Add Bookmark screen. You can also rearrange bookmarks within a list by dragging the "lines" icon to the right of each item up or down, and create a new folder for future bookmarks by tapping the New Folder button. Unfortunately, you can't drag a bookmark into a folder this way.
An easier way to edit and organize your bookmarks is by using Safari on your Mac. When you sync your iPhone via iTunes, the Info tab of the iPhone settings screen in iTunes includes a Sync Safari Bookmarks option; when enabled, changes you make in Safari on your Mac will show up in the bookmarks on your iPhone (and vice versa). This also means that if you see an interesting iPhone-related site when sitting at your Mac, adding it to your Mac's Safari bookmarks is the easiest way to get the URL onto your iPhone. It also means that deleting a bookmark on your iPhone will also delete it from your Mac the next time you sync the two.
For these reasons, it's a smart idea to create a new bookmarks folder for adding just those sites you most frequently visit on your iPhone. Because clicking on the iPhone's Bookmarks button always displays the bookmarks folder you last viewed, this lets you have a much shorter, iPhone-specific Bookmarks screen while still having access—by moving up a level to the main Bookmarks list—to all your desktop bookmarks.
You can also browse your Safari history via the Bookmarks screen. Just tap the History folder icon to see a list of all the Web pages you've recently visited in the last week or so; tap one to visit it again. Although you can't delete individual sites from the History list, you can empty the list completely by tapping the Clear button.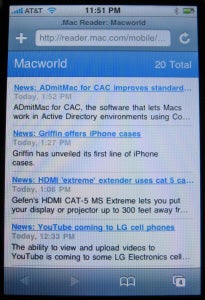 RSS feeds on the iPhone
RSS Although you might not realize it, the iPhone version of Safari includes a functional, if basic, RSS reader. Enter the URL for an RSS feed—say,
http://feeds.macworld.com/macworld/all
—and Safari automatically recognizes it as a feed and displays it as a list of headlines with a two-line summary of each article. Tap on any item to see the full headline and summary; tap on
that
to go directly to the full article. (This is where the lack of an Open in New Window feature is especially disappointing, as once you've read an article, you have to use the Back button several times to get back to the RSS feed.)
RSS feeds are prime candidates for bookmarking, making it easy to quickly view the headlines from your favorite sites. And the feeds are uncluttered and easy to read. However, unlike the RSS feature on full-size Safari, the RSS feature on the iPhone doesn't automatically watch RSS feeds, nor does it alert you to unread articles in a feed.
Security features Safari on the iPhone also offers some basic security and "sanity-preserving" features. For example, if you navigate to Settings -> Safari from the iPhone's Home screen, you can choose to disable JavaScript, as well as to disable video-playing plug-ins. There's also an option to block pop-up windows. Note that this setting won't block user-initiated pop-ups—those that appear when you click on a link; it blocks only those nasty ones that appear when you close a window or when a site first loads.
You can can also choose which cookies Safari accepts: none, any, or just those for sites you purposely navigate to. Finally, individual buttons let you clear all cookies, clear Safari's cache, or clear your browsing history (the last option doing the same thing as the Clear button in the History listing).
Final thoughts on Safari
Just a few minutes of using Safari, and you'll see that you're not dealing with a pared-down shell of a Web browser that only works with sites designed for mobile browsers. Setting aside some navigation issues and the lack of support for the ubiquitous Flash, this is about as full-featured a browser as you can find on a handheld mobile device.
Note: When you purchase something after clicking links in our articles, we may earn a small commission. Read our affiliate link policy for more details.