By now, you've probably read that Apple's holding a "Mac-related" presentation on Tuesday at 10 a.m. Pacific. You may have also read the predictions that we'll see a new iMac introduced at that meeting.
The prediction makes sense—the iMac is currently the "gray beard" of the Apple lineup, an aging-if-dependable workhorse that's made its way into many homes as the first Mac in the household. So predicting that Apple has chosen to upgrade this machine, and swath it in aluminum to match the mini, MacBook Pro, and Mac Pro, is about as risky as predicting that Paris Hilton will make tabloid headlines or that George Steinbrenner will rant about his Yankees' poor performance at some point during the season.
Additionally, the special event is set for two hours, and even the most fancy of new iMacs wouldn't take longer than 20 minutes to introduce. So I suspect we'll see more than just an iMac Tuesday. If I were in charge of Apple's product development… well, the company would probably have gone bankrupt long ago. But if I managed to sneak in just long enough to set the products for Tuesday's announcements, here's what I'd make sure Apple included: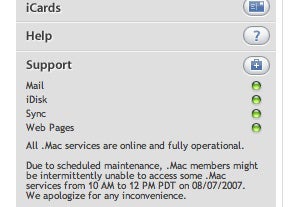 Apple's .Mac will be down from 10 a.m. to noon on Tuesday. Hmmmmmmm…
A new iMac: The iMac is way overdue for some updates. Brushed aluminum, new CPUs, new motherboard, new monitor sizes, high definition DVD support? We'll know in just a little more than 24 hours.
A new mini: The mini is just as aged as the iMac, so expect to see some changes here, too—that is unless Apple has decided that the mini has no future with the company. If that's true, that would mean the only Mac one could buy without a monitor would be the Mac Pro, and I just don't see that happening. So we'll see a mini with perhaps some small changes to the case (goodbye white top, hello all-aluminum box), some speed-bumped CPUs, and a larger hard drive.
.Mac enhancements: As Apple itself has noted in the message above, .Mac will be offline for "maintenance" tomorrow from 10 a.m. to noon Pacific time—exactly when the company will brief the press. You don't need a degree in genetic bioengineering to suspect that the two are somehow related. More storage space, better integration with various apps, and maybe even a return of some level of free service?
Leopard's ship date: Apple has already told us October, but that's all. I expect we'll hear a firm ship date for OS X 10.5. If I had first pick in the office pool, Friday, October 26 would be my pick.
iWork '08 and iLife '08 preview: Steve Jobs will demonstrate iLife and iWork, and announce that both will be available when Leopard ships in October. Some are expecting the suite to be released at the special event, but I think both will rely on Leopard technologies, and will ship at the same time as the new OS. Note that I am not saying iLife/iWork will be Leopard only, but rather that they'll include some features that require Leopard. Apple won't want to pass up sales to OS X 10.4 users, but, as my colleague Philip Michaels suggested last month, the company will use some Leopard-related features as upgrade incentives.
OK, so much for my rational predictions. I still don't see the above taking a full two hours, so that leaves room for two personal pet projects.
The Mythical midrange Mac minitower : The big brother to the mini, this box provides expansion options to those who want them, but don't want or need the power (and expense) associated with the Mac Pro. I doubt we'll see this one, though, as I think it would cannibalize Mac Pro sales too much.
The MacLightBook Pro: This is the missing link in Apple's portable lineup. A smaller machine with a 13-inch LED backlit 1,280-by-800 resolution screen powered by a NVIDIA GeForce Go 7400 video adapter, weight of 3.7 pounds, built-in camera and microphone, 2.16GHz Core 2 Duo CPU with 2GB of memory and 4GB of cache, a 200GB SATA hard drive, SuperDrive, built-in 802.11a/b/g wireless, and built-in Ethernet. Impossible, you say? Well, Sony builds a full line of machines with those specs. If Sony can do it, and Apple's now using the same industry-standard parts, why can't we have a MacLightBook Pro? I would sell my MacBook Pro in a heartbeat for such a machine—even if it cost the same or more than the MacBook Pro!
So there you have it—my predictions for the near future. I feel pretty good about the first five, but don't think (unfortunately) there's any chance we'll see either of the last two. Tune in Tuesday for Macworld.com's live coverage to see how well I did…