Apple announced an overhaul of its iMac line Tuesday, replacing the white enclosure of its all-in-one desktop with a new aluminum-and-glass design. In addition to its new look, the updated iMac—announced at a press briefing at Apple's Cupertino, Calif., headquarters—also comes in 20- and 24-inch versions, eliminating the entry-level 17-inch offering.
The new iMacs, available with processor speeds ranging from 2GHz to 2.4GHz, also come at a lower price than their comparably-sized predecessors. The 20-inch 2GHz iMac sells for $1,199—$300 less than the 20-inch 2.16GHz machine it replaces (and priced the same as the now-discontinued 17-inch 2GHz iMac). A new 24-inch 2.4GHz model sells for $1,799, $200 less than the old 24-inch 2.16GHz iMac.
In addition to a new look for its enclosure, the iMac also sports a similar-looking keyboard design. The aluminum Apple Keyboard is 0.33 inches thin at its front edge; it also sports dedicated keys for Exposé, Dashboard, and media controls, among other functions.
New case
The aluminum enclosure for the iMac brings its look in line with Apple's other desktop offerings, the Mac Pro and Mac mini. Apple CEO Steve Jobs says the material is extremely durable and very lightweight. In addition, Jobs said, the glass material used on the iMac is elegant and scratch resistant.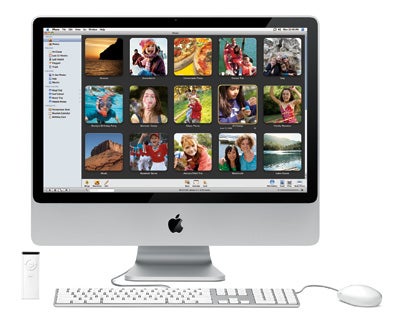 Apple's new aluminum-and-glass iMac
According to Apple, the glass cover joins precisely with the aluminum enclosure to create a virtually seamless front surface. The 20- and 24-inch widescreen displays have a glossy sheen, which Jobs touted for displaying photos and movies.
"We've had an incredible reaction to this design from a full spectrum of customers," Jobs said. "Consumers have told us that they love it—it looks even more like a high-end consumer product. The pros have told us it looks much more like a pro product."
Another consideration to the materials that make up the iMac's new enclosure, Jobs added, is how recyclable they are. "These new iMacs have been really well thought out from a recycling point of view," he said.
The new iMacs are the same depth as the old models, though slightly taller and wider. The new 20-inch iMac, for example, sports dimensions of 19.1-by-18.5-by-7.4 inches, compared to 19.4-by-18.6-by-7.4 inches for the iMac it replaces. Weighing in at 20 pounds, it is two pounds lighter, however, than its predecessor. Similarly, the 24-inch model is now 22.4-by-20.5-by-8.1 inches and 25.4 pounds, compared to 22.6-by-20.6-8.1 inches and 24.7 pounds.
What's inside
Like the previous iMac line, this revision runs on Intel Core 2 Duo processors. Clock speeds are 2GHz and 2.4 GHz, compared to a range of 1.83 to 2.16GHz in the previous models. The frontside bus is faster than in previous iMacs—800MHz compared to 667MHz.
The new iMacs continue to offer three USB 2.0 ports and two FireWire ports; however, now all iMacs offer both a FireWire 400 and a FireWire 800 port, an option that used to be available on the 24-inch iMac. All iMacs feature an 8X DVD-burning SuperDrive; Gigabit Ethernet; and built-in Bluetooth 2.0+EDR and AirPort Extreme wireless networking support. The latter includes support for the faster 802.11n standard, which Apple adopted in January. All iMacs also come with a built-in iSight camera.
There are three configurations. The $1,199 20-inch model features a 2GHz Intel Core 2 Duo processor and a 250GB hard drive; it uses an ATI Radeon HD 2400 XT graphics processor with 128MB of GDDR3 memory. The $1,499 20-inch iMac features a 2.4GHz processor as does the $1,799 24-inch iMac; both those models feature 320GB of storage as well as ATI Radeon HD 2600 Pro graphics with 256MB of GDDR3 memory.
All three configurations ship with 1GB of RAM running at 667MHz, expandable up to 4GB.
Options
Consumers can order a build-to-order 24-inch iMac with a 2.8GHz Core 2 Duo Extreme chip, 2GB of memory, and a 500GB hard drive for $2,299. The 2.8GHz processor can be added to the standard 24-inch iMac as a $250 option.

The new aluminum Apple Keyboard
iMac shoppers have a choice with keyboards, too. A wireless version of the new aluminum keyboard is available for an extra $30.
The impact
Apple's iMac overhaul comes on the heels of last month's report that the company enjoyed record Mac sales during its fiscal third-quarter. For the three months ended June 30, Apple shipped more than 1.7 million Macs, a gain of 33 percent over the same period in 2006.
"The growth of the Mac is three times that of the industry for the last four quarters," Jobs said Tuesday. "The Mac has had a very successful last year. Clearly, growing this much faster than the industry it is picking up market share."
With the bulk of the growth coming from laptop sales, it's clear Apple hopes to spark interest in its desktop line with this latest update to the iMacs. The company sold 634,000 desktops in the third quarter, compared to 1.13 million laptops. Adopting a new look for its all-in-one desktops as well as many of the under-the-hood improvements added in the recent MacBook Pro update may be Apple's way of broadening the iMac's appeal.
"It looks like a strong upgrade with stronger appeal to both consumers and business," said Ross Rubin, director of analysis at market-research firm NPD.
One analyst pointed out that there's another potential benefit to this iMac update, arriving a little more than a month after the hoopla surrounding the iPhone's late June release. "This is a strong reminder that Apple still makes computers," said Michael Gartenberg, vice president and research director at Jupiter Research.
News director Jim Dalrymple contributed to this report.
Updated at 1:45 p.m. Eastern to add more information about memory, storage, and graphics. Updated at 4:15 p.m. Eastern to add details throughout the story. Updated at 4:40 p.m. Eastern to add analyst reaction. Updated at 7:30 p.m. Eastern to clarify information about the FireWire ports on the revised iMacs.