Apple ended a 20-month drought between iLife overhauls Tuesday by unveiling iLife '08, the updated version of its suite of digital lifestyle applications. Apple CEO Steve Jobs unveiled the new iLife features during a press briefing at Apple's Cupertino, Calif., headquarters.
iLife is comprised of the iPhoto digital-image management program; iMovie for editing digital video; iWeb for building Web pages; GarageBand for recording music; and iDVD for creating DVDs. All five applications saw changes to varying degrees for the new version of the suite.
"We've increased our lead over the PC world every single time we've come out with a new version of iLife and we are not stopping," Jobs told reporters Tuesday. "iLife '08 is the biggest jump since we first introduced it many years ago."
The updated suite, which is now available, will sell for $79. iLife '08 will also be bundled with all Macs, including the revamped iMacs also announced on Tuesday.
iPhoto
Major changes to iPhoto include a new Events feature that makes it easier to navigate through collections of photos associated with events like vacations, holidays, and other occasions.
iPhoto automatically creates events based on the day the pictures were taken. If you went to a wedding one day and uploaded your photos to iPhoto, the application automatically groups those pictures.
And if you go to two events in one day—a birthday party in the morning and a wedding in the afternoon? While those photos will initially be grouped together as one event, you can open the event and click on the picture where the birthday party stops and the wedding begins. Click on a Split button to create two separate events.
The Events feature in the latest version of iPhoto lets you associate images with assorted occasions for easier navigation.
A "skimming" feature in iPhoto lets users see different photos associated in an event when they move their mouse over the event icon. You can choose an event thumbnail by skimming through and pressing the spacebar on the thumbnail you want to use.
Users can now hide photos in iPhoto as well as look for images by date, keyword and rating under a new unified search feature.
New editing tools in iPhoto include the ability to copy and paste adjustments made on one photo to other images. "This alone is going to save us a ton of time," said Jobs.
Other enhancements to iPhoto include improvements to books and calendars, and theme-based home printing. And iPhoto '08 lets users tap into the .Mac online service to publish Web galleries that display photos in a grid, mosaic, slideshow, or carousel.
iMovie
In introducing the latest version of iMovie, Jobs told a story about how one of the video engineers at Apple went on vacation and shot video of his trip. When he returned, he wanted to make a short video highlighting his trip, but he wanted to do it in about 30 minutes. The engineer started up iMovie and after a few hours he realized it couldn't be done. Being an expert in Final Cut Pro, he tried that, but he couldn't do it there either. So, he wrote an app that would do it.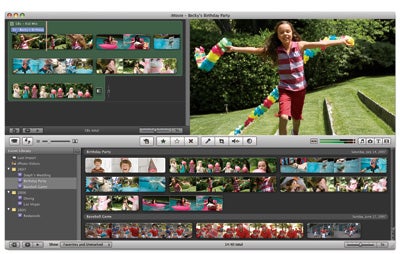 The changes in iMovie are aimed at making it simpler to edit video.
"When we saw it we were blown away," Jobs said. "We were so blown away, we decided to make it the new iMovie. It's not an enhancement to the old iMovie, it's a completely new way of editing video. It is startlingly better."
iMovie adds support for the AVCHD format for High-Definition video. iMovie also adopts the "skimming" feature found in iPhoto—users can skim through videos without having to play clips to see what they contain.
You can select pieces of clips by skimming through a clip until you reach the segment you want to include, then clicking. By default, iMovie chooses a two second clip, but you can shorten or lengthen the time by dragging on the slider.
When you drag that clip into the media window, you get just the portion of the movie clip you selected. By adding several of these clips and then dropping some transitions between them, you can make a movie.
Clips can be reorganized at any time by clicking and dragging them whenever you want them to play.
A Share menu lets users export movies to the iPod, iPhone, Apple TV and .Mac Web Gallery; there's also built-in YouTube sharing.
iWeb
iWeb, the Web-page building tool introduced in the last version of iLife, now supports personal domains. The previous edition of the software had focused on integration with .Mac.
iWeb now les you easily add Web widgets, like a Google Map, to your Web site.
Other changes to iWeb include a tool for dragging-and-dropping Google Maps onto a Web site, as well as embedding HTML snippets such as the code that YouTube provides to add its videos to your pages. iWeb also builds in Google's AdSense technology for adding text ads to a site. You can also register for Adsense directly from iWeb.
Web widgets are not limited to just Google content. Many Web sites offer snippets of code that can be used to place photos or videos into your own Web site.
Another big change for iWeb is the media index page. Many users have a lot of photo galleries and video pages on their Web sites and that takes up navigation space on the top of the page. The index page pulls all of your multimedia together in one page and reduces the amount of clutter in the navigation bar.
The new iWeb also supports theme switching. The previous version forced users to stay with the theme they selected when they built their Web sites; now, users can switch themes at any time and republish their sites.
GarageBand
Tweaks to GarageBand include multi-take recording, visual EQ, and basic notational printing; however, the most significant addition to the music-creation tool is a new feature called Magic GarageBand.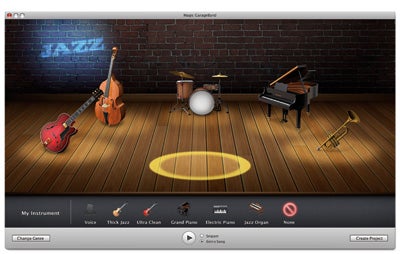 Magic GarageBand, which aims to make it easier to get started creating a song, leads the changes in the latest version of GarageBand.
Magic GarageBand makes it easier to create music projects, offering "a way into GarageBand for musicians and non-musicians alike," Jobs said. The idea behind the feature is that the most difficult part of writing song is getting started. To speed up the process, Magic GarageBand provides a virtual stage and instruments that can be swapped out at any time, changing the tone of the song. Pick from any genre— Blues, Rock, Jazz, Funk, and Latin are among the offerings—and Magic GarageBand adds in loops. You can also add and tweak your own to create a finished product.
GarageBand also segments the song into different parts like Verse, Chorus and Bridge. If you had some music in past versions, splitting the song into segments meant doing some editing work that not everyone is comfortable with. Having the song easily segmented means that you can restructure the song at any time by simply dragging and dropping segments.
iDVD
iDVD sports the most modest changes in the new version of iLife. Apple has added 10 new animated themes, bringing the total to 150. Performance enhancements allow you to switch between themes quickly as well as try out new button styles and navigate from menu to menu.
Menu customization changes include a new drop zone editor interface that lets you see your project and the drop zone at the same time, making editing easier. There's also an expanded button library.
Finally, iDVD claims to offer pro-quality encoding with expanded format support. A built-in capacity meter helps users select the right quality level. The program also lets you use higher-quality photos in slideshows.
iLife '08 will run on PowerPC G4 and G5-based Macs as well as all Intel-based hardware; however, iMovie requires either a Mac with an Intel-based processor, a Power Mac G5 with a dual 2GHz chip or faster, or an iMac G5 with a processor running at 1.9GHz or faster. The suite requires 512MB of RAM and OS X 10.4.9 or later.
.Mac
Jobs also announced that Apple's online .Mac service would be enhanced to support the new features in iLife '08, such as the Web Gallery additions to iPhoto and iMovie. Also, .Mac subscribers will get 10GB of online storage space, with the data-transfer limit rising to 100GB per month.
Update: Added more information on each application from the event. Updated at 6:50 p.m. Eastern to add more detail on iDVD plus screenshots of the applications.