Apple's iWork suite of productivity tools added a third application—a spreadsheet tool to join the presentation and page-layout programs that already make up the software collection.
The three applications—Keynote, Pages, and the newly added Numbers—make up iWork '08. The $79 suite, which is now shipping, was unveiled Tuesday at a press briefing at Apple's headquarters.
Apple CEO Steve Jobs described Numbers as a spreadsheet application "done in the style of Keynote and Pages." Among its features are "intelligent tables," that allow users to sort and filter by clicking on headers, as well as chart creation, image management, text labels, and the ability to add photos and diagrams. A flexible canvas feature lets users put multiple sheets on a canvas and tie them together in formulas but not in formatting.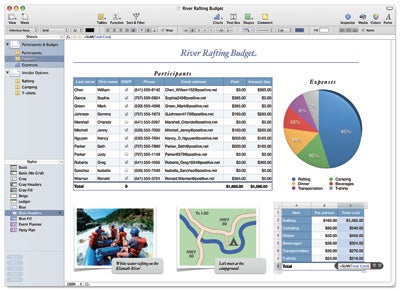 The spreadsheet tool Numbers joins Pages and Keynote in iWork '08.
Numbers also includes customizable Apple-designed templates for students, home users and businesses and an interactive print view that lest you scale and arrange documents to print as you like.
According to Jobs, Numbers supports the ability to import and export "almost all" documents from Microsoft Excel. While Numbers also supports documents written in the Open Financial Exchange (OFX) format, it doesn't support Excel Macros.
The changes to Keynote are lead by Instant Alpha—a feature that lets users take the background out of images without using masking tools from image-editing software—and Smart Builds, which makes it easy to generate animations in presentation slides.
Other Keynote enhancements include new text effects and transitions.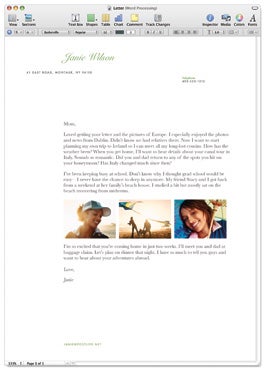 Pages nows offers two modes—word-processing (shown here) and page-layout.
Pages now features a word-processing mode in addition to its familiar page-layout one. "Pages has been a word processor that's been optimized for page layout, but a lot of people just want to use it as a word processor," Jobs told reporters Tuesday. "We found a way to do that by building in two distinct modes—one for word processing and one for page layout."
The two modes enable users to focus on what they need to do — word processing for quick text input, then page layout to help make the document look its best.
Other changes to Pages include a new contextual format bar and change-tracking for looking at revisions from multiple collaborators. The software also features new graphics tools, including Instant Alpha, and automatic list formatting.
Pages now includes 140 templates. The software can import Microsoft Word documents, including those created using Word 2007 (stored in Office's Open XML format).
Like the newly released iLife '08, the latest version of iWork will run on Mac OS X 10.4 as well as the upcoming OS X 10.5 upgrade. Hardware requirements call for a Mac with an Intel processor, or a PowerPC G5 or G4 chip.
Added details about the individual applications included with iWork '08 and quotes from Steve Jobs. Updated at 7:20 p.m. Eastern to add more information about hardware requirements plus a Pages screenshot.