After Tuesday's announcements from Apple, I walked away both impressed and confused. The new iMac, with the possible exception of the glossy screen—more on that below—seems to be a solid design, and, at up to 2.8GHz, it should be screaming fast as well. iLife and iWork both look like solid upgrades, and I'm anxious to spend some time with Numbers, Keynote, iPhoto, the remade iMovie, and the rest of the collection. So much for the "impressed" side.
The "confused" side is curious about three decisions Apple has made regarding the following items:
• The iMac's glossy screen: I owned a glossy MacBook for a while, but finally traded up to a full-fledged MacBook Pro, for two reasons—the glare on the glossy screen became too much to deal with, and I wanted a better graphics option than the integrated Intel graphics in the MacBook.
With the iMac being glossy-only, I'm not sure I would buy or recommend one, but my final judgment will have to wait for some hands-on time. I know I found glare annoying on a 13-inch screen; I can't imagine how bad it might be on a 24-inch screen that catches even more of the ambient lighting. Perhaps the iMac screen is coated differently, though, so I'll go check it out in person once Apple has some in stock up here in Oregon.
Regardless of how good the screen may turn out to be, it seems odd not to at least offer the non-glossy option as a BTO choice, as they do on the MacBook Pro. Perhaps the cost delta for the non-glossy screens, especially in 20-inch and 24-inch sizes, makes this a non-viable option, though.

The wired keyboard
• The new keyboard: Someone at Apple has apparently decided that wireless keyboard users don't use the dedicated numeric keypad and home/end/page up/page down keys. If you want such "niceties," you must opt for the wired keyboard.
In my case, I rely on the numeric keypad, not just for work, but also for some keyboard-based games. So I pretty much must have the numeric keypad. That means that, as of yesterday, Apple took itself out of the running for my next keyboard, as I really despise wires. I'm actually going to go buy a couple of spare white Bluetooth keyboards before they vanish from stock, just so I'll have some around for future use.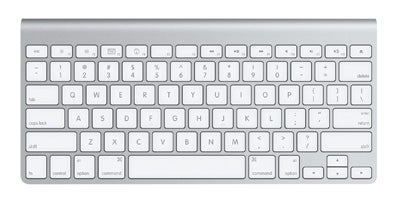 The wireless keyboard
I really don't understand the thinking behind this decision. If Apple wants to offer a compact wireless keyboard, that's great. But for those of us who would prefer a full-size keyboard, why not give us that choice as well? Alternatively, why not let wired users pick the compact keyboard, if that's their preference? I'm completely baffled by the either/or approach here. Hopefully Apple will see the error of its ways and realize that not all wireless users want a compact feature-deprived keyboard.
• The unspoken upgrades: If you were to visit Apple's Press Info pages, you'd think there were only four things of note Tuesday: the new iMac, iLife '08 and iWork '08, and the .Mac enhancements.
But you'd think wrong if that's what you thought. Apple also upgraded the Mac mini with a new Core 2 Duo chip and extra RAM, added Gigabit ethernet to AirPort Extreme, and added a RAID card option to the Xserve. If you checked Apple's PR pages or watched the event yourself, you wouldn't know any of that. (The mini was mentioned in the Apple event, but only because someone in the audience asked about it during the Q&A after the main presentation.)
Now I can understand that there's only so much stage time at a special event, so some things don't get covered. That's fine. But there's no excuse to not put out a press release over each of these things. After all, as a consumer, I can't make a decision to buy something if I don't know about it! And if there's no press release, then it becomes much tougher to find out about such changes. ( Editor's Note: Good thing there are Mac-based news sites to cover these things, huh, Rob? )
In this case, all three of these things are very positive changes and make the products more appealing. (The lack of Gigabit Ethernet on AirPort Extreme, for example, was a major shortcoming of the original version of the product.) So why didn't Apple want to tell us about these nice changes? I don't understand this "stealth upgrade" approach, as I can't see how it benefits Apple or the consumer.
So how about it? Anyone else think glossy-only is a really bad decision, or that removing the numeric keypad from the wireless keyboard is a dumb move? And why would Apple make significant changes to a number of products and yet not feel the need to tell everyone about those changes? Personally, I don't understand the thinking behind these three decisions at all.