With a new aluminum-and-glass enclosure, the iMacs unveiled by Apple earlier this week look markedly different from their immediate predecessors. But the more modest changes inside—a speed bump to the Intel Core 2 Duo chip that powers the machine—translate to only a slight boost in performance from one version of Intel-based iMacs to the next.
However, if you've been slow to hop aboard Apple's transition to Intel processors, this latest iMac overhaul may finally push you toward an upgrade. The top-of-the-line iMac outperforms the fastest PowerPC G5-based iMac by 43 percent in our Speedmark 4.5 tests.
It's easy to pick these iMacs out from their white, plastic predecessors, thanks to an aluminum case with a black-framed, glossy LCD monitor. The 17-inch model has been dropped from Apple's offerings—instead Apple features 20- and 24-inch iMacs, available in three configurations. The new entry-level $1,199 iMac features a 20-inch display, a 2GHz Core 2 Duo processor, an ATI Radeon HD 2400 XT graphics card with 128MB GDDR3 memory, and a 250GB hard drive. The mid-level $1,499 iMac features the same 20-inch screen, but sports a 2.4GHz Core 2 Duo processor, an ATI Radeon HD 2600 PRO card with 256MB GDDR3 memory, and a 320GB hard drive. The $1,799 iMac is a 24-inch version of the mid-level system, with the same processor, graphics, and storage specs. (There's a 2.8GHz Core 2 Extreme processor available as a build-to-order option for the 24-inch iMac—we'll feature its benchmarks in a future article.) All shipping iMacs support up to 4GB of RAM.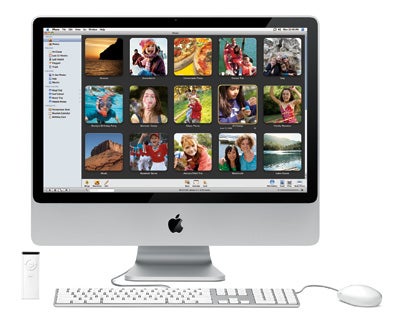 The iMac
The previous generation of iMacs released about a year ago came in four standard configurations, in 17-, 20-, and 24-inch enclosures. Processor speeds ranged from 1.83GHz to 2.16GHz, with a frontside bus of 667MHz. (The frontside bus on the new line of iMacs is 800MHz.) For the purposes of this test, we'll focus on the older 24-inch model, which sported a 2.16GHz processor.
Our benchmark tests found the two new 2.4GHz iMacs to performing nearly identically—hardly surprising since the only difference between the two models is the display size. The new 2.4GHz machines were faster across the board than the old top of the line 24-inch 2.16 GHz iMac, with a 9-percent improvement in Speedmark score. The only test where the older machine came out on top was in our Unreal Tournament test, in which it managed to display a couple of extra frames per second. As games are largely dependent on the graphics card, it appears that the older Nvidia GeForce 7300GT held its own, despite having half the amount of video RAM as the new ATI offering. We'll run a few more games tests and will post the results on Macworld.com as soon as we have them.
Aluminum iMac Benchmarks
| | Speedmark 4.5 | Adobe Photoshop CS3 | Cinema 4D XL 9.5.21 | Compressor 3 | iMovie 6.0.2 | iTunes 7.3.2 | Unreal Tournament 2004 | Finder |
| --- | --- | --- | --- | --- | --- | --- | --- | --- |
| | OVERALL SCORE | SUITE | RENDER | MPEG2 Encode | AGED EFFECT | MP3 ENCODE | FRAME RATE | ZIP ARCHIVE |
| 24-inch iMac/2.4GHz Intel Core 2 Duo | 279 | 0:56 | 0:54 | 2:01 | 0:47 | 0:53 | 86.3 | 2:06 |
| 20-inch iMac/2.4GHz Intel Core 2 Duo | 280 | 0:56 | 0:54 | 2:01 | 0:47 | 0:53 | 86.3 | 2:06 |
| 20-inch iMac/2.GHz Intel Core 2 Duo | 257 | 1:02 | 1:05 | 2:17 | 0:55 | 1:03 | 70.1 | 2:30 |
| 24-inch iMac/2.16GHz Intel Core 2 Duo | 256 | 1:07 | 1:01 | 2:07 | 0:52 | 1:00 | 88.7 | 2:22 |
| 20-inch iMac/2.1Ghz PowerPC G5 | 195 | 1:52 | 2:02 | 4:44 | 1:15 | 1:40 | 34.5 | 2:53 |
| | >Better | <Better | <Better | <Better | <Better | <Better | >Better | <Better |
Best results in bold. Reference systems in italics .
Looking at the numbers, the new 2GHz 20-inch iMac turned in an impressive performance stacked up against the marginally faster 2.16GHz processor in the older machine. That speed advantage helped the old iMacs edge past the new 2GHz model in some tests, but the new low-end iMac actually nosed past the older model by one point in our Speedmark suite thanks to a zippier Photoshop score, faster startup time, and better performance when unzipping large files.
But people deciding whether to upgrade to this iMac likely are not making the leap from the machines released a year ago; rather, they're making the jump from older models, including PowerPC-based hardware. That's why we included a 2.1GHz iMac G5 here as a reference point. Representing the top of the line in the last generation of pre-Intel iMacs, this system cost $1,699 when launched, and its scores demonstrate the iMac's progress in the last 22 months. Comparing Speedmark scores, the new top of line iMac turned in a 43-percent faster Speedmark score. In some processor intensive tests, the new iMacs finished in less than half the time it took for the G5 model. The new 2GHz iMac was 32-percent faster in Speedmark.
Our build-to-order iMac with the 2.8GHz Core 2 Extreme is on order. Look for those results—and a review of the updated iMac line—soon.
[ James Galbraith is Macworld Lab director. ]
Editor's Note: This article was reposted at 1:50 p.m. Eastern to correct the hard-drive capacities on the new iMac configurations.