It's ironic that Steve Jobs, who's famously tight-lipped about unannounced Apple products, gives his audiences a sneak peek at Apple's plans for Keynote whenever he delivers a presentation. So while Keynote may have been officially a no-show at last January's Macworld Expo—along with the rest of the iWork productivity suite—eagle-eyed users spotted a handful of new features, including path animation, in the Apple CEO's Expo keynote. Those features, it was assumed, would show up in the next version of Apple's presentation software.
Well, that version has arrived, along with the rest of the just-released iWork '08 . And the successor to Keynote 3 sports other welcome changes that weren't apparent from Steve Jobs' demonstrations, intentional and otherwise. From what I've seen so far, Keynote '08 is a winner that fills in many of the gaps in previous versions.
Here's a rundown of my favorite additions, after spending some time with the program.
Better animation
Keynote always let you animate graphic and text objects, but only on its terms: You could make a circle fly onto the screen, but you couldn't move it from the top left to the bottom right. Path animation, one of the features most frequently requested by Keynote users, lets you specify a motion path for any object on the slide. Here's one that animates a fish dropping into a dolphin's mouth: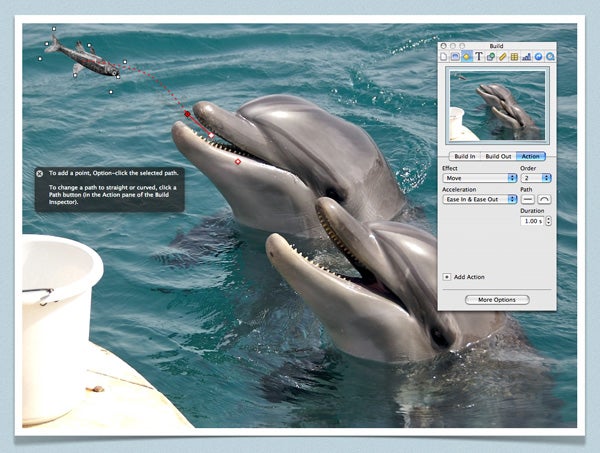 Path animation in Keynote '08
When you start the animation in the slideshow, the object follows the route that you created. Other actions let you change an object's rotation, size, or opacity, and you can mix and match actions with build effects.
Picture shows
Showing a sequence of pictures in Keynote used to mean importing the images onto separate slides or using complex build sequences to make them appear and disappear in order. Smart Build lets you do the same thing in a jiffy.
When you create a Smart Build, a resizable placeholder appears on the slide, along with a translucent overlay with an empty space for new pictures and thumbnails of the ones that you've already added. Simply drag-and-drop the images onto the overlay from the desktop or Media Inspector, select a display effect, and you're done.
Instant transparency
It's always been possible to show objects with invisible backgrounds in Keynote, but converting images to render their background transparent usually meant firing up Photoshop or another image editor. The new Instant Alpha feature lets you achieve the same effect right in Keynote, as long as the foreground object has sharp edges and isn't the same color as the background.
As you click and drag on a picture, Keynote selects areas with similar colors and shades them purple. In this shot of Petra, I'm getting ready to erase the sky behind the rock walls: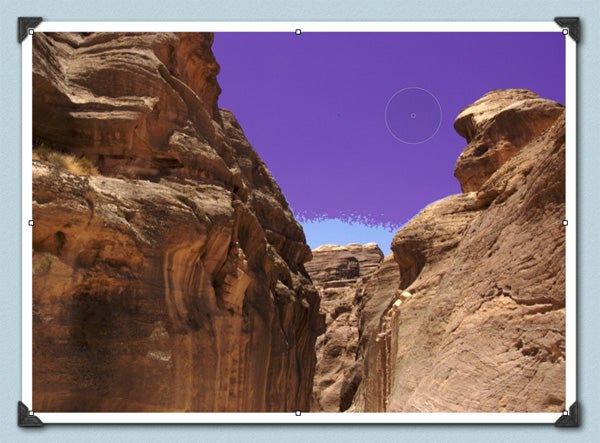 The days of launching an image editor to make image backgrounds transparent are over with Keynote '08; simply use the Instant Alpha feature to pull off the same trick.
When you're happy with the selection, press return, and the purple areas instantly become transparent.
Voice overs
Keynote's expanded audio panel lets you record a narration for your slideshow on your Mac.
Hot FX
No Keynote update would be complete without a few flashy new builds and transitions. My favorites include Flame, an effect that makes objects appear in a wall of fire, and Confetti, a build that assembles objects from a swarm of small particles.
Eye relief
New options let you enlarge the slide thumbnails in the Navigator and Light Table, so you can finally read what's on each slide.
Movie options
At last, you don't have to resort to cumbersome workarounds to prevent QuickTime movies from playing the instant they appear on the slide. In Keynote '08, you can start movies with a mouse click, and you can trim them without QuickTime Pro or another movie editor.
Text correction
The new Auto-Correction section in the Preferences window lets you specify preferences for correcting text. You can tell Keynote to capitalize the first letter of each sentence, substitute one sequence of characters with another as you type, and detect lists automatically, adding bullets or numbers that follow the first line in the list.
Quick formatting
The Format Bar sits just below the toolbar, giving you instant access to frequently-used text and graphic formatting controls, including font attributes, shadows, colors, reflections, and more. It's optional, but I can't imagine why anyone would want to turn it off.
Fast framing
The new Picture Frame stroke in the Graphic Inspector makes it easy to add a frame around any text or graphic object. The 12 frame styles range from simple borders to torn edges with drop shadows.
I'll have a full evaluation of these features in my final review of Keynote '08.
[ Franklin N. Tessler is a university professor and radiologist who lives in Birmingham, Alabama, and frequently writes and lectures about presentations. ]