iPhoto is one of the most mature of the iLife applications, so with the more-feature-laden Aperture casting a large shadow over it, Apple could very well have turned its photo-management application into Aperture Lite. While undoubtedly there are people who would like a more complex version of iPhoto, Apple chose a more tempered approach with this latest update.
iPhoto '08 features improvements to some of its editing tools, but the bulk of its enhancements are related to organization, with a revamped import process and capabilities aimed at making it easier to categorize, rank and filter images. Apple also focused on the things that extend beyond iPhoto, adding the sexy Web Gallery feature for .Mac users, and offering a wider range of books, cards and calendars for sale, making the update even larger in scope for those folks who are interested in (and willing to pay for) external services.
After a few days with iPhoto '08, here are some of my initial impressions, especially with regard to the marquee features touched upon by Steve Jobs during the iLife introduction.
Better organizational tools
The biggest visible change in iPhoto is in the way that imported photos are categorized. Gone is the concept of "rolls," which mimicked the world of film, where each set of imported images was inflexibly represented by the date on which they were imported. With iPhoto '08, Rolls give way to "events," offering an additional layer of organizational control over your pictures.
iPhoto '08's Events represents a more intuitive—and more flexible—method for managing your growing photo library.
Events are much more fluid than Rolls were; during import, iPhoto can break pictures into separate Events, based upon criteria that you specify, and, if you don't like the way that iPhoto has organized your photos, you can merge multiple Events into one. Conversely, you can also split an Event into multiple units. (One long-overdue addition to the program is that you can also choose which photos to import, instead of importing the entire contents of your camera.)
This is a much more intuitive way to work with photos, although it's not perfect. For example, you can't automatically add pictures to an existing event during the import process, and there are only four time delineators for splitting photos into events: daily, weekly, and in two- or eight-hour gaps. But, if you look at Events as the initial editing pass for your photos, letting albums and smart albums representing the "fine tuning," you'll find that Events are a much better way of looking at your images than the old, roll-based metaphor.
iPhoto '08 adds some other welcome features designed to help you wrestle your pictures into manageable groups. In addition to ranking photos on a 5-star scale, you can now apply a flag to any picture, and you can also hide pictures that you might want to keep, but aren't worth viewing for one reason or another. The keywording interface is vastly improved over previous versions, and there's now a simple unified-search tool that lets you quickly get to a subset of your pictures without having to create a Smart Album or otherwise jump through hoops.
Web Galleries
iPhoto has had some type of Web integration since it debuted in 2002, and with each successive release, Apple has upped the ante, culminating in iPhoto '08's Web Gallery feature. Web Galleries are a smart, logical extension to the Photocasting feature that was in iPhoto '06, which was an interesting concept, but also one that didn't seem to get widespread use.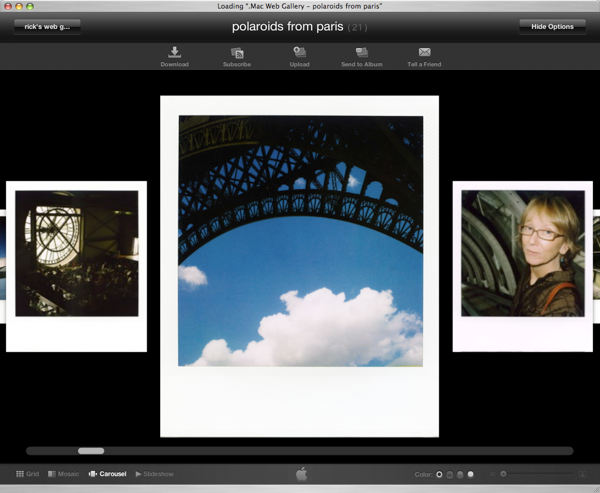 iPhoto's Web Galleries are tied to your .Mac account, and give you an attractive set of display options for displaying your albums online, like the Carousel view shown above.
A Web Gallery is really a .Mac feature, consisting of Ajax- and Flash-based photo pages built from what is, in essence, a special iPhoto album type. In iPhoto, you set up the pictures you want in your gallery and their order, then "publish" your gallery to .Mac. There is a variety of preferences that you can set for each Web gallery you publish. For example, you can determine whether your pictures are public or if they require a name and password to view, and you can set it up so that viewers can (or can't) download high-resolution versions of your pictures. There's even a button that lets anyone subscribe to the gallery via an RSS reader (or via iPhoto's Photocasting feature).
You can choose who gets to see your Web Gallery, if photos are downloadable, and whether images can be added via a Web browser or e-mail.
Taking photo sharing a step further, however, you can set up galleries that you (or others, if you so choose) can upload photos to, either via your Web browser or through a special e-mail address tied to your gallery. This is great for uploading images from your iPhone or other device, especially since you can sync your Web Gallery to download any new images that have been added to a gallery.
The downside to the Web Gallery feature is that it relies upon .Mac; if you don't have an account, you can't use it. If you want to publish your photos on a different service (or your own server), you can create an album in iPhoto and use the Export to iWeb command and prepare it there for the Web, or you can simply export your images and add them to your existing Web services, like those at Flickr or PhotoBucket.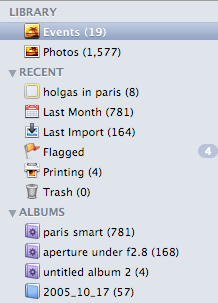 The new source pane for iPhoto '08
Final impressions
While Events and Web Galleries are the big new features in iPhoto, Apple has also added a bunch of little things that will make working with your images easier. The source panel on the left side of the window has a new Recent section, which contains links to the last Event you worked on; the last set of images you printed; your last group of imported photos; your flagged images; and a view of photos taken over the past year (customizable from the last month to the last 18 months). There is more editing functionality than in previous versions, including a tool for fixing overblown highlights and overly dark shadows, and I'll talk more about these in the final review.
Overall, it appears that Apple has struck a good balance between keeping iPhoto simple, and adding the right level of features to make it more useful. If you have a .Mac account, the Web Gallery feature alone is a stunning addition, but there are enough other enhancements that make iPhoto a great application, even if all you want to do is manage your images on your Mac.
[Rick LePage is Macworld's Editor at large and editor of the Creative Notes Weblog.]