When Apple first released Pages in 2005 there was no question it would supplant the word-processing application bundled in the dormant AppleWorks suite. But even after a 2006 update, it was clear that the program didn't have the chops to replace Microsoft Word on most Mac desktops.
Quite simply, while Pages was an excellent word-processing and page-layout program, the program didn't measure up when it came time to share Pages documents with Word users—especially graphic-heavy documents or those that made use of Word's Track Changes features.
Things have changed dramatically with Pages '08. An initial look at the application included as part of the updated iWork '08 suite finds a program that appears poised—with a few caveats—to become your everyday word-processing tool.
Word processing
As with any word processor, the first question you're likely to ask about Pages '08 is, "How well does it play with Microsoft Word?" And in my initial testing the answer to that question is an unequivocal "Fantastic." While earlier versions of the program worked fine if you were creating basic documents with styles and some text formatting, once you added images to the page and began using any of Pages' advanced image- and text-formatting features, the application was incapable of exporting your doc in a way that Word could handle. That's no longer the case. A Pages word processing document now exports to Word almost flawlessly, even with documents that have loads of highly formatted graphics.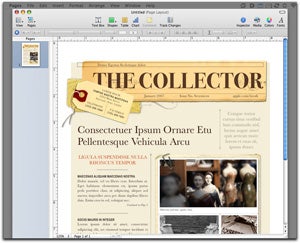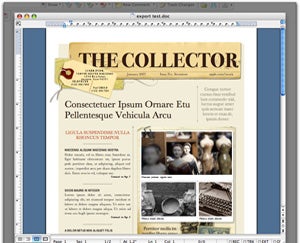 Pages (left) now exports documents to Microsoft Word (right) almost flawlessly.
A new, contextually aware formatting bar now graces the top of all your documents, making text formatting much simpler than it was in prior versions and relieving you of the maddening need to resort to the Fonts inspector as a quick way to format your text. Also, select any image, table, or graph, and the bar will change to match the specific formatting options for the object you've selected.

Pages '08's new contextual formatting bar changes depending on the type of object you select in your document, whether you've selected an image…

…or a table. Note how the options on the bottom part of the palette have changed.
Pages now includes a much-improved tool for tracking changes that also happens to be elegant and easy. When tracking is turned on, a small menu bar appears below the formatting bar allowing you to switch between a variety of views, temporarily pause tracking, and accept or reject changes. In my limited testing changes shared between Microsoft Word and Pages worked without a hitch.
The only obvious disappointment is in Pages' mail merge capabilities. Unfortunately, merges are still limited to addresses stored in OS X's Address Book application—a fact that's likely to make Pages a nonstarter for users who rely heavily on data stored in spreadsheets or databases for their mail merges.
Page layout
A major change to Pages that's unlikely to catch your attention at first is the introduction of two subtle but distinct document creation modes: Word Processing and Page Layout. Previous versions of Pages had one palette for creating two different kinds of documents.
In Pages '08, Word Processing mode is more attuned to the text in your document while Page Layout mode gives a more direct focus to the objects on the Page, allowing you to easily manipulate text boxes, images, tables, charts, and other objects.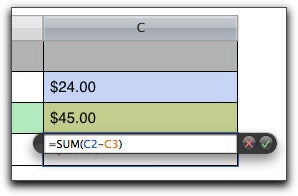 Numbers-like calculation fields now appear any time you create a calculation in any of Pages' table fields.
Pages '08 offers many more ways to edit and manipulate the objects in your document. New frames allow you to add a variety of borders to images; it's now easier to create and edit image masks, and when you add a table to your document it's possible to conditionally change a cell based upon the information that's in that cell. So, for example, you could make the cell shading white if the number in the cell is positive and change the shading to red if the number is negative. Calculations for cells are also handled in a much more elegant fashion with a calculation tool that pops up right next to the cell, rather than in a window that pops up on your screen.
There are also better visual cues when you link text between text boxes in your document, making it easy for you to see how the text in a box on the front of your document flows to a box on the back of your document.
And much, much more
Beyond these major features Apple has included many minor changes which should bolster Pages' versatility and usefulness as a day-to-day word processing and page layout program, all of which I'll cover in my full review of the program.
[ Jeffery Battersby writes and manages computer networks in upstate New York. ]