Take what you know about iMovie, put it into an imaginary box, and store that box in a corner of your brain for now. When Steve Jobs unveiled iLife '08 and mentioned that Apple is "completely replacing one of the key apps with something that takes it to a whole new level," he wasn't exaggerating. iMovie '08 is a completely new video editing program that just happens to have inherited the iMovie name.
For some, the application is a welcome change. Until recently, most video has been shot using camcorders that store high-quality video on MiniDV tape, but those tapes are piling up, unedited, because of the time it takes to import and fine tune the footage. iMovie '08 is designed to make video editing simple and fast.
For people who've used iMovie in its previous iterations, this new version may be especially frustrating. Not only does iMovie '08 throw out the familiar iMovie interface, it's missing some features that have been used for years. It also ditches long-standing video editing conventions, such as timecode, in favor of simplicity, making iMovie '08 feel a bit like Apple has created an iMovie Express.
iMovie '08 also has steeper system requirements: an Intel-based Mac, a Power Mac G5 with dual 2.0 GHz or faster processors, or an iMac G5 at 1.9 GHz or faster. The iLife '08 installer retains the previous version of iMovie HD 6 on your hard drive if your machine doesn't match the specs or you want to stick with what you know; for those buying a new Mac with just iLife '08 pre-installed, Apple has made iMovie HD 6 available as a free download.
Multi-format support
In the year and a half since iLife '06 debuted, the camcorder market has undertaken a shift away from tape-based cameras to those that store footage on MiniDVD discs, solid-state memory cards, and hard disk drives. Those media choices have also pushed manufacturers to come up with video file formats that can offer decent image quality while occupying much smaller storage spaces. Unfortunately, iMovie HD 6's support for other formats was pretty limited—something many folks discovered after shooting video and discovering they couldn't bring it into iMovie, or they needed to go through a conversion process using third-party tools.
iMovie '08 finally catches up with the market by importing most current DVD and tapeless formats. I shot some test footage with a Sony HDR-SR5 camcorder , which stores video in AVCHD (Advanced Video Codec High Definition) format on a built-in hard disk. When I connected the camera to my MacBook Pro via USB and launched iMovie '08, the Import window appeared, listing each clip and giving the option to import them all or individual clips. (The footage is transcoded into Apple Intermediate Codec (AIC) for editing within the program; the same conversion applies to HDV (High Definition Video) format, which iMovie HD 5 first supported.) See Apple's Web page for details about iMovie '08 compatibility, including some important exceptions; the model from which I successfully imported footage is not listed there, probably because it was superseded by the HDR-SR7, which is on the list.
A new look, a new approach
At first glance, it's obvious that this version of iMovie is different. The movie viewer is at the upper-right instead of the upper-left; the movie you build (formerly the timeline) now appears in the project browser at the upper-left; and the lower half of the window is dedicated to your source materials—imported video as well as music, photos, titles, and transitions. It's possible to also swap the project browser and the library (which puts the movie back at the bottom where, at least initially, it seems to belong).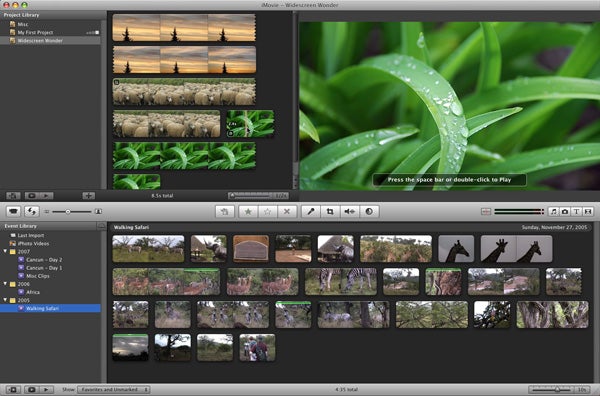 iMovie '08's main interface
Clips also take on a different appearance. Previous versions of iMovie gave you the choice of seeing either a high-quality thumbnail image of a clip's first frame or a stretched out bar that indicated the clip's duration. Now, you get a stretched out bar that contains multiple thumbnails, offering a filmstrip view of your video. You can adjust how many seconds of footage elapse before iMovie displays a new thumbnail: setting a slider to All shows each clip as a single thumbnail, while setting it to 1/2s (one-half second) offers more thumbnail images and therefore more granularity in previewing the footage without having to play it back in the viewer.
Gone are the single video track and two separate audio tracks. Instead, video clips dragged to the project pane appear like a paragraph of text: when a line of clips reaches the right edge of the pane, it breaks to the next line down (using a jagged edge to indicate when a clip is split across lines).
That doesn't mean the "tracks" are gone, however. A song applied as background music appears, literally, behind the video in the pane, while other audio items such as other songs or sound effects show up as horizontal audio clips that can be stacked. It looks rather chaotic, but does provide for a more visual way to discern each elements compared to iMovie HD's approach of layering sound snippets on top of each other in the audio tracks.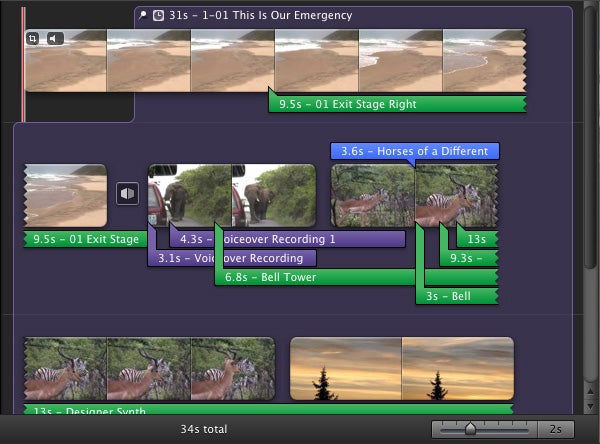 A song is pinned to a location in the video and shows up as the purple background. The green horizontal bars indicate other song snippets or sound effects. Just for fun, I've tossed some overlapping voiceovers into the mix.
Movie library
One of the welcome new features of iMovie HD 6 was the capability to open more than one project file at once—well, that didn't last long. We're back to the single monolithic window, but with a good twist: iMovie '08 instead keeps track of all your video in a single library, the way iPhoto stores all your digital photos. Imported video is organized into Events, which are listed chronologically.
iMovie '08 can also handle offline video stored on external volumes, though in a more limited way than I'd like. If a hard drive isn't mounted, the Events stored on it don't appear in the library at all; if your project includes video from that Event, thankfully, the clip stays in place but comes up blank when you play back that section of your movie. However, it would be nice to have the option of storing just the thumbnails on my main hard disk, so I could still look for footage in iMovie even if it's not available (similar to how Aperture handles offline images).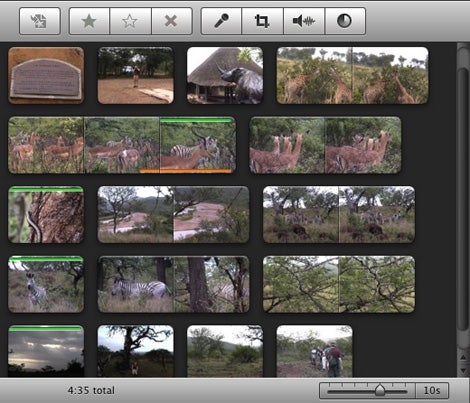 The library contains several contextual cues to indicate which bits of video are in use. Orange bars at the bottom of a clip indicate the portion is being used in the current project. Green clips have been marked as favorites.
Similarly, all of your movie projects appear in a projects list instead of as separate iMovie files. Want to grab a sunset image from a movie you edited last month? Click the project name and find the footage without a single trip to the Finder or an Open dialog.
Skimming
Moving your mouse pointer over a clip "skims" its content: The preview pane displays the footage below the playhead, and the thumbnail does, too. When you're reviewing lots of footage, you don't have to tear your eyes away from the clips to see what appears in the preview. This is one of the principal time-saving features Jobs cited in his introduction, because you also don't have to click a clip and play it back in real time.
Keyword support
A great and mostly hidden new feature is support for assigning keywords to your footage. By default, you can select a clip or range of footage in the library and click the Favorite button (or press F) for sections you like, or click the Reject Selection button (or press R) to help weed out the good and bad bits.
But that's just the beginning. Open iMovie's preferences and enable the Show advanced tools option to make a Keywords HUD (or heads-up display) available, where you can create your own keywords and apply them to your footage. You can then use the Keyword Filter pane to display (or exclude) only the clips that match the keyword criteria.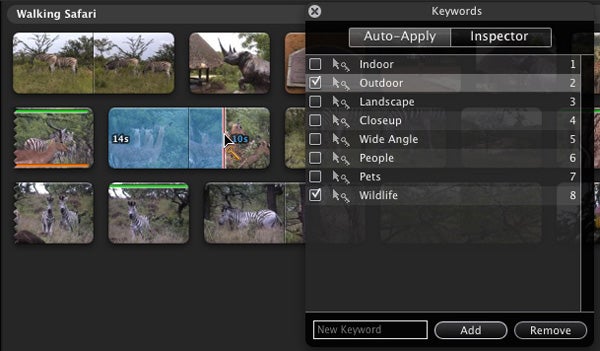 Assign your own keywords to footage to make it easier to find later.
Video and audio adjustments
iMovie '08 offers a few video adjustment tools that take the place of some of iMovie HD's effects ( more on that later ). A Video Adjustments HUD provides better control over settings such as exposure, saturation, and white point values. Clips can also now be cropped (you can finally remove the man in the ill-advised thong that turned up at the corner of your vacation video) and rotated in 90-degree increments (for those times when your still-photo instincts took over and you wanted to capture a waterfall lengthwise).
The audio in clips can be normalized to help avoid dramatic volume differences; the loudest portion is set to 100 percent and the rest of the clip is adjusted accordingly. iMovie '08 also supports "ducking," which optionally lowers the background audio when new audio is introduced, such as a voiceover. You could accomplish that in iMovie HD manually by adjusting the audio levels within the clip, but that capability appears to be absent this time around.
More sharing options
There are now more options for getting video out of iMovie, including the capability to upload videos directly to YouTube. Clips can be saved in several different sizes, which are helpfully displayed in a table indicating which devices and services (iPhone, Apple TV, .Mac) are supported. An option to Publish to Movie Browser formats the video so that it can be used by programs such as the rest of the iLife suite and iWork that use Apple's architecture for sharing media in this way.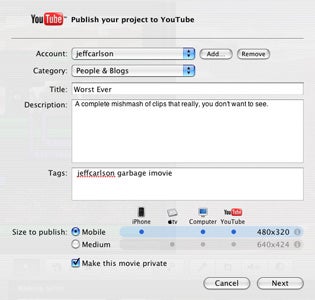 After you grant YouTube permission to accept content from iMovie, you can upload files directly to the service.
Missing in "Action!"
After I got past the shock of how different iMovie '08 is compared to previous versions and played with it for a while, I realized that much of the same functionality is still present in this re-engineered application. But not everything, and some of the omissions could be enough to turn iMovie editors away from this version.
For example, iMovie '08 can't open old iMovie projects. It's always been a good idea to finish a project in whatever version of iMovie you started it in, but this time around you have no choice. iMovie '08 can import old projects, but only in the sense that it's sucking in the raw footage; forget about transitions, effects, and the like.
The much heralded themes of iMovie HD 6 are also gone, although several of iMovie '08's titles now incorporate lower-third imagery reminiscent of some of the old theme designs.
Unfortunately, iMovie '08 also offers no support for third-party plug-ins, choking off (for now anyway) a healthy niche business that has provided effects and transitions not found in iMovie itself.
Forget about the convenience of setting bookmarks to locate sections of your movie while editing.
Gone, too, are DVD chapter markers—Apple clearly believes that the future of distribution is online or via mobile devices, because the link between iMovie and iDVD is now tenuous at best. You'll have to export your movie to QuickTime, open it in iMovie HD 6, and add markers there before pushing it out to iDVD if you want to retain the capability to have multiple chapters on a DVD.
But most disturbing to me, as a longtime iMovie editor, is the absence of timecode. Footage is no longer expressed in terms of minutes:seconds:frames, a standard adopted by the rest of Apple's video offerings. Everything is counted in seconds and tenths of seconds, making it far more difficult to perform precise editing.
But that really gets to the core of iMovie '08. It was designed to cut together video quickly, to make it easy to tape your buddies driving grocery carts downhill in the middle of the night and then post the video online. People looking for more control, Apple seems to be saying, should explore Final Cut Express or Final Cut Pro.
Current iMovie HD users are in for some adjustments, and I'm hoping Apple doesn't wait a year to fill in gaps such as support for third-party plug-ins and DVD chapter markers. But for those who are experiencing iMovie and video editing for the first time, iMovie '08 might be just exactly what they need.
Macworld will have a full review of iMovie '08 shortly.
[ Jeff Carlson is the managing editor of TidBits and the author of iMovie HD 6 and iDVD 6 for Mac OS X: Visual QuickStart Guide (Peachpit Press, 2006). ]