At a Glance
Expert's Rating
Pros
8-ball and 9-ball variations
Sophisticated Sims-style goal-based game play as well
Quick-entry gameplay
Our Verdict
The second iPod game to carry The Sims branding, EA's The Sims Pool is a lot of fun, and really brings something different to the mix when it comes to iPod games. Like most other premium games available specifically for the fifth-generation iPod, The Sims Pool is available for purchase from the iTunes Store for $4.99.
The Sims Pool follows the same basic formula as The Sims Bowling —more than just borrowing from the popular Sims franchise in name, the game actually borrows some of the game play as well. You can create a Sim—a simulated person who represents you in the game—and engage in activities that will help them achieve life goals and aspirations, such as acquiring better jobs. You can outfit your Sims with specialty pool equipment as you win more money and get better paying jobs, and, as you win games, you'll help your Sim achieve his or her aspiration of being a certified pool shark.
Most of the game itself takes place over the pool table. The Click Wheel-based interface for The Sims Pool is very intuitive, but it can be a bit challenging to line up just right—I can't tell you how many times I'd line up the perfect shot only to see it slip a pixel or four as I moved my finger or thumb off the Click Wheel.
In addition to using the Click Wheel to aim your cue stick, you can use it to confirm spin position (or English) on the ball, to help with tricky shots, and set the power of your strike.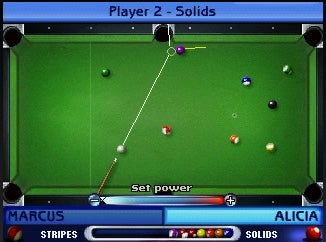 Eight ball, corner pocket The Sims Pool lets you play a very enjoyable and quite realistic game of pool on your fifth-generation iPod.
If you don't want to engage in the lengthy experience of building up your Sims' aspirations and life goals, a Play Pool option exists to get you into the thick of the action straightaway. What happens there won't affect the rest of the game, so it's a good way to take a break from the more elaborate Sims elements in the game.
A tutorial mode will help you learn the basics of the environment—from the Pool Hall itself to the game—and will familiarize you with the basic gameplay mechanics.
Two basic gameplay modes let you test your skills in the well-loved sports of Eight Ball and Nine Ball. A series of Challenges will also test your skills hitting trick shots or tricky shots. You can even play against another human using the "Pass-n-Play" feature, sharing a single iPod with another user.
A "Line of Travel" displayed from the cue ball outward will help you visualize your shots, including rebounds. It doesn't show every collision on the table, but it's very useful for actually planning your shots effectively. But if you think it's cheating, you can turn it off.
Options in the game are pretty par for the course for an iPod game—you can listen to your own playlist if it's playing before the game starts, or just turn game music on or off, adjust game music volume and sound effects levels, and adjust brightness.
The lowdown
The Sims Pool proves that a casual game doesn't have to lack depth or sophistication. This is by far my favorite iPod game to date.
[ Senior news editor Peter Cohen reviews Mac games at Macworld's Game Room. ]
Note: When you purchase something after clicking links in our articles, we may earn a small commission. Read our affiliate link policy for more details.