iWeb '08 is the hub for your online life, providing you with a one click option for publishing all of your media to the Internet. You can always send photos, movies, and music through e-mail, but with files getting larger , this will just end up clogging e-mail accounts resulting in your friends and family getting those annoying "Your account is over its limit" messages. Besides that, placing your assets on a Web page provides you with a host of options no e-mail program can begin to duplicate.
Although iWeb has not undergone any particularly revolutionary changes since its previous iteration, it has added a few obvious features—such as allowing you to change page themes on the fly and adding a blank page template so you can build your own page from scratch—and some nice nuances—such as always displaying your log-in status to your .Mac account (with its massive 10GB of storage space, up from the previous 1GB) and greater visual control of embedded QuickTime files. In addition, you will find another 14 professionally designed templates for a total of 26.
Where iWeb has changed most is in its Photo Album management and in its use of "Web 2.0" technologies that allow you to turn your Web pages into an interactive and engaging experience, becoming the hub for your own online community.
Brush up your Web page
Copying and pasting HTML snippets—customized HTMl code—to your Web page is a breeze in iWeb '08.
One of the major limitations in previous version of iWeb, was the inability to add custom HTML code to the page. You don't have to be a programmer to copy and paste Web code from YouTube, MySpace, and other social networking Web sites in order to add video, RSS feeds, or other functionality to your Web pages. iWeb '08 introduces HTML snippets which creates a layer in the Web page where can not only add HTML code, but JavaScript and CSS as well.
Many Web sites provide such code snippets that you can then copy and paste into iWeb. You can add as many HTML snippets as you want to your page. Be careful, though. The more you weigh down your page with code pulling functionality and content from elsewhere on the Web, the slower you Web pages tend to load.
Bring Google to your Web page with widgets
HTML Snippets require you to copy and paste code from another Web site, but iWeb also provides quick integration of two of the most popular Web widgets: Google Maps and Google AdSense. With the click of a button, you can instantly add interactive maps or profit-generating advertisements to your personal Web pages. For AdSense, you will need to set up an account with Google, but iWeb can help lead you through that. For Maps, it's as easy as entering an address and then resizing and positioning the map on your page.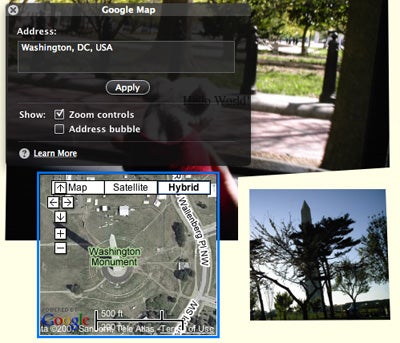 Add an interactive map to your Web site, thanks to iWeb's integration with Google Maps.
Add a Web Gallery from .Mac
iPhoto '08 —another part of the iLife '08 suite —allows you to quickly publish Web Galleries to a .Mac account or (in theory) to your own domain ( see below ). iWeb can pick up on these Web Galleries in a special widget and display a mini-version of that gallery on any of your Web pages with a link to the full gallery. The interface for scrolling through the mini-gallery is a bit hard to control— you have roll back and forth over the image as it changes— but the interface for the full gallery makes up for that.
Keep in mind, though, that Web Galleries created by iPhoto are separate from Photo Albums created by iWeb. Web Galleries take you straight into a robust image browsing interface using Flash, while iWeb creates HTML pages with photos on them and a link to a more limited browsing interface.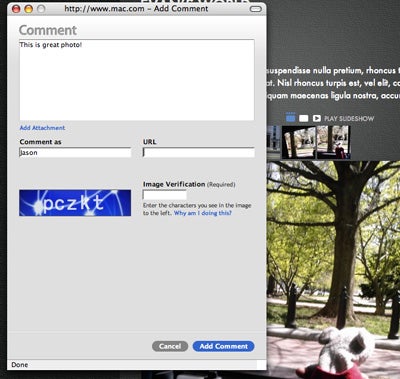 Visitors can add comments about photos and even upload their own in the revamped Photo Albums feature.
Photo Albums For your community
One area that has received a lot of attention in iWeb '08 are Photo Albums. You can now turn your photo albums into an online community area, allowing your visitors to subscribe to an RSS feed of the gallery, safely leave comments about individual photos, and even upload their own photos via e-mail to the gallery if you give them permission. This last feature will be especially useful for groups wanting to share photos, since you can now upload and download full resolution images suitable for printing.
Keeping your albums organized
One problem with the previous version of iWeb was managing all of your Photo Albums. You might create dozens of different Photo Albums (one for your kids birthday, one for your beach vacation, one for Halloween, and so on) but to keep track of them all, you had to manually manage the index page. Now, iWeb will automatically index all of the photo albums you place into a "My albums" directory, presenting each album with an animated "cover."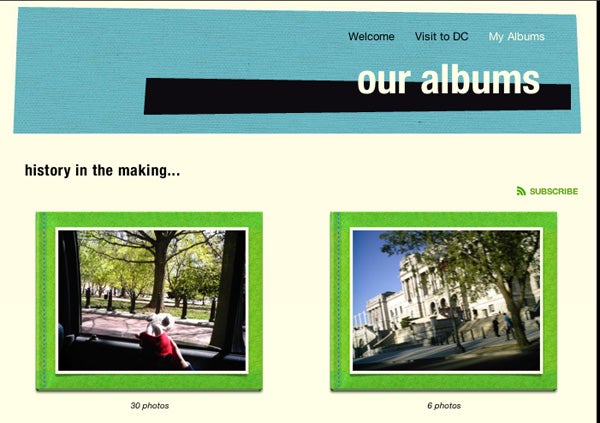 iWeb indexes any photo albums you place into the My Albums directory for better album management than in the previous version.
Be the master of your own domain? Maybe
One of the most exciting—and needed—features added to iWeb '08 is the ability to publish directly to your own Web domain instead of to a .Mac URL. You still have to have a .Mac account, but you can set the "Personal Domain" option and point it to a domain of your choosing. However, the final step requires that you set the CNAME (alias) on your server control panel, which will present a significant challenge, even if you have some Web experience. Apple recommends contacting your domain registrar for help, but I suspect most users will just stick to their .Mac url.
You do still have the option of publishing your site to a folder on your desktop and then uploading it your server, but you will need your own FTP software, and that's not exactly push-button publishing.
More to come
I'll have more analysis of these new iWeb features—along with an evaluation of the entire product—in a final iWeb '08 review, coming soon to Macworld.com.
[ Jason Cranford Teague is the creative director for AOL RED and the author of several books about computer design. Jason regularly rants about technology and culture on his blog. ]