Back in January 2006, I reviewed HandBrake Lite 0.7.0, a tool for converting DVDs (or VIDEO_TS folders on your hard drive) to MPEG-4 files suitable for playing on a computer, iPod, or other compatible device. As I said back then:
The problem is that commercial DVDs are copy-protected, which means you can't "rip" them in iTunes as you can a music CD. So you need a special tool that removes this copy protection as it extracts the video content; if that tool can then convert the video to a format suitable for playback on your iPod, even better. (And by the way, I'm not talking about movies you've rented or borrowed; I'm talking about movies you actually own.)
Since that time, Apple has released the Apple TV and the iPhone; improved the video-playing capabilities of the fifth-generation iPod; and increased the amount of hard-drive space in the company's laptops—giving us even more reason to want to convert our DVDs to widely-playable video files.
HandBrake, HandBrake Lite's full-featured sibling, can do just that. Although the full version of HandBrake worked well back in early 2006, it wasn't the easiest app to use; HandBrake Lite offered the functionality most people needed with a simpler interface. But things have changed quite a bit since then. HandBrake Lite is no longer developed, and HandBrake 0.9.0 ( ; free), the latest full version, is both much more capable and much easier to use. Besides an improved interface, version 0.9.0 provides better picture quality, better performance, useful conversion presets, and lots of advanced features; there's even a command-line version for Terminal-loving types.
Oddly enough, despite the many times we've recommended HandBrake over the past couple years, we've never actually rated it. Well, I decided to fix that—and to give myself a URL I can provide whenever the question of converting DVDs for iPod/iPhone/Apple TV/laptops arises (which it does frequently).
What a rip
When you first launch HandBrake, you'll see Mac OS X's familiar Open dialog. To convert a DVD, simply select the DVD itself; to convert a DVD you've already ripped to your hard drive (using a tool such as MacTheRipper), choose the VIDEO_TS folder that resulted. (For what it's worth, the developers of HandBrake recommend ripping a DVD to your hard drive first and then converting the resulting VIDEO_TS folder in HandBrake. However, I personally do that only when HandBrake has a problem ripping the original DVD.)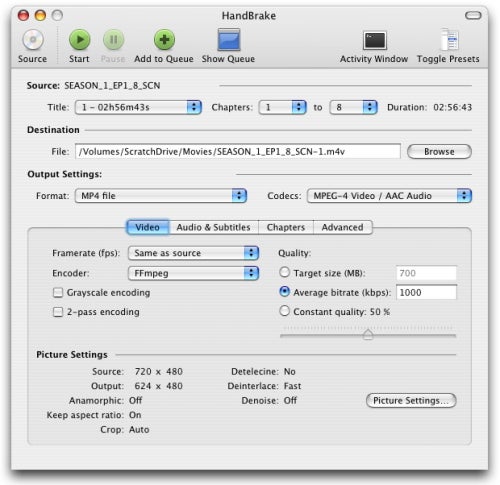 After a scan of the DVD or VIDEO_TS folder, HandBrake will display its main screen, where you choose your conversion options. First, via the Title pop-up, you choose the section of the DVD you want to convert. For movies, this will generally be the longest entry; for TV-show DVDs, each episode will be a different entry. You can usually leave the Chapters selections alone. (Although I've seen a few TV-show DVDs where each episode is a different chapter in a single title; in these cases, you'll want to convert Chapters 1 to 1, then 2 to 2, and so on, separately.)
Next you choose a name and the destination for the resulting video file. (An option in HandBrake's preferences can automatically name the file for you based on the DVD name and title number.)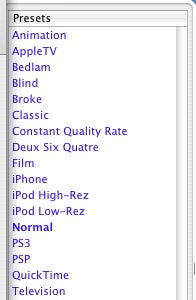 Finally, you choose your output settings: the file format, the codecs used, and the specific settings for both. This is one area where recent versions of HandBrake make the process easy for those not schooled in the black art of video conversion. A handy Presets drawer provides groups of settings optimized by the HandBrake developers for particular devices; these include the Apple TV, the iPhone, and the iPod. Click on a preset and HandBrake's various settings are automatically configured for that device. Click Start and the conversion process begins.
If you know what you're doing, you can instead go through the various Video, Audio & Subtitles, Chapters, and Advanced settings and choose the exact options you want to use. And there are many options available, including frame rate, bit rate, video size and dimensions, audio quality, number of audio channels, and a screen full of really advanced settings that most people shouldn't touch. Most Mac users will want to choose MP4 format and either MPEG-4 Video / AAC Audio or AVC/H.264 Video / AAC Audio for Codecs.
Note that some recent DVDs include a new technique for preventing ripping; a few of these DVDs can prevent HandBrake from ripping them. HandBrake users have posted a list of such discs with running commentary and updates, along with some workarounds. One approach is to use the latest 3.0 beta of MacTheRipper, available to those who have contributed to the MacTheRipper project, to rip such movies to your hard drive; this version is unaffected by most recent anti-copying efforts. (I covered an earlier version of MacTheRipper back in 2005.) You would then use HandBrake to convert the resulting unencrypted movies to MP4 files. As HandBrake's developers note, "HandBrake's more about video conversion than stripping copy protection. For best results, you should feed HandBrake unprotected video."
Possible tweaks
Overall, the quality of converted video using HandBrake's presets is very good; according to the developer, each preset is designed to offer an appropriate compromise between video quality, speed of ripping, and file size given the target device. Perhaps more important, the resulting movies are sure to work with those devices—no wasting hours converting movies only to find that they won't play.
However, there are a few useful settings you may want to consider. For example, I've found HandBrake's Deinterlace setting (in the Picture Settings window, accessible via the Video tab) to be useful in eliminating the line-ish artifacts that occur when converting some movies and TV shows. I use the Slow setting, which provides good results without slowing down the conversion process too much.
I also generally enable Chapter Markers in the Chapters tab; this setting applies MP4 chapter markers wherever an actual DVD chapter occurs, letting you jump between chapters on an iPod, iPhone, or Apple TV using the Forward and Back buttons. And HandBrake now offers anamorphic encoding when converting a movie for viewing on a widescreen display such as an Apple TV or Sony PSP. (You shouldn't use this setting when converting video for iPod or iPhone.)
Finally, one feature you'll find useful when ripping individual TV-show episodes from DVD is HandBrake's queue. Without the queue, you would need to choose an episode from the Title pop-up (or, as noted above, the Chapters pop-ups) and rip it; choose the next episode and rip it; and so on. With the queue, you choose an episode, give it an appropriate name (e.g., S2E11 for "Season 2, Episode 11"), and then click on Add to Queue. Then choose the next episode, give it a different name, and click Add to Queue again. After adding all the episodes on the DVD to the queue, click on Start and HandBrake will rip all the episodes at once, each to a different file.
A setting you may be tempted to use is 2-pass encoding, which—in theory—offers better video quality at a similar file size compared to the default single-pass. However, according to the HandBrake developers, you won't see much of an improvement if you simply choose one of the existing presets and then enable 2-pass encoding; the presets have been tweaked so to offer similar quality via single-pass encoding. If you want to use 2-pass encoding with the same tweaks, be sure to check out the HandBrake forums for instructions on how to do so.)
You may also be tempted to take advantage of HandBrake 0.9.0's support for surround-sound audio. Unfortunately, only two-channel surround encodings—Dolby Surround and Dolby Pro Logic II—work on a Mac or Apple TV; choosing "6-channel discrete" from the Track Mix pop-up, for example, simply increases the size of your resulting movie file.
Whatever settings you choose to use, you can create your own presets of saved settings; you can then access those presets with one click in the Presets drawer.
Waiting, watching
The downside to this excellent video-conversion functionality is that it takes time. A long time. (To be fair, this is the case with all video-conversion software.) For example, I ripped a DVD containing eight episodes of the TV show Sports Night —a total of approximately 3 hours of video—using the Apple TV preset on a quad-core 2.66GHz Mac Pro. The process took approximately 1 hour, 45 minutes. "Lesser" Macs—especially G4 Macs, but even G5-based models—will take much longer. A progress bar at the bottom of the window lets you monitor the rip's progress, although it's not something you want to sit and watch; that's the digital equivalent of watching paint dry. (Note that HandBrake at times appears to get stuck at the 100% mark. In most cases it isn't actually stuck; it's just that the last step sometimes takes a long time.)
What if you've already purchased the excellent VisualHub ? You could use MacTheRipper to rip your DVDs and then use VisualHub, which also has an Apple TV conversion preset, to convert the resulting VIDEO_TS folders to MP4 files. To see how HandBrake and VisualHub compare, I used various combinations of HandBrake, VisualHub, and MacTheRipper 3 to convert the 1-hour, 42-minute movie Little Miss Sunshine : HandBrake to both rip and convert; MacTheRipper to rip and HandBrake to convert; and MacTheRipper to rip and VisualHub to convert. In both HandBrake and VisualHub, I used the built-in Apple TV conversion preset.
MacTheRipper ripped the movie to a VIDEO_TS folder on my hard drive in 15 minutes, 30 seconds; HandBrake converted that folder to an H.264 video file in just over 59 minutes, for a total process time of approximately 1 hour, 15 minutes. VisualHub converted the same VIDEO_TS folder in 45 minutes, 43 seconds, for a total time of just over one hour, one minute. HandBrake ripped and converted the DVD in exactly one hour—surprisingly, only a minute longer than it took to convert the already-ripped version from the hard drive—making a HandBrake rip-and-convert the fastest of the three processes by a slim margin.
Looking at the resulting videos, the HandBrake conversion was 1.9GB in size, compared to 863MG for the VisualHub version. In other words, HandBrake's Apple TV preset creates much larger files than VisualHub's. And the truth is, neither looks considerably better than the other at full-screen size on a 1680 by 1050 display, although HandBrake produces a true widescreen video; VisualHub gives you a standard image with black bars on the top and bottom. (Of course, you can tweak the settings in either app to produce larger or smaller file sizes.)
I brake for HandBrake
Although not the only effective method for getting your own DVDs into a format that plays on your digital devices, HandBrake offers the simplest process, thanks to its clean interface, handy presets, and ability to rip and convert. And, as you may have noticed by the abundance of links in this article, the developers provide lots of documentation, which includes a number of useful tutorials. Even if you don't own an Apple TV or watch movies on your iPod or iPhone, HandBrake is useful for putting a few movies on your laptop before travel—you won't have to worry about losing or damaging your original DVDs, and watching movies from your hard drive uses less battery power than playing the actual discs.
As someone who likes using the movies I've purchased on my various playback devices, HandBrake has become one of my must-have apps. And many of my fellow editors are just as enamored with it.
P.S. Is this legal?
Some readers may be wondering if using a tool such as HandBrake is legal. Here's the quote from Macworld editorial director Jason Snell that I used in my review of HandBrake Lite last year:
So what's an iPod owner to do? As far as we're concerned, moving video from your DVDs to your iPod is an absolutely fair use of the video on DVDs you've bought. But because the law is still not completely clear on this matter, every iPod user will need to personally assess the risks involved in ripping DVDs.
HandBrake 0.9.0 requires Mac OS X 10.4 or higher and is a Universal binary.
UPDATED 12:10PM PST: Added corrected Presets screenshot and info.