I took my yearly pilgrimage to Ozzfest at the Tweeter Center in Mansfield, Mass., Monday, where I was treated to a tour of the sound engineers booth. Veteran engineer Greg Price walked me through everything from the Digidesign Venue console to the quad-core Mac Pro running Pro Tools and how it's all being used to achieve the sound and live recording at the show.
"This setup is a paradigm shift in the way we work," said Price. "It changes the way we do things, and it changes the way the band does things, forever."
With 32 years experience as a sound engineer Price has been around the block a few times. Working with musicians like Eddie Van Halen, Ozzy Osbourne and Zakk Wylde, and bands ranging from Steely Dan to Lamb of God, Price has used almost every piece of equipment you can think of. However, his main gear these days comes from two companies: Apple and Digidesign.
A quad-core Mac Pro uses Pro Tools to record the concert.
Situated midway up the auditorium, the sound engineer is responsible for everything you hear at a concert. After spending years working on analog consoles, Price has switched to a digital setup using Digidesign's Venue system.
The Venue is designed specifically for live shows, giving engineers access to Pro Tools and all of the conveniences you'd expect from a digital system. A modular system, Venue allows up to 96 mic inputs, 16 stereo effects returns, 27 buses, eight mono matrices, and eight stereo matrices.
After routing the microphone wires into the console, Price then runs the sound into his quad-core Mac Pro and records the 64 tracks coming from the stage. Because the setup is so fine-tuned, Price says he can literally have a working mix in about an hour that is better than any of Ozzy's other live albums.
"Between Apple and Digi, this stuff is just getting started," Price said. "Are there other consoles out there? Yes, but nothing works like Apple and Pro Tools."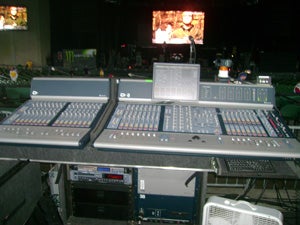 Greg Price's Venue system
When Ozzy started his world tour in Russia earlier this year, Price flew over with a USB thumb drive loaded with all of the Venue settings. He called the sound company in advance and told them the equipment he wanted and when he arrived, he just loaded his custom settings into the Venue.
"We are not throwing away what we learned from the analog world," Price said. "You'll never take away what happens on stage. That's where the magic is—we just want to reproduce that in the recording."
Given the choice of traveling with his Digidesign Venue and Mac Pro or taking an analog system, Price didn't hesitate in choosing Digi and Apple.
"This setup is making us more productive than ever before and we are finally moving forward in production," Price said.