Mac users certainly have their fair share of freeware available to them. Rarely, however, does a developer make so many great, high-quality applications available free of charge, but that's exactly what app4mac is doing with their Rapido line of applications. I have been playing with three of them —RapidoStart, a file launcher; RapidoWrite, an autocorrect utility; and RapidoSerial, a secure serial-number database—and I'm really impressed with them.
File launching made easy
RapidoStart is app4mac's solution to a crowded Dock. This tiny application lives on the sides (or corners) of your screen as a small green dot. When clicked, a semi-transparent window spins open on your screen with a customizable number of slots to drag applications or folders into. It reminds me of a much prettier version of the old Mac OS 9 Launcher.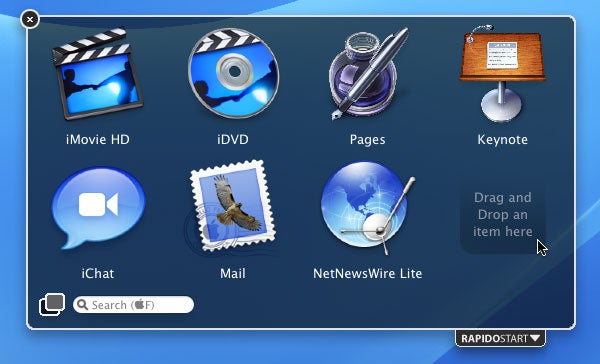 You can customize RapidoStart a bit by adjusting the bezel animation effect, setting the number of available slots and by adding a keyboard shortcut to open it. But, for me, the beauty of the program is in its simplicity. It doesn't try to be more than it is, which is a simple launcher with very little overhead.
Autocorrection with RapidoWrite
RapidoWrite is comparable to SmileOnMyMac's excellent
TextExpander
(

). If you find yourself typing the same text over and over, this little gem is for you. RapidoWrite works with any application by replacing customized abbreviations with full text. Let's say you find yourself repeatedly typing your address, phone, Web address and email. You can set RapidoWrite to automatically insert fully formatted information when you type your abbreviation, such as "addy," for your postal address, or "ctct," for your contact information. If you're the type of person who likes to code Web sites by hand, you can add shortcuts for your most often-used tags or CSS code.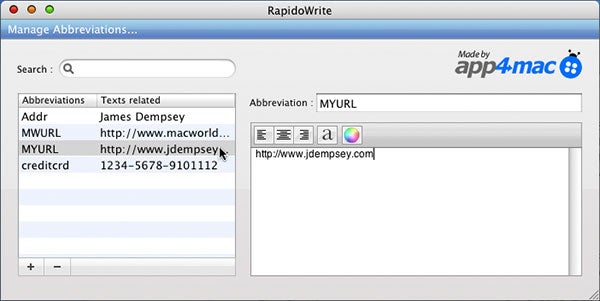 Keeping track of application information
RapidoSerial is a great database for storing all your serial numbers, user names and passwords for Web sites and more. You can select a program to add to the list, have RapidoSerial dive into your Applications folder and add all your software, or you can add custom items, like plug-in registrations, user names and passwords and more.
The version number for each application, along with the company and Web address fields are automatically populated, so all you're left to do is enter a registration key, registration email address or serial number for the app. You can also add a basic description, some notes and more.
Once all your serial numbers, license files and other information is entered, you can print out a nice clean sheet with the program's icon and its information. Or if you prefer, export your database as a tab-delimited text file for backup to CD.
In my opinion, RapidoSerial is the real gem of app4mac's freeware collection. There are a lot of commercial "password wallet" applications out there, but I'm already digging out all my email receipts, handwritten serial numbers and CD covers and entering them in to RapidoSerial at no cost.
Geotagging with RapidoMap
app4Mac is also beta testing RapidoMap, which they claim is the ultimate geotagging solution for Mac. It allows you to tag your photos and home videos with the location where they were taken. Using high-resolution satellite maps, simple search tools and a nicely integrated interface, you can manage and present your media or just localize your contacts. I'm just digging into it, but I like what I see so far.
[James Dempsey runs the Creative Guy Web site, which offers tips, tricks and opinion on a variety of design topics.]