At a Glance
Expert's Rating
Pros
Works as a mouse in a pinch
Plays just about any arcade game imaginable
Cons
Eats two USB ports
No Mac software
Huge beyond words
Requires engineering degree to operate
Our Verdict
If you're just an occasional gamer, or if modern first-person shooters, online role playing games, and strategy titles are your style, move along. This review is specifically for the old school arcade gaming crowd—especially those of you who are looking to customize the ultimate emulation experience with a $200 game controller straight out of the coin-op arcades.
X-Arcade is a company whose products I've reviewed before—a 15-pound trackball from the company was an inductee in the 2005 Game Hall of Fame. X-Arcade makes heavy-duty game controllers crafted from the same material you'll find in arcade game cabinets. The TankStick + Trackball is X-Arcade's most elaborate and impressive game controller to date, and it'll bring you straight back to the Golden Era of coin-op arcade gaming.
The TankStick weighs about 20 pounds and measures almost 30 inches across. This is not a lightweight controller—this has to sit on a desk or, perhaps, if you're truly serious about recreating a gaming experiencing, a custom cabinet of your own design. And there's absolutely nothing flimsy or delicate about this device—it has all the subtlety and refinement of a Hummer. Or perhaps a Bradley Fighting Vehicle. X-Arcade backs the TankStick with a tank-like lifetime warranty. Break a switch? Drop the company a line. It'll send you another.
Across the front of the TankStick is well more than a dozen buttons, arranged in two clusters around heavy-duty eight way joysticks. There are two start buttons (for one or two players) and a great big Missile Command-style trackball in the middle. The TankStick also features two flipper switches on each side. The base of the unit sports six rubber feet to hold it in place, and the backside of the TankStick touts a slider switch—a memory selector switch, in fact—along with PS2 and Serial connectors and a PS2/USB cable.
As you can tell, the device is built for versatility. X-Arcade advertises that the TankStick works with everything from the Mac to a PC to PlayStation 2, Dreamcast, GameCube, Xbox, Wii and PS3—this is true, as long as you have the right cable (the company sells adapter cables of all shapes and sizes), although the trackball itself is limited to mouse emulation, so it only works on computers.
With the inclusion of the center-mounted trackball, the TankStick is significantly larger than the X-Arcade Dual, X-Arcade's previous flagship model. It's basically the Hummer H1 to the Dual's H2 status—ludicrously big.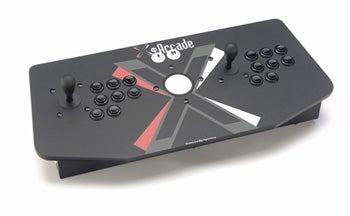 Included software with the device lets the TankStick play a dozen Atari arcade classics like Asteroids, Centipede, Battlezone, Missile Command, Super Breakout, Tempest and others, but only on the PC—Intel-based Mac users will need to reboot into Windows using Boot Camp.
An adapter cable included with the TankStick plugs into the serial port, adapting it to USB and enabling you to plug that into a second USB port on the host Mac—then you have full programmability over the TrackStick in games.
X-Arcade largely leaves it up to the host system to support the devices. You have limited hardware support with TankStick—a button near the programming switch lets you lock out horizontal input from the trackball (good for golf games), and the programming switch lets you link buttons on the controller with buttons on your keyboard. This can be a time consuming and arduous process, especially since you're using a single red LED on the TankStick's face to make sure everything is set.
Built-in USB support means that the device is recognized by software, but Mac gamers know that getting games to work with game controllers is more difficult than it should be. Apple has software (HID Manager) built into Mac OS X that supports game controllers, but doesn't offer Mac game programmers a universal interface for accessing or programming it. I'd really like to see X-Arcade get to the point where it ships Mac software to support this device—perhaps even a customized version of an existing Mac USB game controller programming tool, like USB Overdrive. As it is, the company links to a download for MacMAME, so it's at least prepared to get you started, but I think it needs to do more.
The hard-wired USB cable is specifically there for the trackball—with that plugged into your Mac, the device acts like a three-button mouse, with the giant trackball as the mouse itself. But you need to use both connections to get the TankStick working in its entirety.
Where the TankStick particularly shines is using software like MacMAME —the Macintosh version of the free arcade game emulation software, which relies on quasi-legal (and often illegally copied) game ROM files in order to operate. That adds to the device's overall wonkiness, for sure. But that's also the market for whom this device was designed.
X-Arcade advertises the TankStick as fully programmable for GameTap, the recently available for Mac online service that lets you play classic arcade games. As of this writing, GameTap Lite—the service offered to Mac gamers—did not work with the TankStick, but GameTap Deluxe is expected out later this year. I'll retest the TankStick with that software once it's out in the wild.
The bottom line
High price, difficult programmability and huge size make the TankStick a game controller suitable for only a select few—but if you're looking for the most authentic coin-op experience possible on your Mac, this is right up your alley.