As we head into the tail end of the summer, I thought I would pass along some interesting links and tips that have recently run across my desk:
Font Explorer X updated for CS3, Quark 7
Linotype has updated its free font management application,
Font Explorer X
to Version 1.2.2 this past week. The update includes new plug-ins for Adobe's Creative Suite 3 and QuarkXPress (versions 6.5 and 7.x), as well as a bunch of bug fixes. While I'm sure that its freeware status has helped, Font Explorer X has gained traction in the font-management space thanks to its stability, ease of use and superb auto-activation compatibility in applications like XPress, Adobe InDesign and Adobe Illustrator, and it's great to see the update finally available.
Pipette pulls colors in hexadecimal goodness

Charcoal Design has released a handy little program called
Pipette
, for Web designers and color geeks of all kinds. Pipette lets you quickly grab the color of any pixel displayed on your screen and copy it in Hex format—ready to paste in CSS files, HTML documents or Photoshop. Pipette is absolutely free, and has a cool icon that looks great in the Mac OS X Dock.
New Photoshop tutorials from PSDTuts
There seems to be thousands of Photoshop tutorial sites out there, but unfortunately, I'm usually left underwhelmed after visiting most of them. Recently, I came across yet another new site (they have only eight tutorials so far) called
PSDTuts
, whose tag line promises "spoonfed Photoshop tutorials." Skeptical, I dove in to their
Hazardous Red Background
tutorial and came out pleasantly surprised. Not only was it easy to follow, but my sample came out exactly as I expected (see artwork below). The site is quite nicely designed, and the other seven tutorials were just as easy to follow. I'll be keeping an eye on this site, and I think it's worth a bookmark in your browser of choice.

Loading up on Photoshop brushes
Brusheezy
is building up quite a database of beautiful Photoshop brushes for you to download and use on your creative projects. The site has only been around a short while and is already gaining quite a following, probably due to such great brush sets as
Footprints
and
Grunge
. I'm a huge fan of Photoshop brushes; like fonts, you can never have too many. The only down side to having a huge collection of brushes is actually remembering what you have so you can use them.
Using styles to adjust InDesign's word spacing
David Blatner has posted a brief tutorial at InDesign Secrets on how to automatically
adjust word spacing
using paragraph styles in your InDesign documents. While it's not a technique you might use often, you'll find it worth the read, just to save you a lot of manual kerning time or wailing on the space bar.
InDesign gaming style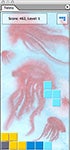 If you need to "unwind" a little in the middle of your next project, you could play a quick game of Tetris without even launching another application. DTP Tools has made available an InDesign plugin that puts Tetris right in your layout app of choice.
Tetris for InDesign
is free and works with all Creative Suite versions of InDesign. There's even a "safety" feature for when the boss comes around the corner—pressing the Enter key hides the game palette.
[James Dempsey runs the Creative Guy blog, which offers tips, tricks and opinion on a variety of design topics.]