When writing about the multimedia capabilities of the iPhone this summer, I called it "the iPod that's really a phone." You could say that the iPod touch—introduced by Apple this week as part of its overhauled music player line —is the iPhone that's really an iPod. After all, the touchscreen iPod shares much of the interface and design of the iPhone.
The iPod touch won't ship until later in September. So like everyone else who attended this week's press event, I left Moscone Center without one of these new iPods in hand. However, I spent enough quality time twirling, tapping, and pressing my way around each iPod's interface in Apple's demo area. Here are some first impressions.
Like the iPhone
The iPod touch is so similar to the iPhone that I could easily regurgitate any past iPhone article, using global search and replace to substitute iPod touch for iPhone . Rather than do so, let me direct your attention to Macworld's iPhone topic area where you'll find articles dissecting the iPhone's interface and applications.
Just how similar is the iPod touch to the iPhone? At first glance it could be mistaken for Apple's phone. At 4.3-by-2.4-by-0.31 inches, it's a little shorter and a bit thinner than the iPhone's 4.5-by-2.4-by-0.46 inches, but its form is very similar.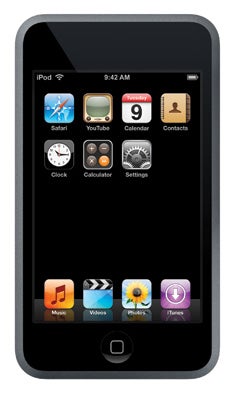 iPod touch
Closer inspection reveals that it lacks the small slit at the top of the device where iPhone users place their ear for listening to phone calls. The sides are black rather than brushed aluminum, there are no physical volume buttons, and the top lacks a headphone port. (That port is on the bottom of the iPod touch.) Naturally, there's also no SIM slot, though the iPod touch includes an On/Off button.
Flip the iPod over and you see no camera like you would on the iPhone but the upper-left corner is black, hinting at the Wi-Fi circuitry inside. The bottom of the device sports the traditional 30-pin dock connector port and, as I mentioned, the headphone port, which, thankfully unlike the iPhone's same-named port, is not recessed. There's no speaker or microphone on the iPod touch.
In terms of the iPhone's iPod functionality, the iPod touch is identical. Tap Music and you'll see the same options as you do on an iPhone—with Playlists, Artists, Songs, Videos, and More buttons at the bottom of the screen. (The More button includes these other classification entries: Albums, Audiobooks, Compilations, Composers, Genres, and Podcasts). As with the iPhone, turn the iPod touch on its side and you can browse your music in Cover Flow view by flicking your finger to move through your collection of albums. Tap an album cover and the cover flips around to reveal the contents of the album. Tap a track name to play it. The touchscreen is exactly as responsive as an iPhone's.
Video playback works much the same way as on an iPhone, but Apple has included a couple of Settings options not currently found on the iPhone. Go to the iPod touch's Settings application, tap video, and you'll see Start Playing (you choose between starting from the beginning or resuming from where the video was last played on the iPod or within iTunes) and Closed Captioning (On/Off) options and Widescreen and TV Signal TV Out options. (Widescreen is an On/Off toggle and TV Signal lets you select NTSC or PAL.)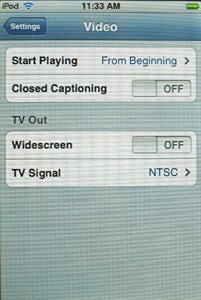 You use Start Playing to set whether to start at the beginning of a video or resuming from where it left off.
The iPod touch also carries many of the same applications as the iPhone. You'll find Safari, YouTube, Calendar, Clock, and Calculator. Each of these works just as it does on the iPhone —Safari operates in both portrait and landscape mode and all the flick and pinch motions work just as they do on the iPhone—with the exception that any connection to a phone or e-mail application has been severed. For example, if you go into a contact's Info screen, you can look at that contact's phone number or email address but, unlike with the iPhone, tapping these bits of text won't initiate a phone call or create an e-mail.
(Okay, there's one apparent addition to the iPod touch's version of Safari. In Safari Settings I found a Developer option. Tap it and you find the option to turn on or off a Debug Console, which supposedly helps you resolve Web page errors. This doesn't look like it's designed for users so it's quite possible it will disappear in the shipping version of the iPod touch.)
With the iPhone touch, Apple has created a separate Contacts application rather than placing it inside the (in this case, non-existent) Phone area. Tap Contacts, and it, too, works just as it does on the iPhone. Here you can add and edit contact information as well as assign photos you've stored on the iPod to a contact.
This Developer option is unlikely to be around by the time the iPod touch winds up in your hands—still, here's a photo.
Unlike an iPhone
The iPod touch lacks all of the iPhone's communication features so you won't find the Phone, Text, Stocks, Maps, and Weather applications. Because Safari is included, communication isn't completely out. For example, through Safari, you'll be able to operate webmail and, I assume, use Web-based instant messaging clients that have been developed for the iPhone.
The iPod touch includes the same Apple earbuds as Apple's other iPods. Some were hoping that it would include some kind of remote control, as the iPhone's headset does. Regrettably, it appears that you can operate an undocked iPod touch only by tapping and flicking its screen.
The Camera application is missing because the iPod touch lacks a camera. And, inexplicably, there's no Notes application, even though other display-bearing iPods support syncing notes to the iPod and the iPod touch includes a keyboard that you could use to compose notes.
Unlike an iPhone, which is currently licensed to be sold in the U.S. only, the iPod touch will be sold worldwide later in September. Because it will be an international device, it must support other languages and keyboard layouts. Within a Keyboard Setting, you'll find an International Keyboards button that allows you to select a keyboard layout for the country in which you reside. In this same Keyboard Setting you find a new shortcut option that I hope to see on the iPhone. Instead of having to switch to the numeric keyboard to insert a period, you can now simply double-tap the keyboard's space bar to insert the period and a following space.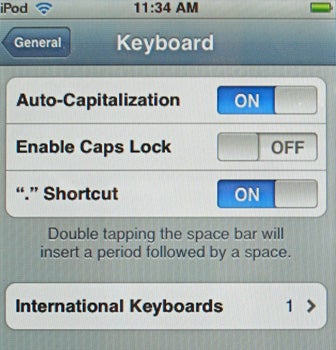 Pick a language and adjust the "." shortcut on the iPod touch's Keyboard Settings screen.
iTunes Wi-Fi Music Store
The grand new feature of the iPod touch is its ability to purchase and download music directly from Apple via the forthcoming iTunes Wi-Fi Music Store. Just tap the iTunes icon in the bottom right corner of the iPod touch and, via Wi-Fi, you're at The Store. Once there you can tap the Featured, Top Tens, or Search buttons at the bottom of the screen. (This area also includes a Downloads button.)
Featured includes three areas, available via buttons at the top of the screen—New Releases, What's Hot, and Genres. These work much as they do in the same-named areas of the iTunes Store's home page. Tap New Releases, and you see a list of the week's coolest additions. What's Hot includes popular titles. And tap Genres, and you'll see a list of available genres. Tap a genre, and you'll see a list of recordings—new classical releases, for example—for that genre.
Tap Top Tens, and you'll find top songs and albums within particular genres available from The Store.
Search is very iPhone-like. Tap this button, and a Search field appears. Apple's iPod Touch Guided Tour mentions only that you can search by Artist. While playing with the iPod in Apple's demonstration area we were able to download individual songs to the demo units. It wasn't clear if you could search by anything other than artist. What was clear is that this is a music-only feature. You can't purchase and download videos with the iPhone touch.
Tap any track and a 30-second preview plays. To purchase a track, tap the price and then tap Buy Now. You'll be asked for your iTunes ID password, and your music begins to download. An icon on the Downloads button blinks, letting you know that music is downloading. Once the tune is downloaded, you can play it on the iPod. When you next sync your iPod, the tracks you've purchased will be downloaded from the iPod to your computer.
The iPod touch will also eventually display a Starbucks button. When you're in range of a supported Starbucks outlet, this button appears. With it, you'll be able to preview and purchase tracks recently played at that particular Starbucks. You'll also be able to purchase other Starbucks-branded tracks.
And more?
While the iPod nano and iPod classic iPods are unlikely to reveal greater secrets, there's likely more to learn about the iPod touch. Assuming that it's running OS X as is the iPhone, will it be as hackable as the iPhone—will you, for example, be able to install an e-mail client on it or copy the iPhone's Notes, Maps, Weather, and Stock applications to it? We'll know this, and more, when we have one in our hands for good.
Stay tuned for all this and more as we lay hands on the iPod touch in the coming weeks.
[ Senior Editor Christopher Breen writes the iPod Blog and is the author of The iPod and iTunes Pocket Guide, second edition (Peachpit Press, 2007). ]