In the past few years, iTunes has left its origins in the iLife suite far behind to become one of Apple's flagship applications. Apple now distributes the program for Windows as well as the Mac, due to the fact that it's the gateway to the iTunes Store, as well as the home base for iPods and the iPhone alike. Version 7.4.1 adds several new features, the most prominent among them support for creating ringtones for your iPhone.
With this ringtone, I thee wed
Feeling Marimba'ed out? If you've had the iPhone for any length of time, it's likely that you've quickly exhausted the excitement of its included twenty-five ringtones. While the phone lets you assign custom ringtones to your contacts, it's all too easy to quickly use up what Apple gives you. But with the release of iTunes 7.4.1, Apple's added the ability to transform songs bought from the iTunes Store into iPhone ringtones. As we've come to expect from Apple, the process is simple and smooth, but it's not without its share of byzantine limitations.
Creating ringtones is easy enough. The first thing you'll need to do is display the Ringtone column in your iTunes library if it's not already being shown. You can do this either by control-clicking on the column headers and selecting the Ringtone option, or by choosing View: View Options and checking off Ringtone. When you do this, Apple will offer to scan your library and mark tracks that are eligible to be made into ringtones with a small gray bell icon. Like any other column, you can drag the Ringtone column anywhere you like and sort the tracks in your library by whether or not you can make ringtones out of them.
Making a ringtone from an existing purchased song is a breeze. Simply click on the bell icon, or choose Create Ringtone from the Store menu. The first time you do this, you'll be prompted to login to your iTunes account and reread and accept iTunes's Terms of Service. Once you've done that, the bottom of the main window will slide up to reveal the ringtone editor.
If you've used GarageBand or any other music editing application, you'll grasp the concept of the ringtone editor pretty quickly. There's a waveform of the song you're editing and a blue selection "window" that shows the portion of the song that will be turned into the ringtone. The window's resizeable, allowing you to choose anywhere from 3 to 30 seconds worth of music, and you can drag it anywhere within the song. At the beginning and end of the selection are checkboxes that let you control whether you want the ringtone to fade in, fade out, both, or neither. The editor doesn't let you choose the speed of the fade, though, so you're limited to a simple yes or no.
At the bottom of the ringtone editor, you'll find a drop down menu that lets you choose how much silence there should be before the ringtone loops, ranging from 0.5 seconds to 5 seconds. Keep in mind that this gap of silence is actually part of the ringtone itself; it's inserted at the end of the ringtone file that will be generated. You can listen to your ringtone at any time by hitting the Preview button; iTunes will continue to loop it, complete with the selected gap, until you hit Stop.
Once you're happy with the ringtone, you can hit the Buy button in the editor pane to purchase it. iTunes will warn you if you haven't listened to the edited audio and prompt you to confirm your purchase. I did experience some errors when trying to purchase ringtones created from songs that I already owned, but purchasing new songs and creating ringtones from them worked fine.
After you enter your login information to verify the purchase, the ringtone file will be automatically generated by iTunes; you'll find it in the Ringtones item under Library in iTunes's source pane. You may need to update your iTunes authorization when you go to play a ringtone for the first time, but this won't change the number of computers authorized to play songs.
It's worth noting that ringtones, once made, cannot be edited or altered. Once you've bought a ringtone, it exists as its own separate song file. If you decide that you like a different part of the song better, you can certainly go back and create a ringtone of that section, but you'll need to pay another ninety-nine cents for the privilege.
That syncing feeling
Once you've made a ringtone, getting it onto your iPhone is just as easy as you'd expect. A new Ringtones tab is added to the iPhone's settings in iTunes, and it gives you the option of selecting all ringtones or only specific ones. Hitting the Apply button will transfer the selected ringtones to your iPhone, and you're all set.
On your iPhone, the new ringtones will appear with the rest of the default ringtones under Settings: Sounds: Ringtone. You can also assign any ringtone to a contact by editing their contact information and choosing Assign Ringtone.
Note that, like music and media files, you can only sync an iPhone with one computer's worth of ringtones as a time. So if you try to plug your iPhone into another computer, it will give you the option to overwrite your existing custom ringtones with the ringtones from the new computer.
Three ring circus
Making ringtones may be a snap, but there are substantial limitations, mostly regarding what music you can or cannot make into ringtones. At the special event at which ringtones were introduced, Steve Jobs said that there would initially be 500,000 tracks available to be made into ringtones. Sounds like plenty, to be sure, but remember that the iTunes Store has over six million songs. The number of ringtonable tracks will no doubt increase with time, but don't be surprised if your favorite artist only has a limited set of tracks available at present.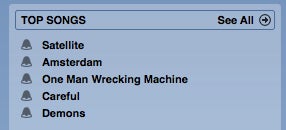 Finding those tracks can be tricky as well. There's no way to search the iTunes Store specifically for tracks that are ringtonable. You can turn the Ringtone column on in iTunes search listings by control-clicking on the column headers, but it doesn't stick; you'll have to turn it on every time you make a search. Some parts of the store will show a bell icon next to songs that can be made into ringtones, for example the Top Songs box shown when you click on an album, but this seems to only appear irregularly throughout the store at present.
You also can't buy just the ringtone for a song; because the ringtone editor only works on tracks in your library, you'll need to buy the song first. Clicking on the bell icon for a track in the iTunes Store will do nothing but wear out your finger.
Finally, don't expect to be able to make ringtones out of tracks that you've ripped from CDs or downloaded from other sources like eMusic or artists' websites. According to Apple's own Ringtone FAQ, "Songs imported from CDs cannot be used to create ringtones." There is a workaround for this restriction, but as it takes advantage of a loophole in iTunes, there's no guarantee that Apple won't close it in a future version.
Those looking for more versatility in their ringtone options, should probably investigate third-party solutions such as Ambrosia Software's $15 iToner, which lets you make ringtones from any compatible sound file that you own with no per-song charge. Ringtones installed by iToner seem to play well enough with the current version of iTunes, though again it's impossible to say what Apple might do in a future update.
Other features
iTunes 7.4.1 isn't just about the ringtones—no, sir. Apple's packed in a couple of other features into the upgrade as well. A new option lets you use the entire iTunes window to play back video instead of just the small cover artwork pane. You'll find the options for watching videos in the Playback section of iTunes preferences.
The update also adds in the ability to display closed captions on videos that support them, though none seem to be available from the iTunes Store as of yet. Once that content becomes available, you can enable the captions by choosing "Show Closed Captioning" from the View menu.
Music lovers who need to rate their entire library may be glad to hear that iTunes 7.4.1 also introduces album ratings. To rate an album, make sure the Album Rating column is being displayed by control-clicking on any column header and checking off Album Rating, or enabling it via the View Options dialog in the View menu. You might find that some of your albums are already rated with hollow stars: if you've rated the tracks in an album you own, iTunes will take the average of rating for those tracks and apply it to the album. If you assign a rating to album where some tracks have not yet been rated, those tracks will get the same rating as the album, but again will be displayed as hollow stars.
Finally, you might not notice one other nifty feature that crept its way into the latest version of iTunes, but the iTunes Music Store now offers a Spotlight-like search facility. When you start typing in a search term, iTunes will suggest a handful of possible matches in a drop down box; select any of those matches and you'll be taken to the corresponding search results.
[Macworld Associate Editor Dan Moren is a contributor to iPhone Central and co-editor of MacUser. ]