At a Glance
Expert's Rating
Pros
Sound as good as previous full-sized iPod
Attractively priced with good price per gigabyte
Excellent battery life
Bright, clear screen
Improved user interface
Includes three new games
Cons
Sluggish interface and unresponsive to controls
Can't use previously purchased games
Cover Flow not terribly helpful
Incompatible with many existing dock-connector accessories
Our Verdict
EDITOR'S NOTE: Soon after this review's publication, Apple released a software update for the iPod. This update had enough impact on the final rating to warrant an additional review, which you can find here.
As of September 5, 2007, the full-sized iPod turned six (as in sixth-generation) and, because of the existence of the iPhone-like iPod touch, was pronounced a classic— the iPod classic. Offering increased capacity, a thinner form factor, a full-metal enclosure, an enhanced (and sometimes sluggish) interface, and incompatibility with some accessories that get along quite happily with earlier iPods—in short, the high-capacity version of the third-generation iPod nano—the iPod classic is mainly about size and storage. If you want to pack every speck of digital media you own into your pocket, this is Apple's best iPod option.
More storage for less money
On September 4th of this year, the highest capacity iPod you could buy was the 80GB fifth-generation (5G) iPod, selling for $349. An iPod classic of the same capacity now goes for a C-note less—$249, whether you order the black or silver model. For the previous 80GB iPod's price, you can now double the storage capacity to 160GB, also available in black or silver .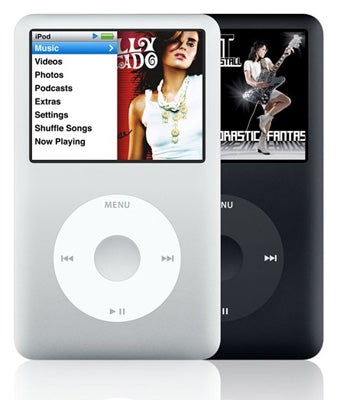 The iPod classic comes in two colors.
And that's largely the appeal of this iPod—not much money for a whole lot of capacity. As pointed out by my colleague Dan Frakes in his review of the third-generation iPod nano, that more diminutive iPod has the same features as the classic. Yes, the iPod classic has a larger screen at 2.5-inches (measured diagonally) versus the new nano's 2-inch screen. And the classic's Click Wheel is larger and broader (and, thus, more maneuverable with large fingers). But otherwise, the two match feature for feature, including an interface that sports slick artwork in the first two layers of the screen hierarchy; thumbnail artwork of albums and podcasts in list views; more extensive information when viewing lists of songs and albums; Cover Flow view; three games (the same games—Vortex, Klondike, and iQuiz); support for nested playlists; and polish added to a number of the iPod's extras, including Clocks, Calendars, Contacts, Alarms, Games, Screen Lock, and Stopwatch.
That leaves capacity—a differentiating factor not to be sneezed at. Thanks to such influences as the iTunes Store, digital cameras, podcasts (audio and video), lossless audio files, and the easy-does-it-tools that allow us to convert DVDs and TV shows to portable form, the capacious iPods of yore feel increasingly cramped. The once-heralded "1,000 Songs In Your Pocket" just won't cut it when your iTunes library contains six-digits-worth of tunes, three seasons of 24 , every word murmured on a podcast hosted by Leo Laporte, and the entire Pixar oeuvre.
With such expansive libraries it's no longer a rare feat to exceed an 80GB capacity. And even if you don't have a huge media library, you may care so much about the quality of your recordings that you encode in an uncompressed or Apple Lossless format, both of which consume greater amounts of storage. For those people, the 160GB iPod classic makes a lot of sense.
Bigger (and better?)
The nano review nicely described the nano and classic's interface changes. That review also lists the items included in the box (earbuds, dock connector cable, dock adapter, Quick Start guide, Apple stickers, and miscellaneous paperwork). Rather than regurgitate those details, I'll outline the significant differences between that more petite iPod and the iPod classic.
Capacity aside, the main difference is physical size, and yes, size matters. Although the new iPod nano has a bright, crisp screen, the classic's extra half-inch of diagonal screen real-estate makes a difference. After watching three hours of video on my new iPod nano my eyes were bleary. Attempting to read the white subtitles that accompany the Korean dialog of the Jin and Sun characters in episodes of Lost was a real chore.
Conversely, I could watch that same three hours of video on the iPod classic without spending five minutes rapidly blinking my eyes in the hope that the world would come into better focus. It too has a nice bright screen, though without the same pixel-density as the nano; the classic offers 163 pixels per inch whereas the nano has 204 pixels per inch. As does the 3G iPod nano, this iPod supports closed-caption video display on the iPod's screen (though no compatible videos are currently available). Given my Lost experience, I'd be hard-pressed to watch a subtitled film on the nano—I could manage it with a classic, but it wouldn't be an optimal viewing experience. For the best viewing in a portable package, I'd choose the iPod touch or an iPhone ( ).
Don't get me wrong. The iPod nano looks remarkably good. I'm simply saying that the iPod classic's video is easier on the eyes when viewed for long periods of time—particularly when you're reading subtitles.
The classic's larger Click Wheel also makes it easier to operate—particularly when manipulating it with one hand. When "spinning" around the nano, I found that my thumb occasionally slopped over to the Center button. This isn't a big deal, unless you're trying to use the iPod's pop-up search feature. The pop-up kicks in when the iPod senses your mad spinning. When you slop to the center, the pop-up takes longer to appear. I didn't experience this with the classic as the Click Wheel is roomier.
The Feel Factor
The nano review also addressed the presence of album artwork on the iPod nano and how that tended to make the interface occasionally sluggish. I found that effect to be even more pronounced on the iPod classic—perhaps because my 80GB classic had to deal with more than 9,000 tracks-worth of artwork in addition to 26 TV shows and six movies. Flash memory versus a hard drive may also be a factor. Flash can deliver data more quickly than a hard drive, which helps to explain why the new nano is more responsive (yet still hardly zippy).
There were times when I'd retreat to the main screen by pushing the Menu portion of the Click Wheel, and the classic would pause while drawing the screen. It was as if the iPod needed a little time to get its house in order before completing the task. Navigation was also affected. There were times when I'd attempt to scroll down through a menu and the interface took a moment to respond. My 80GB 5G iPod, in comparison, has never exhibited such sluggishness and delays.
I synced this larger iPod without artwork and the delays ended. Regrettably, Cover Flow is nearly useless without album artwork and the iPod's interface far less attractive. While the iPod is still quite usable, owners of previous full-sized iPod models will likely find these occasional interface quirks frustrating. My hope is that an iPod software update will deal with these issues.
Speaking of Cover Flow, our nano review found it poky —that's the case with Cover Flow on the classic, too. I'll kick Cover Flow while it's down by also suggesting that when you have a lot of albums stored on your iPod—as you would with the iPod classic—it's not a good tool for navigating through a massive music collection. The Click Wheel isn't really made for the kind of fine touch you need to precisely move from cover to cover. And it's hardly a quick way to find one out of several hundred albums and then play a particular song on that album. I understand the concept of discovering music you've forgotten you owned by spying an album cover as you zip through artwork, but given that the classic is slow to draw that artwork and it takes several button presses to finally get to the track you want, Cover Flow feels like a gimmick on this iPod. There are easier ways to explore and play your music.
Though it may seem a minor thing to some, I'm pleased that Apple has finally fixed the display-bearing iPods' Sleep/Off function. In the past I'd often press and hold on the Click Wheel's Play/Pause button in an impotent effort to shut the thing off—and it did nothing. Both the 3G iPod nano and iPod classic go to sleep after a short hold of the Play/Pause button.
The fury over sound
Whenever a new iPod model hits the street, the audiophile community has a field day, praising or damning the iPod for its perceived audio assets or detriments. While I don't count myself among the audio elite, based on a series of listening tests I do have a sense of how the classic sounds in comparison to my 80GB 5G iPod.
I conducted three sound tests, which were configured this way. For the first listening test I placed a 160GB iPod classic in one Apple dock and an 80GB 5G iPod in another. I attached an audio cable to each dock's Line Out port and brought the cables into an audio A/B switcher via miniplug-to-RCA cables. I then tested the sound with four different sets of headphones, using the switcher's audio out port. Those headphones included Future Sonics' FS1 headphones molded specifically for my ears, Etymotic ER-4P, Future Sonics' Atrio Series, and the earbuds that come with the iPod. In the second listening test I plugged the headphone ports of each iPod into the switcher and balanced the volume of each iPod until I couldn't detect a change in volume when I switched between them. Finally, I plugged the once-again-dock-mounted iPods into my Denon receiver attached to a pair of B&W speakers.
My test files included an ambient recording of rain encoded in AAC at 128kbps (the amount of white noise in the recording easily exposed greater or lesser highs), an uncompressed AIFF solo piano recording, The Finn Brothers' "Won't Give In" purchased from the iTunes Store, and an iTunes Plus recording of the Berlin Philharmonic playing the Brahms Requiem.
The short story of my results is this: There's not a huge audible difference between the two iPods; however, while the better-quality headphones more clearly showed the differences between the two iPods, those difference were apparent with each set of 'phones.
The output from the dock-mounted 5G iPod was a little hotter (louder) than that of the iPod classic. With the ambient rain file playing, switching between the two was like listening to the difference between an excited and an ecstatic audience applauding—a discernible bump in volume. The 5G also seemed a bit brighter in the Finn Brothers test. The snare was more pronounced, though at the time, I attributed it to the increased volume from the 5G.
When I listened to each iPod through the iPod's headphone port, volume wasn't a factor as I'd balanced them. Without volume being a factor, the difference between the two was more subtle. Again, the highs seemed the tiniest bit more evident on the 5G, but it was something I really had to listen for.
Once I moved the iPods to the Denon/B&W stereo it was really difficult to hear a difference except in output volume. The classic seemed to have a slightly rounder bass, but nothing jumped out at me.
Scientific? Hardly. No one person's ears should be counted on as the last word. Your mileage may vary, but blindfolded and asked to tell the difference between that 160GB classic and my 5G iPod, I'm not sure I could.
Accessory issues
At the risk of repeating myself, the iPod nano review covers accessory- and game-compatibility issues. Those issues are the same here.
If you've purchased games for your 5G iPod, you'll need to purchase new ones for the iPod classic. The older games are not compatible with the new iPods and Apple isn't currently offering a trade-up program.
Video out on the iPod classic is supported only through the dock connector. I've tested both the nano and classic with every accessory I own that supports video out—including SendStation's PocketDock AV, DLO's HomeDock, SierraSound's; iN Studio 5.0 speakers (with dock), Keyspan's TuneView, XtremeMac's Tango portable speaker, and a version of Apple's Universal Dock purchased well over a year ago—and the single product among them that allows video out to work with these new iPods is the Apple Universal Dock. (Apple iPod docks that include S-Video ports but don't include an IR port don't support video out on these new iPods.)
Apple claims that video out works only with accessories that support the new iPods' "enhanced video capabilities." As far as my accessories are concerned that means "none save the single one made by Apple." It's possible that there's another shoe to drop—that these "enhanced video capabilities" hint that these iPods will eventually play video encoded at greater resolutions and bitrates and that's why the circuitry had to change (and old accessories had to bite the dust in terms of compatibility). But that's little balm to those who have purchased pricey docks and auto accessories specifically for the accessories' iPod-to-video capabilities.
Assault on batteries
As has become typical, Apple provides conservative battery estimates for play times. Although I haven't completed battery tests (because they take so darned long), I can say that the 80GB iPod classic exceeds Apple's estimates in a "best case" audio battery test—one where I filled the iPod with music, pressed Play, and walked away. Apple suggests this iPod will play audio for 30 hours. My 80GB iPod classic finally gave up the ghost after 41 hours and five minutes of continuous audio play. Screen brightness and volume were set in the middle positions and EQ and Sound Check were switched off. We'll offer complete battery tests results for both the 80- and 160GB iPod classic when those tests are completed.
The lowdown
If capacity is your prime concern, the iPod classic is the one to own. But it's not flawless. Yes, the interface is slicker and sometimes more helpful, but ultimately it's no easier to find and play your music on this iPod than it is on a 5G iPod. Given that the interface adds more eye candy than functionality, it's a pity that the implementation appears to slow the iPod down.
Those new to the iPod or trading up from the first couple of generations of iPods will undoubtedly find these quirks acceptable. The iPod classic will be a tougher call, however, for those 5G iPod owners who appreciate their iPod's ability to send video out through a third-party accessory. Paying a $49 "video tax" in the form of an Apple-made composite- or component-video cable (that includes an AC charger) could sting these individuals—enough that they may choose to stick with the iPod they own.
[ Senior Editor Christopher Breen writes the iPod Blog and is the author of The iPod and iTunes Pocket Guide, second edition (Peachpit Press, 2007). ]