If you're looking to add a little heat to your Photoshop images, check out the Hot & Fiery Photo Effect at PhotoshopStar. The effect (shown below)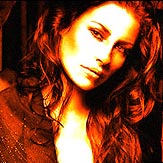 can be achieved using just a few simple filters and some color and gradient layers.
And, when you need to cool down a hot image, try the Under Water Effect at Photoshoplovr.com. With this simple tutorial, you'll learn how to give your image the look of being submerged in cool aqua goodness. I've used this effect to produce a background in an ad for a pool-supply store, with great results.
If you're not sure what you're looking for, but would like a little inspiration, take a quick look at the many Photoshop tutorials available at Eyes on Design —they have a little bit of everything.
Finally, if you've visited my blog, you probably know that I love Photoshop brushes. To me they're like fonts—you can never have too many. Among my favorites are grunge-style brushes, and, when you can't find just the right one, use use Veerle's Creating Grunge Brushes tutorial, where you'll learn how to roll your own.
[James Dempsey runs the Creative Guy blog, which offers tips, tricks and opinion on a variety of design topics.]