At a Glance
Expert's Rating
Pros
Great sound
Works well with a wide variety of audio sources
Impressive alarm clock functions
Nice overall design
Unique Bluetooth features
Outputs to TV or entertainment center
Cons
Enormous footprint has potential to swallow nightstands. No iPod track metadata display
Our Verdict
iLuv's newest tabletop stereo and alarm clock, the $200 i199 , provides nice sound, iPod docking, a CD player, and a radio in a great-looking package. It also includes innovative features like Bluetooth streaming and album modes, although these feature work better in theory than practice and seem more like gee-whiz add-ons.
The look
iLuv did a great job with the i199's appearance. Available in glossy black or white, it's sleek and handsome, and will look nice in just about any setting—office, kitchen, bedroom, or dorm room. However at 15.5 wide, 9 inches deep, and 5 inches tall, it's not exactly svelte; with a footprint just shy of two square feet, it takes up nearly an entire nightstand. Depending on your furniture, this may or may not be an issue for you.
An attractive, blue LCD screen on the front face of the i199 displays the time and also the day and date—a nice touch for those of us who aren't fully cognizant of what year it is until we've had some coffee. The screen also provides feedback on basic data such as the alarm music source (iPod, radio, CD, USB, or Auxiliary), whether you've got the alarm set, and track metadata and elapsed time.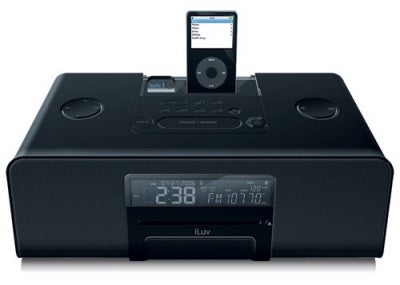 Up top are clock-setting and audio-control buttons set around a large snooze button. Depending on how you count (some controls, such as volume control, have multiple positions) there are 13 to 18 controls in all. This may sound like a lot to deal with, but the controls are laid out nicely. The ones you'll need frequently—snooze; alarm off; play/pause; stop; skip forward and back; volume up and down—are large and widely-spaced; it's easy to hit the right one without looking. (A big deal if, like me, you wear glasses or contacts—or, to put it more accurately, generally don't have them on when the alarm sounds.) Setting the clock is a simple affair, and once you set the date, the day of the week is set automatically. You can set two different alarms; however there's no setting to set an alarm for weekday or weekend only.
Performance and features
What's a pretty face, even if it can tell you the time of day, if the performance doesn't match? There are all too many iPod add-ons out there today that look great but sound terrible. (Trips down the iPod accessories aisle at any major electronics store often fill me with frustration when I think about the good-looking junk people ultimately head home with.) But iLuv delivers, at least in just about every respect that matters.
All that cabinet space pays off in the form of two speakers on either side that pump out mostly-great sound. The lower frequencies are rich and solid, while midrange and high notes are clear and full. The i199 can also pump out impressive volume for a "clock radio." However, when you max out the volume, bass distorts considerably. Still, the i199 has enough power that even at mid-volume settings you get bedroom-filling sound.
Even more impressive than the i199's audio output, however, is the range of features iLuv has included. A slot on the front face takes standard audio CDs or MP3 CDs; with the latter, the CD player will recognize folders as albums and even let you skip from album to album. However, the system's display shows album numbers rather than names, and, truth be told, I wonder how many iPod owners will actually have lots of MP3 CDs.
You can also play MP3s from a USB drive via a USB port up top, using the i199's controls to skip forward, skip back, play, and pause. This feature really opens up the system to other types of MP3 players, and in my testing it even worked perfectly—remote control included—with my first-generation iPod shuffle. Track metadata, such as artist and title information, scrolls across the i199's front display. This feature is quite well done.
Most iPods—fourth-generation or newer, plus minis and nanos—work with the i199 via a dock cradle that uses Apple's Universal design; iLuv has included dock adapters to fit these models. My iPhone worked as well (set it to airplane mode to reduce interference). One downer is that the system's display doesn't show the same track information when playing iPod audio as when playing a USB drive or an iPod shuffle. You get basic playback controls, but you can't browse the iPod's menus using the i199's buttons or its remote control.
The i199 is also the first iPod alarm clock that includes Bluetooth technology, provided by iLuv's BluePin plug-in module. This feature promises the ability to connect to many Bluetooth devices to transmit audio to them (in the case of headphones and remote speakers), or to play back their audio and even control them (in the case of media players and phones). However, the usefulness of this feature may be limited for many customers: in order to transmit or receive stereo audio, devices must support Bluetooth A2DP, which rules out the iPhone and many popular music phones, and in order to control playback on a device, that device must support AVRCP.
Radio reception was about average on both the AM and FM bands. You can store up to 30 FM presets, probably far more than you need, and ten AM presets.
Accessories
Don't think iLuv is going to force you to walk across the room to skip tracks. The included radio-frequency (RF) remote lets you perform most of the major functions by hitting one of its 14 buttons: play; pause; skip or scan forward or back; stop; adjust volume up or down; sleep; mute; skip albums on MP3 CDs; change functions; switch play modes; switch radio band; skip through preset channels; and turn the power on and off. The remote performed quite nicely for me, and is roughly the same size as a first- or second generation-iPod nano.
The i199 provides a 1/8-inch auxiliary-input jack for connecting an external audio source, and a 1/8-inch AV-output jack for connecting the system to a TV to view iPod-hosted video. Included in the box are the previously-mentioned dock adapters, an AM antenna, a minijack-to-minijack stereo cable for use with the aux-in jack, and a minijack-to-component-video-and-RCA-audio cable for use with the AV-out jack. A flexible-wire FM antenna is permanently attached to the back of the unit.
The lowdown
Overall, the i199 presents an impressive package—it's a solid tabletop stereo with a great alarm clock, to boot—that's a good value at its price point. For those who have amassed a growing collection of gadgets, it also presents several more opportunities to get the most from them.