At a Glance
Expert's Rating
Pros
Extended cover art options
Batch-fetches lyrics
Converts conventional Web videos well
Syncs some useful RSS feeds to iPod
Cons
Sluggish
Poor documentation
Unintuitive interface
Relies on inconsistent Web databases for music and artist information
Causes iTunes to crash
Our Verdict
JoeSoft's $50 Jax 1.0.2 is a set of tools that pulls a lot of disparate functions involving audio, video, album art, lyrics, RSS feeds, and documents into one package. This multi-purpose add-on for iTunes can be both fun and practical, but it delivers less than it promises; for example, it is at times unable to find album art and artist information easily obtained manually from the Web. And while it's an iTunes add-on that you launch from the iTunes menu bar, it doesn't work in sync with iTunes; the music you currently have playing is not connected to any of the modules, except for the visualizer. In other words, you can't tell it to fetch information on what's currently playing, which can be confusing and, sometimes, frustrating.
A mixed bag of modules
When you launch Jax, it appears in a separate window on top of your iTunes application. A pane on the left side of the Jax window displays the modules you can choose from. Up top are five "Tunes" modules: Visualizer, Music Map, Lyrics, Album Art, and Video. Below that are "On the Go" modules that enable you to fetch news, weather, movie show times, and other information from RSS feeds, and to add read-only documents from both the Web and your own machine.
The Visualizer, similar to the one built into iTunes, simply provides more eye-candy options. This is the only module that works in real-time with iTunes; you can select any of seven Jax visualizers, and that will remain your default until you select another. This can be fun to play with for a while, but one of the visualizers, "Cities of the Future," muted iTunes every time I selected it on both of my test machines, a PowerBook G4 and an iMac G5. The other visualizers worked fine.
Other problems and glitches were annoyingly common, but my biggest complaint is that the software can appear very sluggish when it's doing large tasks, at times making me think that the rotating "beach ball" was the real visualizer. Often it appeared that Jax had hung iTunes, but really it was just chugging away at its appointed tasks, batch-fetching lyrics or album art. This makes Jax's Activity Viewer, which you can select from the Jax menu, a must-open before asking Jax to do a lot of work—using this monitor, you can see whether Jax is working or hung. A simple ever-present progress bar would be a great improvement in this area.
The Music Map module enables you to choose any artist in your library and view a spider-like graph that displays artists similar the one you choose, including musicians and bands who have influenced or been influenced by the one you've selected. Such maps have been available on the Web for years, and are a great tool for learning about music and also for discovering new music that you may like. The Music Map module includes a View Info button at the bottom that links to the artist's Wikipedia entry, if one's available. I found the music maps adequate; you're able to select a "related" artist orbiting the original artist, and find that artist's influences, and so on. The maps can rapidly grow to include dozens of artists, and lead you—through Wikipedia entries—to both deep and trivial information. For example, while playing with a music map that began with Bruce Cockburn, I eventually discovered a distant relationship to Pure Prairie League, and when I clicked on the View Info button for that band, found out that it is named after a "19-century temperance union mentioned in the 1939 film Dodge City ." From such tidbits entire doctoral dissertations grow.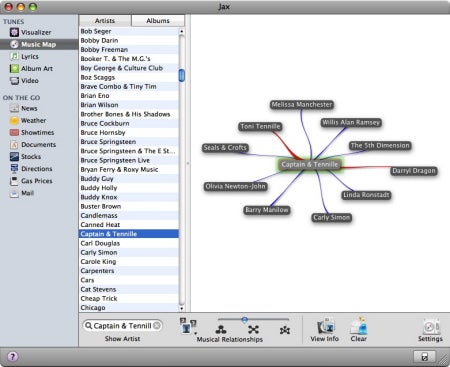 On the other hand, the music maps aren't exhaustive. For example, the Beatles are not displayed on Badfinger's music map, despite the fact that the band got its name from a working title of a Beatles song, scored its greatest hit with the Paul McCartney-penned "Come and Get It," and were produced by George Harrison. Even when I adjusted the module to provide as many relationships as possible, none of these names appeared, even though all of this information is available in Badfinger's Wikipedia entry. It didn't seem that this was a common flaw, although given that it's possible to know if a music map is flawed only when you already know a fair amount about the artist, it may be more common than I thought. When I mentioned this to a Jax spokesperson, he said that the program obtains its music maps from one particular Web source (they're not extracted from Wikipedia), and that JoeSoft would consider looking into other possible sources.
Jax does a decent job of fetching lyrics and album art —allowing you to choose from several different sources for this data—and provides multiple options for automatically adding the art and lyrics to your iTunes library. When Jax discovers multiple CD covers or versions of lyrics, you can manually choose which of these you want to add. Without the time to examine my entire library, I sampled a few dozen artwork and lyrics fetches; at times the application couldn't find lyrics to hit songs, and on album art it failed a few times in vastly different ways. When I tried to acquire album artwork for High School Musical 2 from Amazon.com, Jax couldn't find it, even though I easily could. On the other hand, when Jax sought out artwork for "(I've Been) Searchin' So Long" from Chicago's Greatest Hits Vol. 1 , it delivered eight album art choices. Unfortunately, Chicago wasn't among them: instead it offered up Billy Joel's Greatest Hits , Korn's Greatest Vol. 1 , a recent Bob Dylan compilation, Queen's Greatest Hits , Toby Keith's Greatest Hits , The Bellamy Brothers' Greatest Hits , and so on.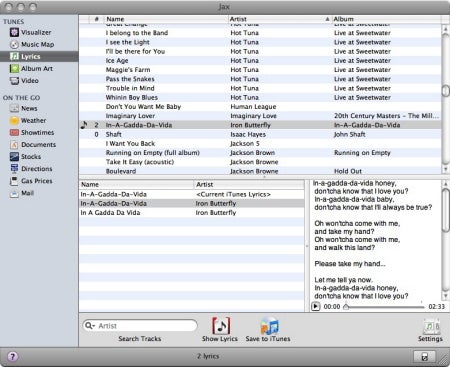 The JoeSoft spokesperson admitted that such inaccuracies "can be a problem" because Jax relies almost entirely on Web sources over which it has no control. It's possible, said the spokesperson, that Jax couldn't find High School Musical 2 at Amazon because there it is labeled "High School Musical 2 [Soundtrack]." And Amazon doesn't have art for Chicago's Greatest Hits Vol. 1 , so Jax went looking for something similar—and came up with a variety of other "Greatest Hits" packages. But that brings up the question of why, when it couldn't find High School Musical 2 , it didn't look for something similar, and instead returned nothing. Although Web sources can be inconsistent and inaccurate, Jax should be able to obtain album and artist information more accurately with well-established databases.
Jax also enables you to convert videos on your Mac, or those you've recently watched on the Web, for optimal viewing on your choice of devices: iPod, iPhone, Apple TV, or your Mac via iTunes (though four buttons are provided, the options boil down to two choices: 320-by-240 pixels or 640-by-480 pixels). Jax does a good job at these conversions, working quickly and producing the expected results. On the other hand, this module is the simplest and most limited; the free iSquint, for example, is just as fast and offers much more control over video quality.
In addition to those modules, Jax can grab Web feeds and local documents that you can sync with your iPod's Notes feature. You can subscribe to RSS feeds via Jax's news viewer, and also get weather forecasts, movie show times, stock prices, driving directions, and gas prices. You can also fetch e-mail messages, local documents, and Web pages. This last feature sounds cool, but only the text of the Web page is captured, limiting its usefulness. While having some of this information on your iPod may prove helpful, it doesn't seem any more useful than simply printing it out. The last thing I want to do while driving in unknown territory is try to read small-print, text-only driving directions on an iPod's screen—talk about an accident just waiting to happen. However, this point proved mute as no matter what addresses I entered in the To and From fields in Jax, it was unable to find directions. The MapQuest Web site, accessed from my Mac, took the same addresses and pulled the feat off without a hitch. Weather reports and gas prices obviously have a short shelf life, and can be updated only when you sync Jax with your iPod. The limitations of such a setup seem obvious, but these functions should become much more useful as more and more iPods gain Wi-Fi access.
The lowdown
Jax has lots of potential, in part because it's designed to be expandable; JoeSoft promises "dozens of new Jaks" that will be available as free downloads. However, much of the potential rests in a hope that JoeSoft will make much-needed bug fixes and improvements in functions that the existing modules don't do well enough. This is likely to take a while, if recent development is any indication: the product was released in late June has just had one revision since then. The company says version 1.02 should be available around the time Leopard (OS X 10.5) is released. If you find the current features appealing and have some patience, give Jax a test drive; if not, you may want to wait for a major upgrade before buying.