Nearly two years ago I crowed over the wonders of RadioTime, a service that allowed you to listen live to countless streaming radio stations around the globe as well as create schedules for recording those streams as well as record local programs received by Griffin Technology's RadioShark (now offered as the $50 RadioShark 2 ). The scheduled recording feature was offered only in the $39 version of the program.
Regrettably, RadioTime just couldn't seem to pull together a stable Macintosh client—partly because of the lack of support for playing Windows Media files on the Mac (a format, along with Real, often used for streaming by radio stations). RadioTime eventually killed the Mac client and offered those who used the Mac version of the program a refund or a free copy of Rogue Amoeba's Audio Hijack.
Apparently the conversations necessary to bring about a free copy of Audio Hijack were productive for more than that one transaction. Rogue Amoeba has released the $32 Radioshift, a program that uses the RadioTime station database, and finally provides a workable and attractive interface to the streams gathered by RadioTime.
With RadioShift you can search a Radio Guide using such terms as call letters (KPIG), frequency (107.5), subjects (sports), and personalities (Leo Laporte). Click on the Popular link and you'll view a list of hot shows. You can view subsets of popular programs by clicking on the Spoken, Music, Sports, Stations, or Programs buttons at the bottom of the window. If one of these shows is currently playing live somewhere—NPR's Fresh Air , for example, is on in San Francisco—you'll see a blue Play icon next to the program. Click that icon and the program streams to you and plays. Regrettably you can't currently record live shows—recording works only with scheduled programs. As you listen to a station or program you can save it as a Favorite.
The Radio Guide offers a very cool feature. Click the World link and a map of the world appears with green dots that represent major cities around the globe. Click a dot and a list of stations in that city appears. Care to hear what's hot in Cape Town or Guam? This is the way.
Radioshift shows you a map of radio stations around the world.
In this same Radio Guide screen you'll see a Genres link. Click it and you'll see three categories—Spoken, Music, and Sports. Each category includes subcategories—for Music, Classical, College, Spanish, R&B, and World, for example. Click a subcategory to see a list of programs that pertain to that variety of radio.
As I said, should you find a station or program you'd like to record you must create a schedule. To so so, click on the show and, in the resulting window, click on the Subscribe button. The program window flips around to tell you when the program plays. Once a program has been recorded you can choose it from your Subscriptions list (found on the left side of the Radioshift window) listen to it within the resulting window, send it to iTunes, edit it, or delete it.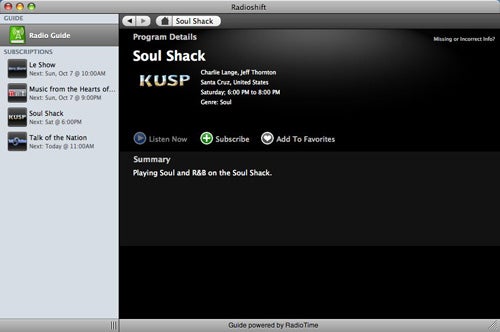 Subscribing to a show, courtesy of Rogue Amoeba's Radioshift
Radioshift isn't yet "TiVo for the radio" as you can't record programs as they happen nor can you pause a currently playing recording and then pick it up where you left off when you next press Play. But Rogue Amoeba is well aware that these are features people want and my hope is that we'll see them in a future release. While Radioshift has a few rough edges—some of my scheduled recordings didn't work due to an "internal server error," for example—it's got more than a load of potential for those who enjoy radio on their schedules rather than the schedules of their local radio station.