Starbucks and Apple launched their iTunes partnership Tuesday in Seattle and New York, but in at least one of its 600 debut locations, the program started with an off note. Some early glitches combined with a regrettable technology decision caused a few hiccups for what could be a promising service.
The Apple-Starbucks iTunes offering will work for anyone with an iPhone running the recent 1.1.1 software update, iPod touch, or computer running a recent version of iTunes. When those users are in a Starbucks, they're able to see what song is currently playing in the store, see recently played songs, and access the entire iTunes Wi-Fi Music Store—a subset of the iTunes Store.
It's an intriguing notion in theory—who hasn't wandered into a Starbucks, heard a catchy tune, and wondered who the artist is and how you could get your hands on a copy? In practice, however, things didn't go smoothly on this first day. Here's an account of my Starbucks-based iTunes Wi-Fi Store experience.
Opening day jitters
Neither Apple nor Starbucks planned media events in either Seattle or New York to mark the launch. So I went to a coffee shop in the University District near the University of Washington, one of several locations in close proximity. I fired up my PowerBook G4, an iPod touch on loan from Apple, and my iPhone. The iPod touch connected to the T-Mobile network—Starbucks' Wi-Fi partner—and, within the iPod's iTunes application, showed a new Starbucks button in the lower-left corner.
I was able to see the current song, and the last songs played—until my connection was lost. The Wi-Fi network still appeared operational, but the iTunes store was unavailable on any of the devices I had with me. The T-Mobile HotSpot network also appeared to be unreachable. Typically, you connect to T-Mobile's "tmobile" network, and, when you attempt to load any Web page, you're redirected to a login gateway page. That page never appeared.
I asked a friendly barista if the network was down, and he said that the service might be available by noon, but that I should "check back next week, too." The barista said other stores in Seattle were also having trouble Tuesday morning. This is rather a technology black eye. With only 600 stores included in the launch, I would have expected a combination of site visits and testing to provide the kind seamless launch one associates with Apple services.
As part of my coffee purchase that morning, I was handed a download card for Bob Dylan's "Jokerman"" The displays were obviously already ineffective, as the baristas were hiding the cards not in the card display slot on the front, but in a different area in the back. Apparently, people must already have been snagging multiple cards, even though they're only good for a single, specific song. The picture of Bob Dylan looked rather like the love child of Prince and Vincent Price; not a great image to pair with the network failure.
A little later in the morning, I returned to the same store, and the iPhone and iPod touch could now connect. This time, however, the T-Mobile Wi-Fi network still seemed broken—still no gateway page—and iTunes on the PowerBook couldn't connect, either.
How it works
Once I was able to connect, I found the actual experience is quite good. After selecting the Starbucks button, I was able to see and preview the current song. If you're using the external speakers of your iPhone or your laptop, previewing a song that's already playing in the background is a little odd, but people with headphones might find the preview capability to be a nice option.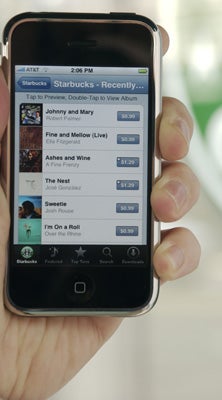 Browse through the songs recently played at a Starbucks using the coffee retailer's new iTunes offering.
As with other iTunes Wi-Fi Music Store selections, clicking the price causes the dollars and cents to swivel to reveal a green Buy Now button. Tap that, and you're prompted for your iTunes Store password. Enter it correctly, and the song downloads.
T-Mobile has long said that it uses T-1 lines in all Starbucks, which offers 1.5 Mbps in each direction to the Internet. The download on an iPod touch of an 8MB iTunes Plus song took just under a minute, or about 1 Mbps. I purchased other songs, and they downloaded just as simply. Browsing the iTunes Wi-Fi Music Store worked just as on any other Wi-Fi network, with a fast response. Song previews came up with nearly zero delay.
Apple, Starbucks, and T-Mobile did make one terrible technology decision, however, and one I expected the firms to bypass. In order to use the free iTunes access on an iPhone, iPod touch, or computer, you have to connect to the "tmobile" network. Access to the rest of the Internet isn't included; you need to purchase that separately or use a T-Mobile HotSpot account you might already have in place.
But connecting to the Starbucks network means that your iPhone and iPod touch now store "tmobile" as an approved network. If you want to stop using the iTunes Wi-Fi Music Store at Starbucks, and use your included EDGE network service, you have to press the Home button, tap Settings, tap Wi-Fi, tap the blue right-pointing arrow next to "tmobile," and finally tap Forget This Network. Or you can turn Wi-Fi off entirely in the Settings, Wi-Fi area.
I expected the companies to use a separate, virtual Wi-Fi network identifier, something that I know from T-Mobile that these networks are set up to offer. And I expected that Apple would employ this separate network ID to allow devices to join that Wi-Fi network only while using iTunes. Unfortunately, that's not the case, and it will result in a lot of frustrated iPhone and iPod touch users.
Final thoughts
The Starbucks/Apple partnership does live up to the simplicity of browsing and purchase that were promised, but only at the expense of a lot of friction—first in the lack of superb execution at a launch store; second, in the poor execution of how Wi-Fi and at least portable devices work for connections.
[ Glenn Fleishman writes daily about wireless networking at his site Wi-Fi Networking News. ]