Games have been part of the iPod's repertoire since September 2006 when Apple introduced nine games you could play on the popular music player. But there was a limitation—the games only worked on video-capable fifth-generation iPods. iPod nano owners were out of luck.
That's changed with the latest round of iPods introduced by Steve Jobs last month. The redesigned third-generation iPod nano features a color screen with 320-by-240-pixel resolution—the same resolution available on the iPod classic. So not only can you watch video on the nano's 2-inch screen, you can also play video games.
Three games come with the iPod nano: iQuiz, a multiple choice quiz game; Vortex, a 3-D brick-bashing game; and Klondike, the classic solitaire card game. As of this writing, three more were available for purchase and download from the iTunes Store: Tetris, Ms. Pac-Man, and Sudoku. Vortex and iQuiz were only available for purchase to fifth-generation full-sized iPod users, so their addition on the iPod nano is welcome.
My colleague Dan Frakes has already reviewed the iPod nano. Rather than assess its music- and video-playing capabilities, I want to look at it strictly from the perspective of a gamer: Does the game experience translate to Apple's smaller iPod?
After a few weeks of testing, I've found that the new nano's game-playing abilities are a pleasant augmentation to the device's capabilities, though I don't think it will replacing your Game Boy or PSP any time soon.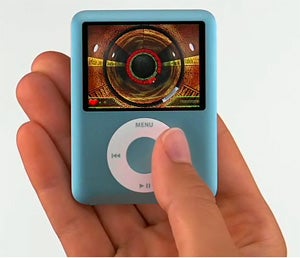 In the Palm of Your Hand The click wheel is responsive as you play the brick-bashing game Vortex and the screen is clear and bright, but it's hard to make out details on the 2-inch display.
Measuring performance
Game-playing performance on the 8GB iPod nano is every bit up to the standard I expected from my experiences using a 30GB fifth-generation video iPod. The response to input on the click wheel is quite snappy, and the graphics performance is perfectly adequate. Having said that, none of the games you can buy or that already ship with the iPod nano really push the limits of what can be done graphically, and have fairly simple gameplay mechanics.
The most obvious limitation of the iPod nano as a gaming system is the dimension of the display. A two-inch color LCD display isn't very big, no matter how you slice it (though it's large enough for Nintendo to make a jeans pocket-sized game system around, its Game Boy Micro). The clarity of the 320-by-240 display is remarkable, and the brightness is also quite good. Still, I can't quite get past the size. It's too small to see a lot of detail in the games. I was already a bit put off by Ms. Pac-Man's tiny dimensions on the larger iPod's display; here it's almost to the point of being ridiculous.
As with video playback (perhaps even more so), games drag down the battery charge of the iPod considerably. Apple says that third-generation iPod nanos can last up to 24 hours on a single charge when playing music or up to five hours when playing video. I saw somewhere south of that—closer to four hours—when playing games exclusively.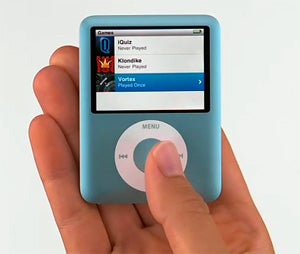 Three In One Like the iPod classic, the latest nano ships with iQuiz, Vortex, and Klondike already installed.
Still, I don't pretend that anyone buying an iPod nano is buying one exclusively to play games. To that end, the nano is a fantastic pocket-sized music player with a truly impressive feature set for something so small and so thin; the fact that it plays videos at all, let alone games, is icing on the cake.
Because of the overall tiny dimensions of the new iPod nano, I found my hand cramping up during long gaming sessions—it was just a tad awkward to have the iPod nano perched in my hand with my thumb on the Click Wheel all the time. Between that and the tiny display, I can't really recommend the iPod nano as a gaming system, but I certainly think it'll come in handy for commuters looking for the occasional distraction while they're traveling to and from work. The fact that Apple's making additional games available is great—you can always use some variety.
It's worth noting that the same games you've already bought for a fifth-generation iPod don't work on the iPod nano. I'm sure that'll come as a bitter disappointment to iPod users who were hoping to load up their new iPod nano with games they already own. It certainly disappointed me.
iTunes Store customer support told me in an e-mail that I would have to "rebuy" my older games for $4.99 each if I wanted to play them again on the iPod nano, however. Boo, Apple.
The last word
The nano's game-playing capabilities are certainly a nice addition to its already impressive feature list, though its tiny size makes marathon gaming sessions impractical. Casual gamers looking for a break will likely appreciate this new feature—provided they're not fifth-generation iPod owners forced to upgrade their existing games library.
[ Senior editor Peter Cohen reviews Mac games for Macworld's Game Room. ]