Have you ever started something and, when you have finished, felt that it seemed a bit too simple? Almost as if you had missed a step? That's the way I felt when I started using EZdrummer, a $179 virtual instrument from Toontrack Music.
EZdrummer removes much of the complexity that's typically associated with using software instruments. Instead of spending your time endlessly configuring parameters, EZdrummer gets you immediately making music.
To use EZdrummer in an application like Apple's Logic Pro, choose an Instrument Track and add the EZdrummer Audio Unit plug-in to it. You will now see the EZdrummer interface on your screen.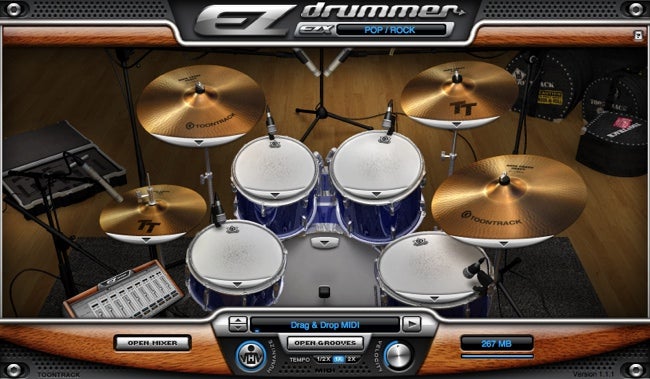 If you want to get started quickly, click the Open Grooves button and use the hierarchal menus to pick the drumbeat for your song. With the drumbeat chosen, clicking the play button will start the beat. From the time you first see the interface, it only takes a few clicks and you are hearing drums in your music project.
To add a drumbeat to Logic, simply Control-click on the beat and drag it to the Logic Instrument Track. You can then extend it like a loop and add fills as needed. When you play the track, EZdrummer will play whatever drumbeat you put in the track.
Of course, you can change the beats with many of the included grooves or if you buy any of the available expansion packs, you can change genres too. From Latin and vintage rock to metal and pop, EZdrummer will most likely have a beat that will fit your song.
It is important not to confuse simplicity with a lack of features. EZdrummer is packed with features and allows you to customize the most important parts of the drum kits. For instance, from the main window, you can sample each part of the drum kit by clicking on it, and from this screen you can change what type of snare or cymbal is used for that song.
If you have any of the expansion packs, you can also change entire drum kits and individual pieces of any kit. This will completely change the drumbeat you hear. It's like going to the studio and completely swapping out the drum kit for a new one—for each song.
It's very easy to get caught up in a song-writing rut where everything sounds the same. Personally, I get a lot of my inspiration from the beat I'm playing with, so being able to mix things up quickly is a definite bonus.
EZdrummer has several other features as well, like the ability to speed up or slow down the tempo without changing your song tempo; a Humanize setting that adds a little je ne sais quois to your track; a velocity dial; and a mixer. All of these things will help color the sound you get when using the plug-in.
Of course, some people want the flexibility of being able to manually program their drums and there are applications to do that, but there is a lot to be said for being able to click a button and start composing a song.
I was struck not only by the simplicity of EZdrummer, but also the quality of the drum sounds. To say the drums are realistic would be an understatement—EZdrummer delivers one of the most realistic sounding kits I have heard.
EZdrummer is easily one of the best bargains in the virtual instrument market, and you can add as many expansion packs as you need (all priced under $100) to get the sounds you want to make many different styles and genres. Toontrack is always working on new expansion packs and updates to the application. As a lover of all type of music, that's something I really like — I never feel like my music is getting stale when I can start off with a brand new beat.