With the explosion of online photo-sharing and other social sites offering users a place to expose their images to the world, the need for image-editing applications has never been greater. Mac users in the content-creation business likely own a copy of Adobe Photoshop, but what about the rest of us? Over the next couple weeks, we'll be reviewing a few of the latest "budget" image editors here on Mac Gems.
Today's offering, Flying Meat's Acorn 1.0.2 ( ; $40), is a wonderfully simple image-editor made for those who just want to crop a photo, add some text, and maybe do some minor editing—without the palettes, steep learning curve, and off-putting price tag that accompany many full-blown image editors.
Acorn offers basic drawing, text, and selection tools; layers; and enough filters to keep the average user happy. But simplicity is its mission statement, and they developers have ably accomplished this goal. You'll find all of Acorn's tools—move, crop, selection, drawing, erasing, fill, gradient, text, shape creation, and color selection—flowing down the left side of a single floating palette; select a tool and its options are displayed to the right. A list of your image layers, including preview thumbnails, are displayed at the bottom of the palette and remain visible regardless of which tool you are using. This dead-simple, one-palette approach is not only easy to use, but also ideal for MacBook owners and those still using smaller (by today's standards) screens with their desktop Macs.
The image you're editing lives in a separate window, which—in one of the program's unique touches—can actually be used to resize your image: just hold down the Option key while resizing the window. This feature should be used carefully, though, since the resolution of the image remains the same no matter how much you enlarge or reduce, which can adversely affect your image quality. You can also work in a full-screen mode that hides the menu bar—all you see is your image and the Tools palette.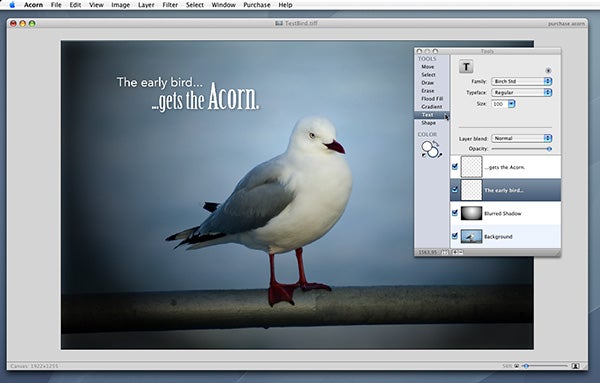 While all of Acorn's tools provide some degree of customization, the Text tool left me wanting more. Although it appears to provide only font and text size, a tiny gray button just above the Font Family pop-up menu gives you a few drop-shadow options. Unfortunately, you can adjust only the amount of blur and the offset amount, but not the color of the shadow or the amount of opacity. The shape tool is also fairly limited. You can draw a line, circle, or rectangle, and Acorn allows you to add a stroke to your shapes and adjust the corner radius of rectangles, but that's the extent of its capability.
Acorn supports opacity and blend modes with layers. For example, in the image above, I applied a black-to-white radial gradient, set to multiply, in order to darken the edges of the photo and focus the eye to the bird. You also have the ability to align objects on layers—a feature unlikely to be used frequently by non-pros, so it's hidden in the program's menus rather than cluttering the palette.
There are a good number of filters available in Acorn, including color, gamma, and exposure adjustments; blur and sharpen tools; and a slew of distortion and stylize effects. Many are named with obscure, techno-babble language, but playing around with them is fun and produces some interesting effects.
A feature Flying Meat seems to be particularly proud of is that Acorn uses your Mac's graphics processor (video card) to do the heavy-lifting. However, while I expected Acorn to scream on my Mac Pro with 3GB RAM and stock video card, resizing my 7.6MB test image was choppy, and working with text and other tools—and, particularly, running some filters—was a bit on the slow side. Make no mistake, Acorn is no slouch; but I really expected more from such a compact app written to take advantage of Mac OS X's capabilities.
Acorn can save images in BMP, GIF, JPG, PNG, and TIFF, as well as Acorn's own proprietary format. This is more than enough flexibility for most uses. Acorn also offers the ability to email the current image using your preferred email program (a new message is created with the image as an attachment); add your images to iPhoto; and export images as PDF files.
Acorn is a great companion for iPhoto and a handy tool for digital-photography enthusiasts. However, I think its $40 price tag is a bit high based on the program's features and the competition; I would have expected it to be $25 to $30. (The developer's site claims that this is an "introductory" price; hopefully this doesn't mean the price will go up in the future.) Still, even taking the price into account, Acorn stands out when it comes to inexpensive image editors for people with moderate needs and no time or desire for lengthy training.
[James Dempsey runs the Creative Guy blog, which offers tips, tricks and opinion on a variety of OS X and design topics.]