At a Glance
Expert's Rating
Pros
Incredible speed
Decent feature set
Attractive interface
Cons
No non-destructive editing
No file browser
Weak masking tools
Our Verdict
These days, most Mac users have, to one degree or another, a need for an image editor, and many need something with more functionality than iPhoto's built-in image-editing tools. It wasn't long ago that the market was essentially Adobe's Photoshop at the top with Gimp and Graphic Converter fighting for a distant second and third place. But the past couple years—and even the past few months—have seen a dramatic increase in the development of quality image editors. On Friday, we took a look at Acorn; today we cover Pixelmator.
Pixelmator 1.0.1 ( ; $59), developed by brothers Saulius and Aidas Dailide, is a fantastic layers-based image editor that uses Apple's Core Image to work much of its magic. With over 20 selection tools, 15 color correction tools, 50 filters, and support for over 100 file formats (including EPS, JPEG, PDF, PSD, RAW, and TIFF), Pixelmator is poised to fill the giant void between Photoshop and quick-edit newcomers such as Acorn ( ).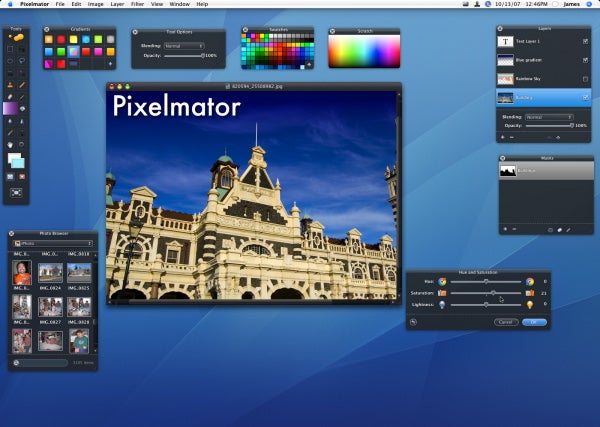 Pixelmator's beautiful interface provides both a normal window mode and a full-screen editing mode. Tools grow fluidly in size when selected in the tool palette to indicate which is the active tool. With the exception of the Font and Color Picker palettes, which Pixelmator borrows from Mac OS X, all windows, toolboxes, palettes, and dialogs feature a semi-opaque black appearance that allows your image (or the Desktop) to show through.
For some people, this darker interface—compared to the typical gray or Aqua appearance of most Mac OS X programs—may take some getting used to. And as you can see in the image to the right, with darker backgrounds, darker tool icons such as the selection arrow, crop tool, and type tool can be difficult to see thanks to the semi-opaque design. For the most part, however, this isn't an issue; I came to love the non-obtrusive appearance of the program.
Window color aside, part of what makes Pixelmator's interface so cool is that it isn't bloated with useless and rarely-used features, buttons, sliders, and gizmos—an issue that plagues more mature programs such as Photoshop. With the exception of a few filters found in the Filter menu, all the tools and features in Pixelmator are clean and self-explanatory, saving you from constant trips to the Help menu.
Virtually everything you could ask for in a semi-pro image editor is in Pixelmator, which is impressive considering it was just introduced a short while ago. The layer palette features blending modes, an opacity slider, and, of course, the ability to toggle layer visibility and create and delete layers. An adequate masking-tool palette is also available for those who need it. The gradient, brush, pencil, and rubber-stamp tool palettes all include just what you need to accomplish the task at hand, and nothing to get in the way of doing so.
To make customizing tools easy, a separate tool-options palette is always available, avoiding the frequent trips to dialog boxes and menus often required by other image-editing programs.
For those wishing to have a little fun with their images, Pixelmator also offers a full complement of filters, including distortions, blur/sharpen, colorizing, and other doodads that one can spend hours playing with.
In addition to the big features, Pixelmator's "little things" make the program a pleasure to use. Take the eyedropper tool, for instance. In most other image editors, when you use the eyedropper tool, your cursor simply turns into a hard-to-see crosshair. Pixelmator's cursor turns into an actual eyedropper, and the tool-options palette presents a magnifying glass that enlarges the area beneath your cursor to make it easy to see exactly what color you're sampling. For your convenience, an RGB color readout is also displayed.
A useful feature that isn't immediately obvious is Pixelmator's support of Apple's Automator technology; included are actions for resizing, converting, enhancing, running filters, and more. Full support for drag-and-drop, Spotlight, and iSight-camera capture are also built-in. And I really loved the Photo Browser's ability to find my photos inside iPhoto's Events, Smart Albums, and Library, allowing me to open any image instantly.
Unlike many other image editors I've used, Pixelmator had no problem opening very large images; on a Mac Pro with 3GB of RAM, I was able to open 50MB images quickly. On G4- and G3-based Macs, performance was directly related to how much RAM was installed on the computer and the size of the image. Once an image was open, most operations worked fluidly and with no problems. However, some filters, as well as operations such as blurring, exhibited slightly choppy behavior, but not enough to discourage me from using Pixelmator. And I fully expect Pixelmator's performance to get better as it's updated beyond a 1.0 product.
Pixelmator isn't perfect. CMYK support is definitely needed (and, in fact, is already promised for a future release). I'd also like to see support for layer styles like those found in Photoshop—drop-shadows, glow, and bevels. A full set of keyboard shortcuts is desperately needed, as well. Speed improvements will come as the program matures, as hopefully will improvements in the precision of some of the sliders and tools. Finally, I wouldn't mind seeing graphics tablet support, 16-bit image support, and the addition of tools for red-eye reduction and shape creation.
Users left behind by Adobe Photoshop Elements' lack of an Intel-Mac update, as well as those who want a full-featured image-editing program but don't need—or can't afford—the full version of Photoshop, will find Pixelmator to be an ideal addition to their Mac toolbox. Unlike Acorn and other smaller image-editing programs, Pixelmator is about as close to Photoshop as one can get while still maintaining the elegance and ease of use that Mac users expect. I was blown away with Pixelmator's features, speed, stability, and stunning good looks. The built-in Help system and the support forum at the Pixelmator Web site are excellent and, thankfully, mostly unnecessary. Pixelmator is a bargain at only $59.
[James Dempsey runs the Creative Guy blog, which offers tips, tricks, and opinion on a variety of OS X and design topics.]