If you're like me, you spend a lot of time using your Mac, covering everything from work to play. In my case, my machine not only helps me create my various Macworld features, but it also pays the bills, writes letters to friends, updates our family's website, and can occasionally be found driving a race car or sneaking in a virtual round of golf.
Given how much time all of us spend on our Macs, it makes sense to make that time as enjoyable and productive as possible. After all, there's no law that says you have to use your machine exactly as Apple delivered it, right? From customizing your Mac's appearance, to teaching it some new tricks, to increasing your productivity, there are a number of things you can do to get the most out of your time with it.
The following Visual Tweaks, System Enhancers and Productivity Boosters are examples of some of those things. You probably won't implement everything, but this collection of tips and tricks should provide a good sense of those things you can do to customize your Mac and improve your productivity.
Visual tweaks
Keep an Eye on the Planet If you work in a windowless cube, deep within the bowels of an anonymous office tower, there's no reason why an entire work day should go by without you ever laying eyes on the great outdoors. Your Mac can help you get a glimpse of the big, wide world that's out there.
If you want the high-level view of things, install TerraVista. This free app places a floating image of Earth on your desktop, reflecting the current sunlight coverage on the planet—and even optionally showing cloud cover. You might also like Gary Martin's EarthGlobe (also free), which does something similar. You can't use as large an image of Earth, nor can you see current cloud cover, but an Info window gives you some interesting Earth and sun data. If you're more of a Moon fan, try another free Gary Martin offering called MoonDock; It does similar things, but with the moon instead of the sun.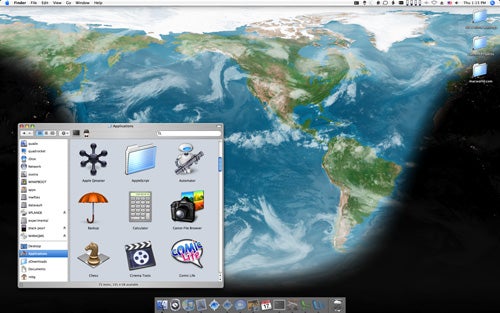 Using EarthDesk, you can turn your desktop into a virtual satellite view of the planet—day and night boundaries and cloud cover are both updated regularly.
Xeric Design's EarthDesk ($20) offers a more detailed solution, turning your desktop image into your window on the world. Instead of your normal desktop picture, EarthDesk offers a flat projection of Earth's surface, complete with cloud cover (updated every three hours) and dark and light zones that update as the day progresses, The program lets you add custom locations, which you can jump to later to see their current conditions. You can choose from 11 different methods of projection—that's the method by which the round Earth is transferred to a flat map—and view either a traditional satellite image or one showing state and country boundaries. You can even choose to use EarthDesk images in your screen saver.
Make Your Laptop's Screen Transparent Well, not actually transparent—but you can make the screen appear that way with a bit of visual trickery. First take a picture of the area behind your laptop, from an area near where you'd be looking at the screen. Open that file in an image editor, and crop it to exactly your screen dimensions—1440-by-900 on the 15-inch MacBook Pros, for instance, or 1280-by-800 on a MacBook. Use the Desktop & Screen Saver System Preferences panel to set this image as your desktop. Finally, carefully position your laptop so that the image appears continuous with the actual background behind it.
In practice, this doesn't work nearly as well as it looks in still photos—such as these in a popular Flickr group. As you work and your head moves around, you'll probably find the mismatch between your desktop and the actual background to be distracting. But it's a great trick to use if you're going to walk away from your desk for a couple minutes.
Beautify Your Screen Savers OS X includes a dozen screen savers in the Desktop & Screen Saver System Preferences panel. But what you see there is just the tip of the iceberg. There are many sources for additional screen savers, most of which are free. You can find more screen savers on Apple's own site, for instance. There's also a fairly detailed list available on pure-mac.com, and if you're running Mac OS X 10.4, you can download your favorites from this amazing collection of Quartz Composer screen savers.
But even if all these choices still fail to thrill you, check out ShuffleSaver (free, though a donation is requested). ShuffleSaver can load your favorite images from iPhoto, or for a truly dynamic screen saver, Flickr.com. For instance, you can specify what tags to look for on Flickr, and ShuffleSaver then connects to Flickr and displays images that match your chosen tags. A warning, however: Since you're never sure what images ShuffleSaver might find on Flickr—and how appropriate they may be—this might not be an ideal option for your computer at work.
Brighten Things Up with Color While too much color can be overwhelming— Brady Bunch , anyone?—a splash of color here and there can really make things stand out.
Take the Finder. There are a couple ways to use color to good effect to make it easier to find things. First, you're probably familiar with labels—Control-click on any item in the Finder, then pick one of the seven colors in the Color Label section. Presto—instant attention grabber. Use this feature sparingly, and important features will leap right off the screen at you. Overdo it, though, and your Finder windows will start looking like someone got loose with a multi-color paint gun. You want to use labels only on those things you need to stand out, not everything in sight.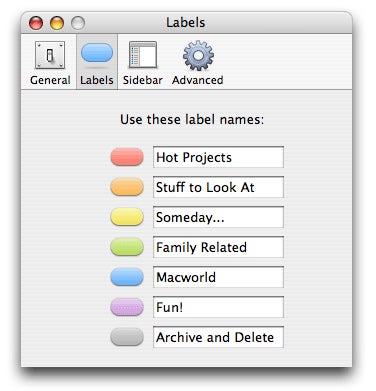 Customizing the colors and the labels of key files and folders helps make important items easier to find.
You can also customize the labels assigned to each color in the Finder's Preferences. Click on Labels, then change each of the color names to something more relevant to you. On my machine, for instance, Red became Hot Projects, Orange turned into Stuff to Look at, and Gray is Archive and Delete.
The second option for using color in the Finder involves coloring the background of a folder's window—as long as that window is in icon view mode. (List and column view windows are stuck with white backgrounds.)
To apply color to a Finder window, make sure the window is frontmost by clicking on it, then select View -> Show View Options, or press Command-J. When the View Options palette appears, make sure that the This Window Only radio button is checked—unless you really want to apply your changes to all folders. In the Background section, click Color then click on the small white swatch that appears. Pick your color, then click OK.
You can even put an image behind your icons, if you wish. In the View Options palette, click Picture and navigate to the image you'd like to use. For readability's sake, you'll want a generally simple picture, and one large enough to cover the window at the largest size at which you'll use it—otherwise OS X will tile your picture, which looks really bad.
Use Different iTunes Visualizers iTunes default visualizer—the eye candy you can watch via the View -> Turn on Visualizer menu—is pretty nice. However, it's not your only visualization option; there are a number of third-party iTunes visualizers available that install easily and are fully supported within iTunes.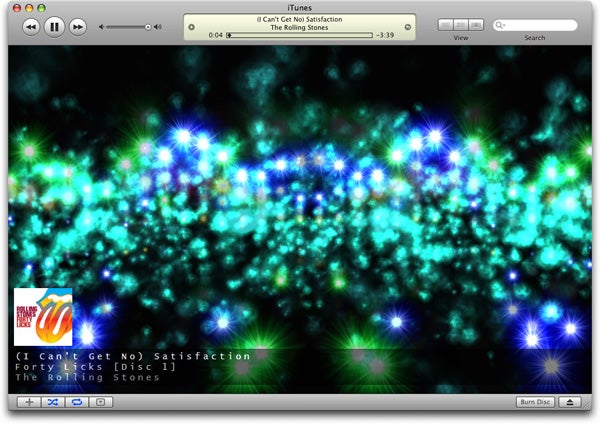 If you find the built-in iTunes visualizer somewhat boring, try one of the many free or low-cost third party alternatives. Here Eyephedrine Visualizer puts on a dazzling light show to a Rolling Stones classic.
Two of my favorite free visualizers are Gaslight, a spectrum analyzer with some lovely presets, and iVisualize, which uses Apple's Quartz Composer and provides more visualizers via download.
If you're willing to spend a bit of money, $8 gets you the amazing Eyephedrine Visualizer, which includes 75 great looking visualizers.
If that's not enough for you, you can find many more via a MacUpdate search on "visualizer."
System enhancers
Replace Your Icons While the standard OS X icons are quite lovely to look at, you may want to freshen things up every now and again. Or you may want to use icons on certain folders that better suit their purposes—a flaming hot folder for your Hot Projects folder, for example.
Thankfully, replacing icons on OS X is as easy as copy-and-paste. Choose File -> Get Info for the icon you want to use, click once on the icon in the Get Info box, and press Command-C to copy it. Then open the Get Info window for the program, folder, or file whose icon you'd like to change, click on the small icon, and hit Command-V to paste your new icon.
But where do you get new icons to use? Apple's screen saver link also includes some icons, or you can visit two well-known online icon repositories: InterfaceLIFT and The Icon Factory. Download from their huge assortment of free icons, and copy-and-paste to your heart's content.
If nothing online exactly matches what you had in mind, and you're very artistically talented, you could try designing your own. The $15 shareware program Iconographer is an excellent icon editor. Keep in mind, however, that this program helps you design icons from scratch, and that may not be something you're interested in doing.
Alphabetize System Preferences The System Preferences application groups panels by type—Personal, Hardware, etc. If you have trouble remembering whether Sound is in Hardware or Personal, though, this organizational strategy can be frustrating, as your eye searches for the target in the various groups.
If you're tired of playing the category guessing game, there's a simple fix: select View -> Organize Alphabetically, and you'll see a simple alphabetized arrangement instead. (This layout is also smaller than the standard setup.) To return to the category view, select View -> Organize by Categories.
You also can select any individual preference panel you wish by typing a few letters of its name—just press Tab key to make sure that Appearance is highlighted, then start typing. Sha, for example, will let you jump to the Sharing System Preferences panel.
Create New Locations If you often move your laptop Mac between various places, each of which requires different network settings, consider using OS X's location feature to ease the task. Open the Network System Preferences panel. Click the Location drop-down, and choose New Location from the menu. Give your new location a name and then click OK. You can now move through each of the network port configuration screens (Ethernet, Bluetooth, AirPort, etc.), setting things as you need them.
When you move the Mac to another place, do the same thing again, creating a new location. In the future when you move from one spot to another, you can switch to your saved location through the Apple menu's Location entry.
As a real-world example, if your home network uses static IP addressing, you might want to create a "Travel" location that uses dynamic IP addressing—thereby enabling your Mac to get an IP address when you connect to remote systems.
You can also create a special "not connected" location. After creating a new location, click the Show drop-down menu, choose Network Port Configurations, and turn each interface off. When you're done, you'll have a "disturbance free" location created—free from the temptations of the Web, the interruptions of iChat, and the endless stream of inbound e-mail.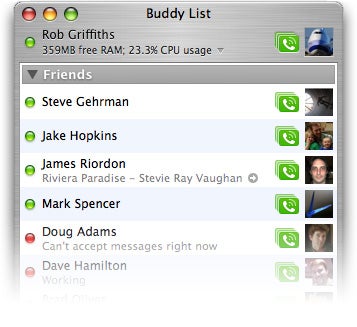 Using iChatState, you can put any number of auto-updating messages in your iChat status line. Here you can see my machine's free RAM and CPU utilization, though I could just have easily shown load averages, iTunes information, how many unread emails I have, and more.
Upgrade Your iChat Status The iChat status message, which appears just below your name in the Buddy List and defaults to Available, is visible to all your buddies. While you may find it sufficient to type in a short but sweet expression, you can do more with the status message. Download the free iChatState, for instance, and your status message can show iTunes song and artist information, a countdown timer, your Mac's free RAM, uptime, and CPU load, the active application, and much more.
If you're more of a visual sort, you might prefer the free DuckCall, which will use your iSight to take a picture every 30 seconds, and then set your iChat icon to that image. The software's a little rough, but it works.
Get More Mail Info in the Dock If you like Mail's unread message indicator in the program's Dock icon (the red badge with white text), you'll love the $8 DockStar. With this program installed, you can have up to five separate mailboxes tracked in Mail's Dock icon. You control the shape and color of each indicator, as well as what it counts—show the total count in your "To Do" mailbox, for instance, instead of "unread."

DockStar lets you track email counts in Mail's Dock icon for up to five different accounts. As seen here, you can vary the color and shape of each status indicator, making it easier for your brain to remember which badge goes with which mailbox.
Customize the Login Screen Background When your Mac is sitting at the login screen, you're looking at something known as "Aqua Blue," one of Apple's standard desktop images. Because it is one of Apple's standardized images, you can easily replace it with one of your own choosing. Perhaps you want to replace it because you've seen enough of Aqua Blue, or because you have a nicer image you'd like to use. Another practical reason, though, is to include some contact information—in case your laptop is ever lifted by a "casual" thief, some properly worded text on the login window may encourage the machine's safe return—something like "This machine phones home every 10 minutes and reports its location" may do wonders to the casual thief's conscience.
To replace the picture, navigate to /Library -> Desktop Pictures in the Finder. Drag Aqua Blue.jpg to the Desktop (or other location in your user's folder) to create a backup of the file. Now all you have to do is find a JPEG image you'd like to use—make it the same size as your machine's native resolution—and name it Aqua Blue.jpg. Drag and drop it into the Desktop Pictures folder, and provide your password when prompted.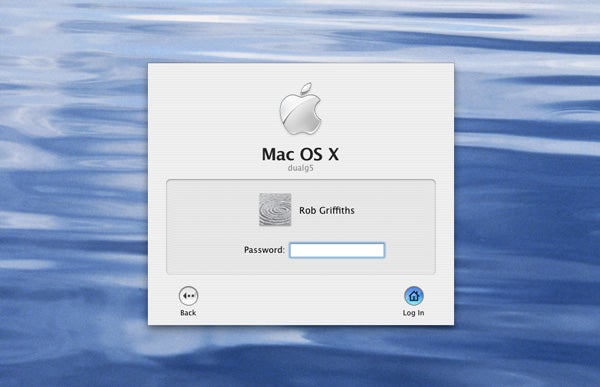 With a simple file substitution, you can change the screen behind the login window. I've chosen one of Apple's stock images in this screenshot, but you can use anything you like. As a casual theft deterrent, consider adding your name and contact information (and "Reward!") to the chosen image.
That's it; you're done—the next time you logout, you'll see your new desktop background. To return to the normal image, just drag in the backup copy of Aqua Blue.jpg that you created as the first step here—this will overwrite the customized image you previously created. (You'll need to supply your password when prompted.)
Productivity boosters
Open Your Often-Used Applications at Login Most OS X users I know follow the same pattern. In the morning, they login and then spend a few minutes launching their most-used programs. This requires lots of Dock clicking, or scrolling about in the applications folder, neither of which is a productive use of anyone's time.
Instead of working the mouse so quickly after login, let OS X do the work for you. In the Accounts System Preferences panel, you can create a set of Login Items that run when you log in. Click on your account in the list of accounts, then click the Login Items tab. There will probably be several things already listed, even if you've never visited this tab before. That's because many programs add their background tasks to this screen, so that they'll run when you login.
To add your own programs to the collection, click the plus sign below the list of programs. When the file browser opens, click on the program you'd like to run at login and click Add. (You can add more than one at a time—just hold Command while clicking to mark multiple programs.)
You can also open documents—say you have a budget spreadsheet that you work with every day. Add it to your list of login items, and Excel will launch and open the worksheet for you.
All of this will add some time to the login process, but in the end, it's faster than doing it yourself. Since you won't be madly reaching for the mouse and keyboard right away, you can use that time for productive tasks, such as finishing your Double Grand Half-Lite Superccino Latte with Extra Foam.
Open Often-Visited Web Sites on Login In addition to paying attention to your "real" work, of course, you also have an entire World Wide Web to monitor. Safari will let you create a collection of sites in a folder and then, by enabling the Auto-Click feature (in the Bookmarks -> Show All Bookmarks screen) for that folder, you can open them all in tabs with one click.
To gain yet another few minutes for your Superccino, however, you can automate this process as well. Safari's AppleScript support isn't perfect, but it's enough for this job. Open Script Editor, in Applications -> AppleScript, and type in this code.
	tell application "Safari"
	activate
	tell application "System Events"
	tell process "Safari"
	click menu item "New Window" of menu "File" of menu bar 1
	end tell
	end tell
	set the URL of document 1 to "http://www.apple.com"
	my new_tab()
	set the URL of document 1 to "http://www.macworld.com"
	end tell

	on new_tab()
	tell application "Safari" to activate
	tell application "System Events"
	tell process "Safari"
	click menu item "New Tab" of menu "File" of menu bar 1
	end tell
	end tell
	end new_tab	
The part of this code that opens your sites are these two lines:
	my new_tab()
	set the URL of document 1 to "http://www.macworld.com"	
Repeat these two lines as necessary for as many pages as you'd like to open—and remember to edit the URLs that appear in the code above.
Select File -> Save As, name your script (something like "Open My Sites"), set the File Format pop-up to application, and save it somewhere where you won't accidentally erase it.
Now return to Login Items, click the plus sign, and navigate to your saved script. The next time you login, Safari will launch and open the sites you've listed in the AppleScript.
Save Time with Automator Automator is one of the hidden gems in OS X 10.4. You may have been scared away from it because you're "not a programmer" or you don't know AppleScript. The truth is that you can do a lot with Automator without knowing anything more than drag and drop. Here's a simple example to get you started.
Say part of your job involves scaling images to be e-mailed. You have to do this with tons of images every day, so putting them all in iPhoto, e-mailing them, and then taking them out again would be a big hassle.
Instead of opening your image editor, launch Automator. When the program's window appears, click on Finder in the Library column, then drag the Get Selected Finder Items action to the blank work area on the right. Click on Preview in the Library column, and drag Scale Images to the work area below the Finder command that now sits there. In the Scale Images box, pick either To Size (pixels) or By Percentage from the pop-up menu, and enter an appropriate value in the box next to the pop-up. (Automator will offer to add an action that will duplicate your files first, in case you don't want the originals overwritten. Feel free to let it add that step if you wish.) Congratulations—you've just written your first Automator workflow!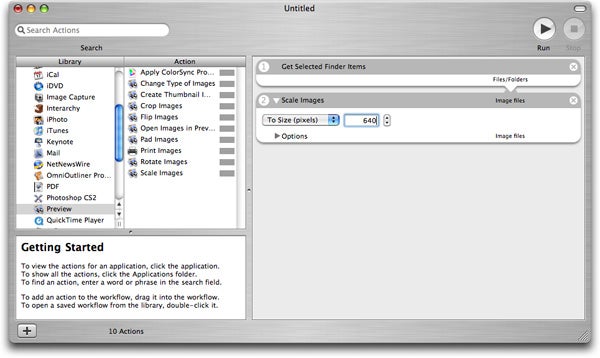 This simple two-step workflow will automatically scale the selected images to 640-by-480 resolution. Save it as a Finder plug-in, and it's available with a Control-Click on any image or images in the Finder.
To make your workflow useful, select File -> Save As Plug-In, give your plug-in a name ("Scale to 640," for instance), and make sure the Plug-in For pop-up is set to Finder, then click Save. Switch back to the Finder, and select one or more graphics files—if you didn't tell Automator to make a copy, keep in mind that whatever images you select will be permanently scaled.
With your files selected, control-click on them, then move to the Automator entry in the pop-up menu. Hover your mouse there for a second, and a sub-menu will slide out containing your Scale to 640 workflow. Select it, and your chosen images will scale. It's that simple.
Experiment with the other built-in features of Automator; it really is a good tool to ease repetitive tasks. If you like what you've seen, visit automator.us and check out the Examples and Free tabs at the site for more great ideas.
Automatically Process Files in Folders Folder Actions are another great timesaver in OS X that you may not have used before. Basically, with Folder Actions, you can attach AppleScripts and Automator Workflows to folders. The attached Folder Action will run whenever a new file is added to the watched folder, letting you get work done without lifting a finger.
(If you've never used Folder Actions before, launch Folder Actions Setup, in /Applications -> AppleScript, and check Enable Folder Actions.)
Consider the Scale to 640 workflow from the prior example. To make your job easier to manage, as you receive images to scale, you drop them into a "Scale These" folder on your desktop. Using the workflow you wrote in the prior example, you can now completely automate this process.
In the Finder, navigate to your user's Library -> Workflows -> Applications -> Finder folder, and double-click on the Scale to 640 item to open it in Automator. Delete the first entry in the workflow, leaving just the scale images command. Now select File -> Save as Plug-In again. This time, set the Plug-in For pop-up to Folder Actions. When you do that, a new Attached to Folder drop-down appears; set it to point to your Scale These folder on the desktop, then click Save.
Back in the Finder, test your new Folder Action by dropping an image file into the Scale These folder. When you do, you'll see your workflow run (the status shows in the menu bar), and the image will automatically be scaled.
Take File Sorting to the Next Level If you download or receive lots of different files, you probably spend a fair bit of time organizing them. Movie files go here, pictures here, client project artwork here, applications to test over here, and so forth.
Using Folder Actions, as explained above, is one way to help automate this task. But it's also somewhat complicated to set up, and you'll need to know something of Automator and AppleScript to get the most out of Folder Actions. So here's an alternative solution.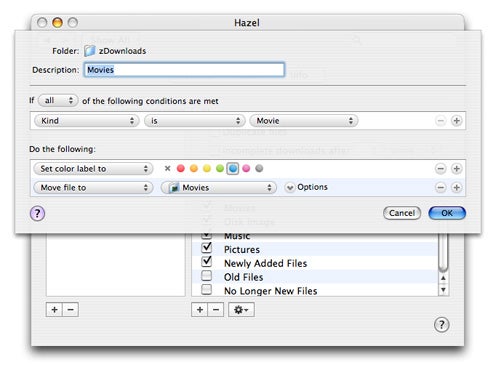 Using Hazel and some simple rules, you can automatically process files as they're added to folders. This rule, for instance, will send any movies directly to your Movies folder.
Download and install the $16 Hazel, a System Preferences panel that makes it quite simple to use Folder Actions. (Hazel is also available for a free 14-day trial.) Instead of relying on AppleScript and Automator knowledge, you set up rules, much as you would in Mail, and then apply those rules to folders. Rules can do nearly anything, including setting labels, adding keywords, archiving files, and more—all based on files matching conditions such as "kind is movie" or "date last modified isn't in the last seven days." You can even use Hazel to automate the emptying of your trash—your Mac's trash at least. You're on your own for the kitchen trash.
Open Things More Quickly To be as productive as possible, take advantage of the three main spots OS X lets you store applications, documents, and folders for quick access: the Dock, the Sidebar, and the Toolbar. You're probably familiar with storing things in the Dock—drag applications onto the area to the left of the vertical bar, and drag documents and folders to the area to the right of the vertical bar. The Sidebar is the area to the left of a Finder window, and you can store anything you like below the horizontal dividing line. Finally, the Toolbar is the area above a Finder window, and not everyone is aware that you can store things here, too. Just drag the item to be stored, hover for a second until your cursor shows a green plus sign, then drop.
Using these three areas, you can keep nearly everything within one-click access. As an example, keep your often-accessed folders in the Dock, where you can use the pop-up nature of the Dock to navigate into them as deeply as you wish. Keep documents that you access regularly in the Sidebar (where you can see both their name and icon), and keep often-used programs in the Toolbar. (Note that you can customize the Toolbar by control-clicking on it and choosing Customize Toolbar from the pop-up menu. Down near the bottom of the sheet that opens, you can change how the toolbar looks—check the box to use small icons, or show icon and text instead of just the icon, for example.)
Open things even more quickly If the above methods don't seem efficient enough for you, then try a launcher. These programs are optimized to find and open programs and documents as quickly as possible. The "big three" launchers are Butler, LaunchBar, and Quicksilver, though there are others.
After installing a launcher application, you can open documents and programs by typing a keyboard combination (Control-Space) and typing a few letters. The launcher application compares your typing to a database of programs and documents, and displays matches on the fly. Unlike Spotlight searching an entire hard drive, however, launchers do this very quickly.
With a launcher installed, opening even the most deeply-nested program or file requires only a few keystrokes. All three of the launchers listed above can be downloaded for free, so why not try one out? Not using the mouse for every simple task can be quite liberating.
Create Custom Printer Setups If you have multiple printers, or even one printer that you use for different tasks, you can save a lot of time by creating custom printer setups for often-used modes. Consider an inkjet that prints both text documents and high quality photos on glossy paper. Setting up for either type of work takes some customization in the Print dialog—paper type, fine quality or draft quality, and so on.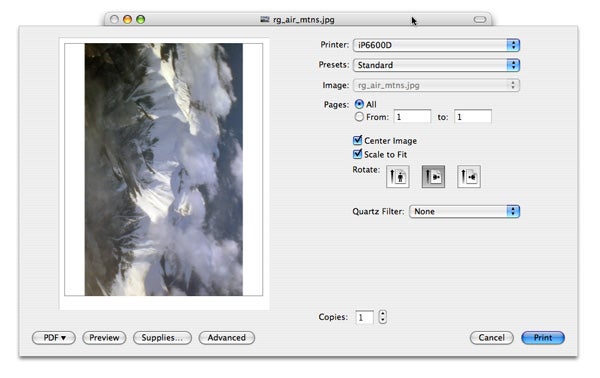 Save time when printing by creating a number of presets for different types of print jobs and different printers. If you include the printer type in the preset's name, it's easier to find the exact one you want for a given job.
Instead of doing that every time you need to print, just do it once. Bring up the Print dialog, and you'll see a Presets pop-up near the top of the window. You create presets by first defining your print settings, so visit the various setup screens—Copies & Pages, Layout, Quality & Media, etc.—to get things set just as you like. Once you've done that, click the Presets pop-up, select Save As from the menu, and give your preset a name. Create as many different setups as you need, for as many printers as you have. You might want to include the printer name or description in the preset's name, just to make it simpler to identify with a glance.
The next time you need to print, just click the Presets pop-up and pick the one that matches the job you're printing—and don't forget to change the paper in the printer, if necessary.
[ Senior editor Rob Griffiths writes the Mac OS X Hints weblog. ]