As I noted recently, I've been a Logic Pro user for several years and feel quite confident in my abilities to use the application for my particular workflow. However, like most things in life, I could always know more, especially with Apple's recent release of Logic Pro 8. The problem is: how can I find the time to dive into Logic with a busy schedule, two teenagers, a wife and a dog? It seems like most of the hours each day are occupied.
I tried to read the manuals, but that's not a real solution for me—I usually only go to the manual when I run into a problem that I can't solve. I wanted someone to actually teach me, not just run through Logic's features.
The solution I found was video training from MacProVideo. DVDs would have been fine, but being able to pay and immediately download the videos was a big bonus.
I started with the company's Logic Pro 101 starter video. Admittedly, I already knew a lot of what they covered, but they did a good job of handling the basics, and I still learned a few things. There are always tricks that the pros use that can come in very handy for everyday use, and the further I went with the videos, the more I learned.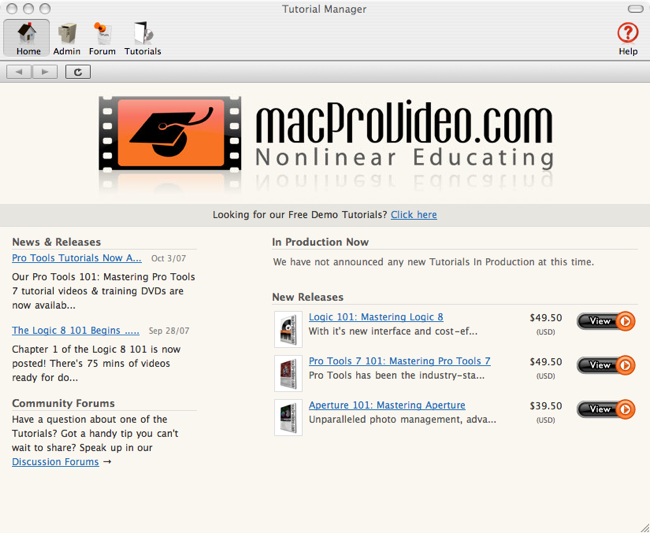 The videos themselves are well done, with solid production values. They show you what they are doing, while the narrator walks you through the instructions to complete a task or project. This is perfect for me, especially since I learn best when being shown how to do something. I also liked the Hyper-Learn mode, which speeds up the lessons, but not so much that I couldn't follow along.
The way the videos are structured makes it quite easy to access a particular point in the training at a later date. The overall video topic is split and labeled into smaller segments that makes finding something pretty easy (see the example on the right), although it would be nice if I could add my own bookmarks to the videos.
Once you purchase and download the videos, they are yours to keep: There is no time limit on how long you can use them. You can also burn the videos to disc if you want, which makes archiving the videos or watching them on a different computer very easy.
Who's teaching who?
The other thing I looked at closely was who the trainers are. I really didn't want to learn a high-end pro music application from "Joe Musician" down the street (not that I have anything against Joe—I'm sure he's better than I am). I wanted to know that I was learning from someone that had the qualifications to teach. This turned out to be least of any worries I might have.
Check out a few of these names: Martin Sitter is the founder of MacProVideo, but he also writes Apple's courseware for Logic; Steve Horelick has been twice nominated for an Emmy, is a Logic Pro Master and an industry-leading audio producer; and David Dvorin is formerly the manager of Educational Development for Apple's Pro Apps division, now working as a music professor at California State University, Chico. There are plenty of other educators with strong credentials and chops to help me get to the meat of the matter.
MacProVideo uses its own application, N.E.D. (for Nonlinear Educating Device), for downloading and watching the videos. N.E.D. lets you easily access your account information, updates, company forums and a list of your current tutorials. You can also access which videos will get automatically downloaded by turning them on or off in the "My Tutorials" section of the application.
MacProVideo offers many training courses including Apple's Pro and iLife apps, Abelton Live, Reason, Microsoft Office, Pro Tools and others. I've been through several of their training programs so far and have not regretted the time spent on a single one. MacProVideo allowed me to train at my pace and on my schedule and I'm a better user for it. The prices for many of the videos are in the $20 to $50 range, which also makes it easy on the wallet. They're definitely worth checking out.